My high school year book quote:
Life is like a bowl of gra-V, and I'm sopping it up!
-Lanita P.
I had been riding along in the gra-V train since the mid 90's. Absorbing new skills and creative talents that amplify my unique techniques and tactics to become the being I am now.
However, on March twenty-seventh, I got a message from within, warning me about just that.
Transitions by John Digweed came to mind. Then, SupHerb Transitions.
I was sitting on the porch swing with my feet in the sunlight. I have lightened my body. I have lightened my mind. Now, I must lighten my material load. Weight broke down the gravy train, so the bisquit is stuck in a pickle/bowl.
The gravy train = my journey. The bisquit = me. And well, the pickle/bowl = a waiting.
This became my situation!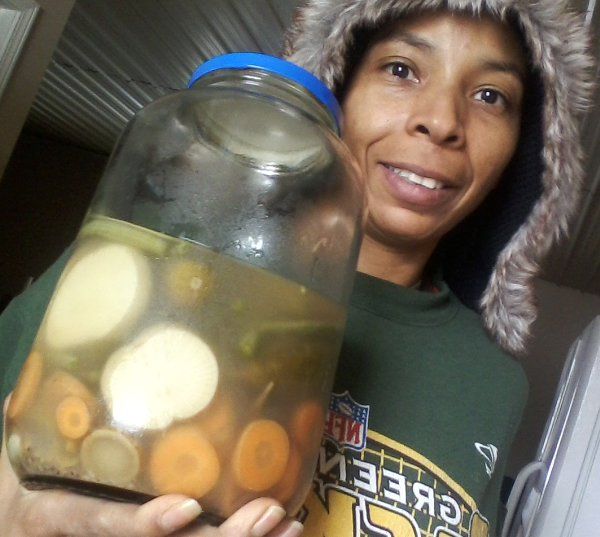 (Source: Selfie stick. Lanita with jar of pickled cucumber, daikon, carrot, green bean, onion, okra, garlic, serrano, burdock root and homemade dill pickling mix.)
"let us go down and confuse them."
-the Bible
Apparently, referring to the language(s).
Q: Why do we procrastinate?
A: The ego is attempting to avoid something in order to gain more pleasure.
Imagine having to learn all of the languages to communicate in harmony!
Sounds like a good reason to procrastinate.
Pro cras tin a tion
( n. ) 1540s, from Middle French procrastination and directly from Latin procrastinationem (nominative procrastinatio) "a putting off from day to day," noun of action from past participle stem of procrastinare "put off till tomorrow, defer, delay," from pro "forward" (see pro-) + crastinus "belonging to tomorrow," from cras "tomorrow," of unknown origin.
https://www.etymonline.com/word/procrastination
Tomorrow
( adv. ) mid-13c., to morewe, from Old English to morgenne "on (the) morrow," from to "at, on" (see to) + morgenne, dative of morgen "morning" (see morn, also morrow). As a noun from late 14c. Written as two words until 16c., then as to-morrow until early 20c.
https://www.etymonline.com/word/tomorrow
Past expectations, and daily comforts took the bisquit and ran with the gravy!
So what now? This is when I decided to conquer procrastination...
I realized (real-lies), that I had waited (weighted) too long, to make a much needed transition.
Hence, the message!
So, what was I avoiding? Apparently, the transition...
LOL! I created the above as a draft over 7 days ago. That was not really procrast., I had to prioritize.
Made some updates to the site. Give me some feedback!
Thank you for steeming!
SupHerbly,
Lanita