Winter is coming. Foot cracking is one of the skin problems that come before winter. In dry weather the lower part of the ankle become cracked sometimes. The problem of foot rash is usually seen in winter, but many suffer from foot rash throughout the year. Many people use different types of creams to prevent foot rash. But not all of these creams always work. Rather, some creams have side effects. This foot rash can be removed in some domestic ways.
Causes of foot cracking:
Cold weather.
Water shortage.
Someone's feet are naturally dry and can be cracked.
Standing in a tight position for a long time can cause the foot cracking.
Bathing with lots of hot water.
Diabetes or thyroid problems.
Due to the aging process.
Do not regularly moisturize and so on.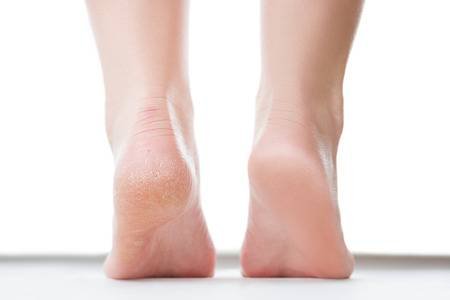 Source
Now let's see some treatment of foot cracking.
Coconut oil:
Coconut oil is the easiest and cheapest way to prevent foot cracking. Coconut oil moisturizes the legs and removes bacteria, fungus.
Soak the foot in warm water before going to bed and rub well.

Then dry the foot and apply coconut oil.

Keep oil all night.

Wash your feet the next morning.

Do this regularly until the foot is completely healed. You can also use olive oil if you want.
Petroleum jelly and lemon juice:
Petroleum jelly moisturizes your dry skin. It reduce crack spots. With this the foot become softens.
Mix 1 teaspoon of petroleum jelly with 1 lemon juice.

First, soak the foot in warm water for 10 minutes.

Then dry the legs.

Paste the jelly, lemon juice mixture.

Lightly massage.

Keep it up all night. Get up in the morning and wash your feet.

Use regularly to get good results.
Use of Vinegar:
Vinegar contains acetic acid that exfoliates the toes. And softens the hose.
Mix 1/2 cup or 1 cup white vinegar with 2 cups of water.

Soak the legs for 10 to 15 minutes in this mixture.

Then rub lightly.

When the foot is dry, paste petroleum jelly or moisturizer.

Also mix rice powder, honey, vinegar, olive oil and make a paste.

Wash the feet thoroughly and rub with the paste for a few minutes. Then rinse the feet with lite hot water.
Do this twice a week.
Hope this article is very helpful to all before winter.
Thanks for being with me. Stay Tuned.