I had just started producing electronic music and art events a few months before when I was offered a weekly club night at a local night club. It was on Thursday nights--not bad for a beginner--but it was in a part of town that required you to entice people to come. Honestly, I had no idea what I was doing, lucky for me my business partner was a well known DJ in the underground scene. Our goal was to bring the underground out into the open, and as such "Impulse" was born!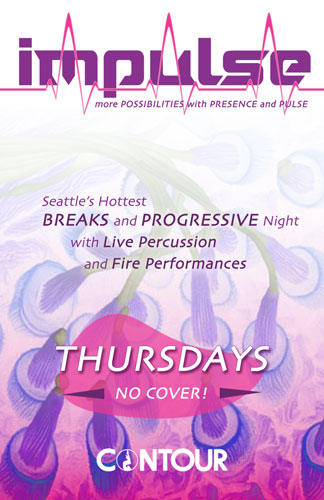 Every now and then, our night was eclipsed by a special event, which is how I came to be at the club during one of the first performances of the newly formed PURE Cirkus. I had been to Ringling Bros Barnum and Bailey Circus and Cirque du Soleil, but what could a circus possibly do in a club?
This was not any ordinary circus, and it wasn't even a freak show, what I saw that night changed the direction of my personal and professional career forever!
The event was actually a type of fashion show, with the girls of PURE Cirkus being the models. PURE had been created by the coming together of two small suspension groups and a few kids that were looking to get into the circus arts. With a drink in hand, I greeted people I knew, and danced to the music while I waited for the main performance.
The lights dimmed and focused on the tiny stage to announce the beginning of the show. The first girl walked out, and to this day I cannot tell you what she was wearing, because my eyes were glued to the area right around her head. Standing out like a Elizabethan Collar directly behind her head was a row of beautiful peacock feathers! The thing was, I couldn't figure out how they were there since she was wearing some type of tube top that just barely covered her breasts. If they weren't attached to her clothes, what were they attached to?
I anxiously awaited her arrival at the end of the runaway so I could see as she turned around... and there was the answer: the peacock feathers weren't attached to clothing, they were attached to her-- pierced into her back with needles in a neat row. I wish I had a picture, because none of the ones I have found online do justice to the beauty created by the combination of piercing placement, feather movement, and her personal essence.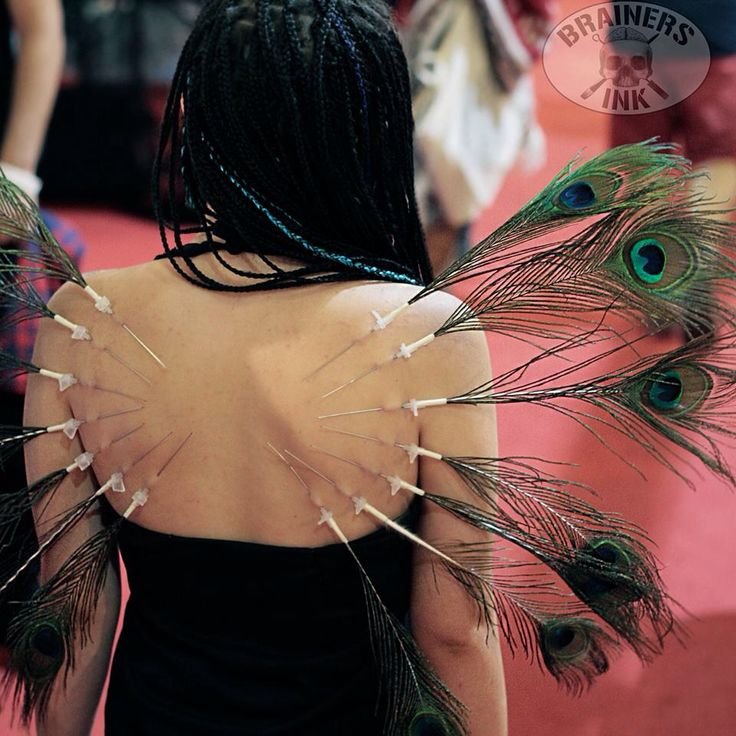 And just when I thought I had seen enough, in came the second model, who also had something pierced into her back. Instead of feathers, this one had four steel rods that ended with wicks light with fire. It was mesmerizing! From the front, her face was silhouetted by these, relatively, large flames that danced as she swayed to the music. And when she turned around, you could see them anchored into her back in order to ensure they stayed there. As you can imagine, steel rods of fire are not very light.
There were a few other girls with face piercings and arm piercings, but none as intense for me as the first two. Lucky for me, as a club promoter, I could go backstage, and as soon as the show was over, I dashed to the back to find out more. I went straight to the ringmaster, who I had met earlier in the night, and asked a billion questions. He introduced me to the main piercer and invited me to come to their next performance in a few days where they would be doing a series of suspensions, with people hanging from the hooks.
Eventually, I ended up becoming a piercer for PURE, and then a co-owner, but those are stories for another day. Never in my wildest dreams would I have thought that I would step into the world of body modification. Sure, I got my first tattoo when I was 18 years old, but that is not the same. What drew me into PURE Cirkus was not the freak nature of the performances--though there was plenty of that with that motley crew--no, I feel in love with the ritual nature of the art. Each show had to be well thought out with regard to safety and hygiene, each step in the procedure followed, and yet, there was always this element of unpredictability that comes when you have that much adrenaline, and a few shark hooks, in your body!
PURE Cirkus opened a gate that lead to working with CoRE (Constructs of Ritual Evolution)--probably the most well known performance suspension troupe in the world--doing suspensions in unusual locations like Burning Man and weddings, and eventually going on tour with Cirque du Soleil, but even those are stories for another day. Follow my adventures and you will hear them all...
If you want to hear about something specific or have any questions, use the comments. My life is an open book, as long as you are wearing gloves and your instruments have been thoroughly sterilized!