The Hakata Gion Yamakasa is an annual festival held from July 1st to 15th in Fukuoka City, southern Japan, and it is said to dispel disasters and bring peace and prosperity to the region. This festival has an almost 800-year history and has been registered by UNESCO as an intangible cultural heritage.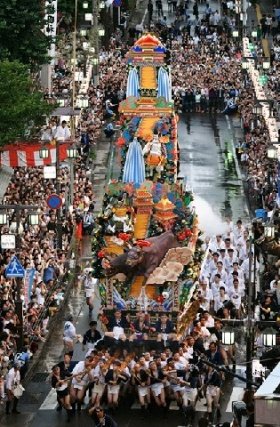 Fukuoka City's Hakata Gion Yamakasa concluded with the Oiyama competition early in the morning on July 15th, 2017. It had been the first festival since it had been designated as an intangible cultural heritage, and the approximately 5-kilometer road was enveloped in an air of excitement.
"Yaaa!" Deep-throated calls arose as the men of the Nakasu Nagare group rushed into the Shrine grounds with the first carried float, called kaki yamakasa. They circled the flag and performed a celebratory song called Hakata Iwaimedeta. The spectators joined in, their voices reverberating across the shrine, and then the men carried their float out into the streets of Hakata.
The remaining 6 groups followed, and then the 8th float, a decorated kazari yamakasa, made its grand entry into the Shrine. As each group continued along the course one after the other, spectators on the roadside poured water on them, in tribute to the "prayer water" that the 13th-century Zen monk prinkled as he prayed to drive off a plague in the Kamakura period.
"We pulled ourselves together for the festival this year because it was the first since our designation by UNESCO. We want to pass on this heritage to the children of the future," vowed Kanya Toyoda, chairman of the Hakata Gion Yamakasa Promotion Association.
---
800年の歴史、「博多祇園山笠」
毎年7月1日から15日まで日本の福岡市で行われる「博多祇園山笠」。災厄を払い、地域に安泰をもたらすとされており、800年近い歴史を持つとされている。ユネスコの無形文化遺産に登録された祭りだ。
2017年7月15日早朝、福岡市の「博多祇園山笠」の「追い山」で祭りは幕を閉じた。無形文化遺産となって初めての祭り。約5キロの道のりは熱気に包まれた。
「ヤァー」。野太い掛け声が上がる。午前4時59分、一番山笠・中洲流の舁(か)き山笠が櫛田神社に飛び込んだ。清道旗を回り、博多祝い唄を披露。観客も含めた大合唱が響いた後、博多の街を疾走した。
残る六つの流が続き、八番山笠の飾り山笠は豪快に櫛田入りした。沿道では勢(きお)い水が男たちに降り注ぐ。鎌倉時代の禅僧・聖一国師が疫病退散を祈って祈祷(きとう)水をまいた故事にちなむ。
博多祇園山笠振興会の豊田侃也会長は「ユネスコ登録後初とあって気持ちを引き締めて臨んだ。未来の子どもたちへ継承していきたい」と誓った。