The Introduction of Fukuoka's Geisha
– June 13, 2017
Many people may think of Tokyo or Kyoto when they hear of Japanese geisha. But Fukuoka also historically has had geisha called Hakata geigi, who have carried on the tradition of the ozashiki, which are traditional-styled banquets for elite patrons of exclusive restaurants.
Hakata Dontaku Minato Matsuri is Fukuoka City's grand annual event that attracts 2 million people. In May, Hakata geigi dancing on the street-corner stage were drawing particular attention as they performed as part of the festivities in the middle of the long holidays.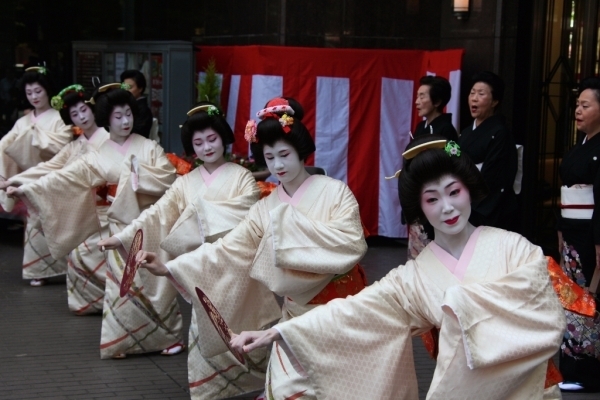 Geiko of the Hakata Kenban, performing beautiful dance and music at the Hakata Dontaku Minato Festival.
♪Such a handsome man like you
Such a plain woman like me
We wouldn't match, like lanterns and bells
I would understand if you abandoned me
The geiko played the three-stringed shamisen, drums, and bells and sang a typical ozashiki song called Sutotonbushi. They gracefully moved their sleeves, hems, and fingers, accentuating their pale skin and glamorous kimono. Smiling gazes suddenly dropped away and then returned to capture the attention of the admiring spectators.
Hakata has historically prospered as a hanamachi, the entertainment quarter where geiko frequent, and the women's agencies, called kenban, exist to this day. The geiko on this Dontaku stage belong to the Hakata Kenban. The dancers are called tachikata, and the jikata sing and play instruments. There were 12 tachikata and 7 jikata, for a total of 19 geiko. Commoners can meet geiko at events such as these, but their regular stage is, of course, the ozashiki, where they perform songs and dances at traditional Japanese restaurants.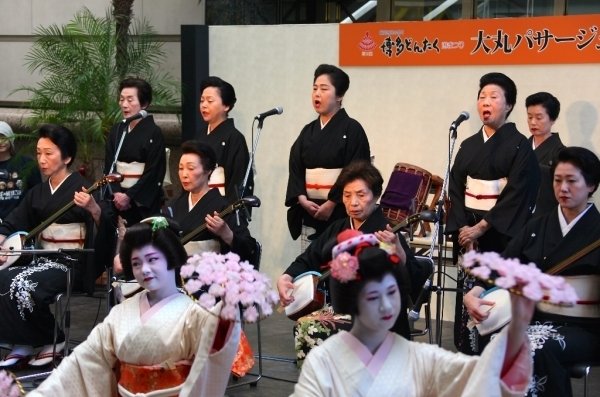 Jikata geiko who wear black kimono and steadily sing songs and play the shamisen behind the dancers.
Now, then, what kind of people use the ozashiki and for what purpose? We interviewed two super veterans, jikata Madame Mieko (aged 85) and tachikata Madame Fujiko (aged 72). In Japanese, experienced geiko are reverentially called by the honorific neesan.
"This is the entrance to society. Our clients even study on the side about the world of the traditional kouta songs and the shamisen that we have learned to sing and play. That's called demand of custom. This is where social circles start to grow, where people expand their network, in the political and business establishment that is," says Mieko Neesan.
"From the olden days in companies in Fukuoka, when men became section chiefs of general affairs and accounting departments, they all began to study kouta. Even today, although the numbers have sadly dwindled, there are still about 50 people studying the songs as Mieko Neesan's pupils. None of them ask for receipts (to claim expenses with their companies) and they all pay out of pocket. They see it as an investment in themselves," says Fujiko Neesan.
---
福岡の芸者の歴史
-2017年06月13日
日本の芸者といえば東京、京都などを思い浮かべる人も多いだろう。しかし実は、福岡にも「博多芸妓(げいぎ)」と呼ばれる芸者たちの歴史があり、お座敷文化を継承している。
毎年200万人の人出でにぎわう福岡市の一大イベント「博多どんたく港まつり」。大型連休まっただ中の5月、街角に設けられた演舞台で踊る「博多芸妓」たちは、ひときわ熱い視線を集めていた。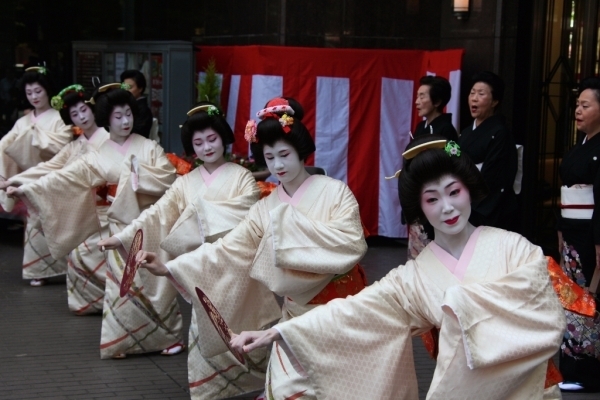 「博多どんたく港まつり」でにぎわう街角で、あでやかな舞や演奏を披露する博多券番の芸妓たち
♪ あなたみたいないい男/私みたいなお多福が/提燈釣り鐘釣り合わぬ/見捨てられても無理はない ―
三味線や鳴り物(鼓や鐘)を奏で、お座敷唄「ストトン節」を歌う芸妓たち。白っぽく華やかな着物姿の芸妓たちは袖や裾、指先が柔らかくしなる。ほほ笑みながらこちらをじっと見つめ、突然うつむいたかと思えば再び見つめ直す…。そんな仕草に、観客は見ほれていた。
博多は芸妓たちが出入りする「花街」として栄えた歴史があり、所属事務所に当たる「券番」が今も残る。彼女たちは、その博多券番の芸妓たちだ。踊り手は「立方(たちかた)」、唄や囃子(はやし)を担当するのが「地方(じかた)」。立方は12人、地方は7人で計19人。芸妓に会えるのは、どんたくなどの行事もあるが、日常の舞台はもちろん芸妓たちが料亭で歌や踊りを披露する「お座敷」だ。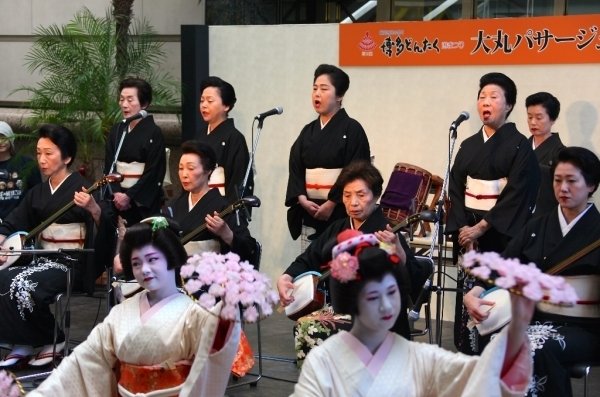 華やかな着物姿の立方(踊り手)の後方で、黒紋付き姿で唄や三味線などを黙々と披露する地方の芸妓たち
「社交界の入り口なのよ。(お客は)私たちが身に付けた小唄や三味線とかの世界を陰で勉強してくれて。浮き世の義理ってもんよ。そこから輪が広がり、人脈も広がる。政財界でのね」(美恵子姐さん)
では、一体どんな人たちが、どんな目的で「お座敷」を利用しているのか。超ベテラン組、地方の美恵子姐さん(85)と立方の藤子姐さん(72)に聞いた。「姐さん」は先輩格の芸妓に敬意を込めて呼ぶ敬称だ。
「福岡の企業では昔から、総務や会計の課長になったら小唄を始めたもの。めっきり減ったのは寂しいけど。それでも美恵子姐さんのお弟子さんになって小唄を勉強している人、今でも50人位いるのよ。皆さん、領収証は使わず全部自腹で。自分への投資なのよね」(藤子姐さん)