Apple Japan Requests Deletion of Unfamiliar Contacts that Appear on iPhones After Model Upgrade
-June 23, 2018
We received a baffling piece of news from a resident of Saga Prefecture on Kyushu Island, southwestern Japan , who had recently upgraded his iPhone. "I had the store transfer my data (from my old device to my new one) and found 200 unfamiliar foreigners' names…." He says the telephone numbers and e-mail addresses of individuals who appeared to be employees of leading IT company Apple Inc., the manufacturer, had been added to his device's contacts list. Was this a data leak?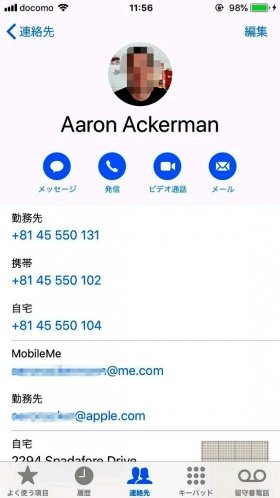 One of the contacts that were suspected of having been leaked. (A portion of the photograph has been edited.)
Aaron Ackerman, Kevin Angel…. The man showed us various non-Japanese names listed on his iPhone. The domain name of the individuals' e-mail addresses was "@apple.com," so they seemed to be Apple employees, but they were not his acquaintances. On the other hand, his friends and associates registered on his old device had been transferred safely.
According to this man, he had had his data moved from his old device to his new one via the cloud data service iCloud, when he had obtained an upgraded model of the iPhone at a mobile phone agency in Saga City this April. It was only after receiving his new device from the store staff and returning home that he realized that he had had names of strangers added to his contacts.
The man made a complaint to the mobile phone agency , which referred him to Apple Japan (Tokyo), whose response was, "We do not think this was caused by glitches in the system or device. Please delete the added contacts."
The news crew tried calling the numbers listed as Ackerman et al., but all were "no longer in use." It was the same for the e-mail addresses.
■
As we continued our investigation, we learned that a male company employee in Fukuoka City had experienced similar issues several years ago. After having his data moved from his old mobile phone at a mobile phone agency , he had discovered unfamiliar images on his new device and deleted them, as he had "found it creepy."
We requested an interview with Apple Japan, but we received no reply. However, a source related to the company says, "It's difficult to imagine that a glitch could leak data, because the iPhone and iCloud boast robust security measures that are acknowledged by even the Pentagon. There are no precedents of data leaks." Then what is going on?
According to this source, the demo models displayed in shops store names and photos of actual Apple employees in the contacts lists. "Coincidental matches can occur if imaginary names are used. As a measure to avoid any inconveniences," the e-mail addresses and phone numbers are apparently dummies.
When the man from Saga Prefecture requested the mobile phone agency staff to transfer his data, it appears that the procedure was somehow mistakenly carried out in the demo account, and the dummy contacts were added onto the man's newly-bought device.
So, it turns out that this wasn't a serious situation of data leakage, but our source commented, "It's a lot of work for someone to delete 200 contacts on his own. Apple should have had the customer post the device and handle it themselves."
---
なぜ?機種変したら謎の外国人の名前 iPhoneの連絡先に200人追加 アップルジャパンは「削除して」
世界的に人気の高いスマートフォン、iPhone(アイフォーン)の機種変更をしたという佐賀県在住の男性から、首をかしげる情報が届いた。「店頭でデータを移してもらったら、見知らぬ外国人200人の名前が…」。スマホの連絡先リストに、発売元のIT大手「アップル」社員とみられる人物の電話番号やメールアドレスが追加されていたという。まさか、データ流出?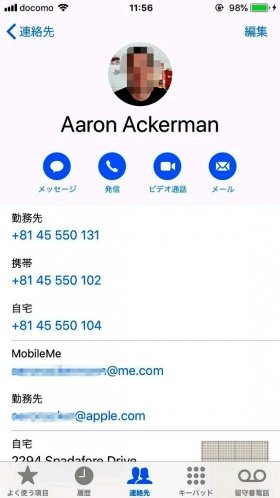 「流出疑惑」の連絡先。勤務先のメールアドレスには「apple.com」とあり、アップル社の社員名簿のようだが実は…
アーロン・アッカーマン、ケビン・エンジェル…。男性が見せてくれたアイフォーンの連絡先には、アルファベットの氏名が並ぶ。いずれもメールアドレスのドメイン名は「@apple.com」。アップル社員のようだが、知り合いではない。旧端末に登録していた友人や知人の連絡先は無事残っていた。
男性の説明によると、4月に佐賀市内の代理店でアイフォーンの機種変更をした際、インターネット上で情報を保存できるクラウドデータサービス「iCloud(アイクラウド)」を介して旧機器からデータを移してもらった。店員から新端末を受け取って帰宅後、連絡先に謎の人々が加わっていることに気付いた。
代理店に苦情を言って案内されたアップルの日本法人「アップルジャパン」(東京)からの回答は「システムや機器の不具合が原因とは考えられない。追加された連絡先を削除して」というものだったという。
取材班はアッカーマン氏らの連絡先に電話をかけてみた。が、いずれも「現在使われておりません」。メールアドレスも使われていなかった。
■
取材を続けると、福岡市の男性会社員も数年前、似たようなトラブルに見舞われていた。やはり店頭でデータを移行してもらった後、見知らぬ画像が自分の端末に入っており、「気味が悪くなって削除した」という。
アップルジャパンに取材を申し込んだが、回答はなかった。ただ、同社の関係者は「アイフォーンやアイクラウドのセキュリティーは米国防総省も認める堅牢(けんろう)さを誇っており、不具合でデータが流出するのは考えにくい。流出の前例もない」と言う。では一体-。
関係者によると、店頭に置かれたデモ機にはアップルに実在する社員の名前や顔写真が連絡先に登録されている。「架空の名前だと、顧客名と偶然一致する可能性がある。誰にも迷惑をかけないための措置」で、メールアドレスや電話番号はダミーだそうだ。
佐賀県の男性が代理店のスタッフにデータ移行を頼んだ際、何らかの手違いでデモ機用のアカウントで作業が進んでしまい、ダミーの連絡先が男性が買ったばかりの端末に追加されたとみられるという。
真相はデータ流出という深刻な事態ではなかったようだ。関係者は「200人分のデータをユーザー自身で削除するのは大変。端末を送ってもらい、アップル側で処理すべきだった」と話した。
=2018/06/23付 西日本新聞夕刊=