A Taboo in Fukuoka, Japan
There is something that is regarded as taboo in Fukuoka, Japan. Ceremonial hand-clapping is performed to conclude festivities across the country, but the local "Hakata Teippon" clapping has a unique pause at the end that leads to mistakes made by people who are used to the more common final clap. The traditional Iwaimedeta song is also sung at a particular moment. Mistakes "won't affect work or business," says one local business owner, but another admits "It can spoil the moment." Thus, it appears to be prudent to learn these customs once one moves to Fukuoka for work or study.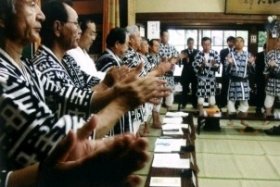 The ceremonial hand-clapping that is performed to conclude festivities in Hakata, Japan, is always Hakata Teippon.
Nighttime in the entertainment district of Fukuoka City. A welcome party was being held for a newly hired employee of a certain company.
"I'm so glad we got someone so entertaining! I'm looking forward to seeing your work," the middle-aged supervisor grasped the hands of the new recruit and then clapped him on his back with expectation.
Later, however, this kind supervisor's countenance was to change completely.
The party was reaching the end and the group got ready to do Hakata Teippon together. At the supervisor's call, everyone began to clap.
"Yooo!" (Ready!) clap, clap
"Mohitotsu!" (One more!") clap, clap
"Ioute Sando!" (Three claps to celebrate!) clap, clap clap
It was at that moment that an extra, lone clap shattered the silence. It was the new hire. Being from a different region and most likely used to doing the final clap, he had clapped four times, clap-clap-clap-clap.
In an effort to make amends, the young man blurted out his next mistake.
"Um, can we please do that again?"
The supervisor turned a stern look at him.
"You can't ever redo Hakata Teippon."
This is because repeating it is believed to bring bad fortune.
■ A Typical Scene in Fukuoka
This is a scene from a video titled "You Can't Redo Hakata Teippon," which was a city promotional project organized by the Fukuoka Film Commission and won the best prize in 2013.
"You Can't Redo Hakata Teippon" (Directed by Tsubasa Furuno )
The screenwriter of this video is a man who works at a newspaper company. Over the years, he has witnessed countless people making mistakes when doing Hakata Teippon. He says, "I created it as a typical scene in Fukuoka."
The Hakata Teippon is concluded with three claps. Many outsiders who move to Fukuoka get caught in the "trap" when they are not aware of the unique pause at the very end.
---
福岡ではやってはいけない"タブー"
福岡ではやってはいけない"タブー"がある。宴席の締めにたたく「博多手一本」には独特の間があり、全国的な一本締めに慣れた人のミスを誘う。みんなで歌う「祝いめでた」も斉唱するタイミングがある。間違えても「仕事や取引には影響せんよ」(地場経営者)と言いながら、「場がしらける」(別の経営者)との証言もあるため、転勤や就職で福岡市に転入した後は、極力覚えた方がよさそうだ。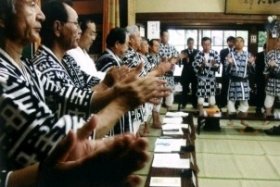 ■失敗に失敗を重ねる
福岡市内の夜の歓楽街。一人の新入社員を迎えたある職場の歓迎会が行われていた。
「もう楽しい人が入ってくれてよか〜。これから頼むよ」。上司の中年男性が若い新人男性の手を両手で包んだ後、背中をぽんとたたいて期待を込めた。
ところが、この後、優しい上司の表情が一変することになる。
宴席を締めくくる博多手一本に移行したときのことだ。上司の音頭で、職場のみんなが手拍子を打った。
よーお(パン、パン)
もひとつ(パン、パン)
祝(いお)うて三度(パ、パン、パン)
その時だ。パン…と、最後に1回、余計な手拍子が響いた。新人だった。関東出身で一本締めに慣れていたせいか、最後に「パ、パ、パン、パン」と手拍子を4回たたいたのだった。
博多手一本の最後の手拍子は3回。この独特の「間」を読めず、福岡に転入してきた多くの市外者たちが"ワナ"にはまってしまう。
失敗を取り繕おうとした男性は、さらなる失敗を招いてしまう。次の発言だ。
「あの、もう一度やらせてください…」
上司が険しい表情になって言った。
「博多手一本は、やり直しがきかんったい」
二度繰り返すのは「縁起が悪い」とされている。
■福岡の象徴的シーン
この場面は、「博多手一本に、やり直しはない」という題名の動画作品だ。福岡フィルムコミッション(FC)が主催した都市PR企画(福岡ワンミニット・フィルム・コンペティション)で、2013年の優秀作品賞を受賞した。
「博多手一本に、やり直しはない」(監督・古野翼)
脚本を担当した新聞社勤務の男性(ペンネーム・げこげこ大王28世)は、これまで何度も目撃してきたという博多手一本のミスの場面を、「福岡の象徴的なシーンとして作品にした」と語る。
「支店経済」とされる福岡市には、九州支店や福岡営業所など大手企業の出先がひしめく。
ある支店長は「着任した3年前、前任者から引き継ぎの飲み会でいきなり博多手一本をやらされて失敗し、みんなに注目された。私も後任に同じことをしたい」と打ち明ける。恥をかいた分、「習得も早かった」らしい。