Hi, readers! 
Today I want to talk to you about one of the most beautiful, emblematic and fun films of all time: FORREST GUMP.  It is tarring Tom Hanks, this is one of the most popular films of his career. 
 The adorable character who plays Hanks overflows empathy and simplicity, giving viewers life lessons in a very sensible way.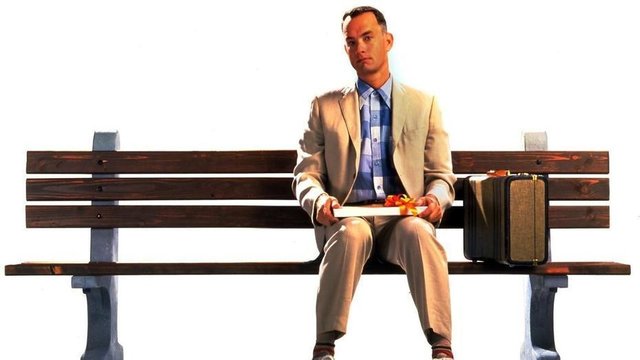 Now I'm going to tell you the highlights of this beautiful movie:
 When Forrest talks in a demonstration about the Vietnam war, the microphone is unplug and you can't hear what it says. According to a statement by Tom Hanks, in that scene he said the following:
 Sometimes when people go to Vietnam, they come home to their moms and they don't have legs. Sometimes they don't even come home. That's bad. That was all I had to say about it.
 When Forrest is learning to play ping pong, another soldier advises him to "never take his eyes off the ball." After that, every time Forrest is shown playing ping pong, he never blinks. 
 The line of "My name is Forrest Gump, and people call me Forrest Gump" was improvised by Tom Hanks. 
 The redheaded girl who appears on the bus when little Forrest looks to sit is actually Tom Hanks ' daughter, Elizabeth. 
 The remembered line "My mom says life is like a box of chocolates, you never know what you're going to play" was voted by the American Film Institute as the number 40 of the best 100 quotes of films.