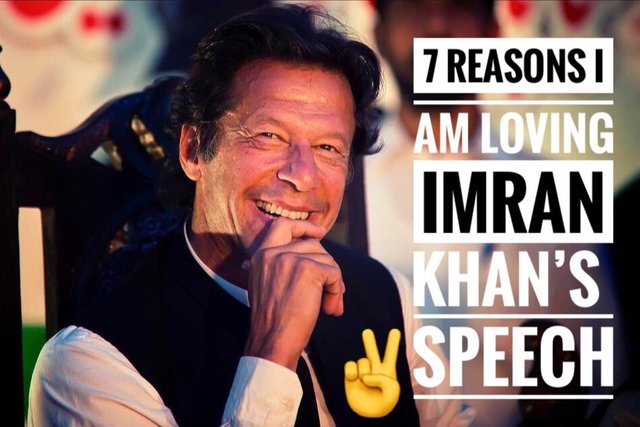 Not at all a politics person but how can you even stay calm when Imran Khan claims victory in 2018 elections. To be honest I have listened to his victory speech almost 4 to 5 times and hey there are enough reasons for me to obsess over it. There is a lot of excitement in the air and I pray that Imran Khan's government is able to live upto these hopes.
Anywho! I wanted to list the 7 reasons I am loving Imran Khan's victory speech which is nothing short of a model for a visionary state. So let's get started
1. Imran Khan's Inspiration is Islamic State of Medina
Imran Khan's vision to create a welfare state is inspired from the Prophet Muhammad S.A.W governance in Medina. An Islamic system insures a just and fair society. Bait-ul-Mal was created in Medina to help the weaker segments of the society become independent.
Imran Khan wants to see a Pakistan where poor working class especially the small farmer is uplifted to mitigate poverty.
2. He Wants to Strengthen Institutions
Its always the strong institutions that put the country on the trajectory of high growth. Strong institutes will curb corruption on their own due to swift justice and accountability measures.
3. Accountability Should Start from Top to Bottom
Imran Khan gave the example of China's government where they fired 400 ministers in the cases of corruption. If accountability starts from the top, no wasteful usage of resources can remain unchecked at the bottom.
4. Lessening the Expenses to Tackle the Challenges of Economy
Imran Khan believes in simplicity and pledges to tackle the challenges our economy is facing at the moment. Fiscal and Trade deficit have come to record highs. Rupee has devalued at Rs. 129 against dollar. All thanks to bad governance and wasteful expenditures. (The Government of Singapore was able to defeat corruption with effective administration and good governance). What makes us think we can't do the same?
Imran Khan also believes that a country clean from corruption will incentivize the businesses to invest without any reservations. He has also suggested to turn the lavish Prime Minister's house into an educational institute. Respect to you IK !
5. Imran Khan Pledges to Improve Tax Culture
Imran Khan pledges to improve tax culture, strengthen FBR and tackle tax evasion fiercely.
6. Imran Khan deems Human Development Most Important
Finally after decades and decades, a leader has come in Pakistan(InshaALLAH) who realizes the need of human development. Human resource is the most precious resource any country can have and Imran Khan understands this. Introducing skill oriented education can help a lot in reducing the unemployment.
7. Foreign Policy
On the foreign policy front, Imran Khan understands that in order to achieve peace and stability in Pakistan, relations with neighboring countries have to improve.
He said he would emulate the China's model to alleviate poverty and also their anti-corruption policies. Also the China Pakistan Economic Corridor can be used to bring investment in Pakistan(Well this last point can only be realized if Pakistani government and institutions are able to build the infrastructure and the skill set required to exploit this huge opportunity)
If you want to know what kind of skills Pakistan needs to invest in to prepare its workforce for CPEC-related projects. This article is a great start!
For India, Imran Khan wants Pakistan and India to sit at the table to resolve the Kashmir issue and end the blame game. (Let's see how India responds to this, to be honest I am not very hopeful). He also believes that trade between India and Pakistan can help alleviate poverty in the sub-continent.
For Afghanistan, Imran Khan wants peaceful relations to the point where Pakistan can have open borders with Afghanistan.
Imran Khan regarded Iran as an ally and wants Pakistan to play the role of conciliatory in Middle East.
for U.S. he said, he would work for a balanced relationship between the two countries. U.S.A. believes that it is constantly helping Pakistan financially(ahem to fight its own war).
Well I hope and pray that Imran Khan is able to deliver his promise to make Pakistan a great country just how he envisioned. Ameen!
xoxo
Rimi