67 Minutes For Mandela Day
Tomorrow, the 18th of July, is Mandela Day. I cannot tell you if it is celebrated world-wide, but here in South Africa, we make a big deal of it. Nelson Mandela was born on the 18th of July in 1918 and on this day every year we come together as a country (or I like to think that we do at least) and acknowledge and practice what he stood for.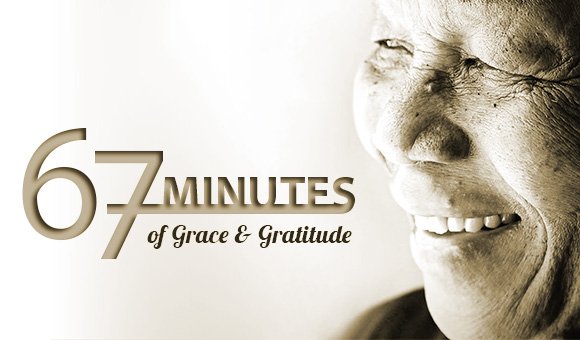 How do we celebrate this day in his honor?
It has become custom to spend 67 minutes of the day doing something good for others, the community or for the world as a whole. 
Why 67 minutes?
Mandela (Madiba) spent 67 years of his life trying to make South Africa a better place, the world a better place for that matter. He was an example of equality to all and he knew the true meaning behind freedom and rights. So in 2008 the idea behind Mandela Day sparked and since then many South Africans join forces to help with public services or a fellow human in need by doing a good deed.
 It is time for new hands to lift the burdens. It is in your hands now. - Nelson Mandela
Ideas of how you can celebrate and acknowledge Mandela Day:
Collect good for a homeless shelter, orphanage or old age home
Volunteer to walk and wash the animals and your nearest animal shelter
Pick up rubbishes along sidewalks, beaches and parks
Invite your neighbor over for a hearty meal
Clean out your cupboards and donate the items to goodwill
Help teach someone a new skill
The ideas are endless really, I think most importantly, spend your time doing an act of kindness that is dear to your heart, or that you feel you could really make an impact with. The whole meaning behind this day is to empower yourself as an individual, a community or even a work-force and do something that is going to change the world for good, with the hopes it will inspire you and others to continue this goodwill and positive energy into the following days and even years to come.
I am not one to follow politicians and a teeny tiny few get my respect, but Nelson Mandela was a very difficult person not to like. He made mistakes too and often strayed from the path, like any human does, BUT his heart was truly good and all he wanted, fought for and lived for was the freedom, equality and unity - a better place for everyone.
Tomorrow our me, my hubby and some of the employees who work for us will be heading over to a home for abandoned babies to dig a vegetable garden for them as well as to plant a huge variety of vegetable seedlings that we have purchased. It is the simplest of many of the acts of kindness that will be done tomorrow. How will you be spending your 67 Minutes for Mandela Day?