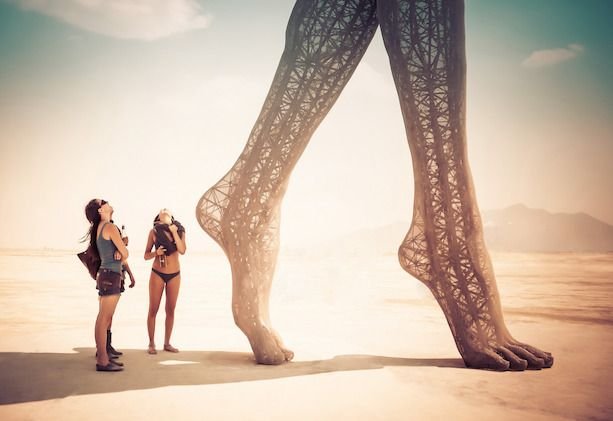 "This might seem like an unrelated tangent — after all, Burning Man is supposed to be a fun, liberating world all its own. But it isn't. The top-down, do what you want, radically express yourself and fuck everyone else worldview is precisely why Burning Man is so appealing to the Silicon Valley technocratic scions.
To these young tech workers — mostly white, mostly men — who flock to the festival, Burning Man reinforces and fosters the idea that they can remake the world without anyone else's input. It's a rabid libertarian fantasy. It fluffs their egos and tells them that they have the power and right to make society for all of us, to determine how things should be.
This is the dark heart of Burning Man, the reason that high-powered capitalists — and especially capitalist libertarians — love Burning Man so much. It heralds their ideal world: one where vague notions of participation replace real democracy, and the only form of taxation is self-imposed charity. Recall Whole Foods CEO John Mackey's op-ed, in the wake of the Obamacare announcement, in which he proposed a healthcare system reliant on "voluntary, tax-deductible donations."
Throwing up in my mouth.
BM today is what golf clubs were in the 90's. Handshakes and deals. And yes, I absolutely want our world leaders to be burners, and I want everyone to garner valuable experiences there and make deep connections.
And a huge part of that process is being courageous and discovering who you are. Playing with it. Doing the work to Invent yourself and feeling those fresh discoveries. Humbling yourself. Feeling like a fish out of water to garner that new perspective.
Having everything served on a silver platter strips people of the awkward but important experience of feeling like a pre-teen and only reinforces social status between the haves and have nots...which the stripping away of social status is what makes BM so cool in the first place!