Still Alive, Still Fighting, Thanks To You
Recently, Christine Assange and Disobedient Media announced that I was critically ill. Now that I am able, I want to explain a bit more about what happened.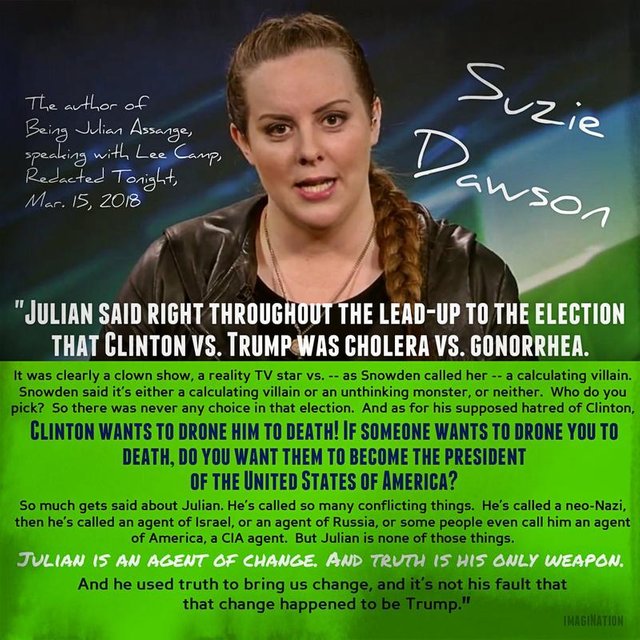 A huge thank you to everyone who has extended countless messages of love and support to me since I fell ill.
Outside my bedroom window, it is a beautiful summer day here in Moscow. Victory Day. Last year I covered it live, filming 800,000 people marching to the Kremlin holding photos of their lost family members, commemorating the end of World War II. You can watch my jaw-dropping video footage from that day here.
This year, I'm spending it in bed, grateful to be alive to write this.
Now that I am able, I want to explain a bit more about what happened.
In the wee hours of last Thursday 3rd May, local time, I got struck down with an aggressive form of food poisoning. It resulted in diarrhoea and a skyrocketing fever, which in itself is not so unusual but this fever rose so quickly that I was swiftly rendered unable to speak or move. My pillows and bed were drenched in sweat but to me, my body felt like ice. There were no other adults with me and I only had paracetamoI in the house. I soon fell into long bouts of unconsciousness. Ultimately, it was more than 60 hours before I was finally able to get help, obtain antibiotics/other medication and be examined by a doctor.
On Sunday, the fever finally broke, but I found myself beset with crippling stomach pains that are yet to subside. I am unable to move around more than a few steps and am on a strict liquid diet. I am currently awaiting surgical diagnosis and have been advised that the bacteria having free rein in my system for those first two and a half days likely caused ongoing damage.
Subsequently, I have had to make arrangements for domestic help and private medical care as I am not eligible for public care. This is obviously very expensive and as an asylum seeker I was already unable to work locally.
Donations from kind and caring supporters are sustaining myself and my children through this time and giving us hope for the future. From the bottom of my heart I thank everyone who is contributing and who is advocating to others for us to be supported.
At present we have no NGO assistance or engagement whatsoever. This is not uncommon for Western-born dissident journalists, exiles and asylum seekers. We are the untouchables, because our very existence threatens to reveal the hypocrisy of the supposedly-democratic governments who persecute us, and the Western NGO's who, if they acknowledged and supported us, would likely face backlash from those same governments, who in many cases, are their major financial sponsors.
Thankfully I have great legal support in Russia and in New Zealand but we are also still in need of international legal assistance in relation to my asylum case which must be elevated to the UN.
I want to assure you all that despite being in acute pain, I am alive and kicking, mentally sound and as determined as ever to continue my work as soon as I am able. I also want to confirm that this unfortunate illness occurred naturally. It was not from targeting by any third party and you can be assured, if it was, I would not hesitate to say so.
I simply cooked and ate some meat that was past its use by date that I knew I shouldn't have, mistakenly thinking that the heat would kill any germs. I was wrong and should have thrown it in the trash. It was my own error and a lesson I am learning the hard way.
Thank you to everyone rallying around me at this time. Since the Disobedient Media article about my illness, many small donations towards our expenses have been made, totaling nearly USD$1,000. Although I will need to raise much more in order to pay for my care, I am very humbled by and grateful for this start.
Special thanks to Christine Assange for speaking up for me, despite the incredible tribulations she is facing with Julian being unjustly silenced and tortured by the political machinations of the corrupt. Christine is the godmother of all whistleblowers and I am forever humbled by her love and support. Another huge thanks to Elizabeth Lea Vos who has been working tirelessly to progress #Unity4J in my absence. Likewise to the Internet Party of New Zealand, where awesome people are working very hard every day to support important iniitatives that other political parties simply can't or won't. Special thanks to Lee Camp, Caitlin Johnstone and others who are also calling for support for me. You all walk your talk. I am so thankful this world has you.
I will write again as able.
Love,
Suzie
May 9, Victory Day, 2018
Moscow, Russia
<3 <3 <3
You can learn more about me at my official website
Please donate to support me at this link and share this post
Bitcoin donations: please send to 1JehB3FTrGkjc4AzJGNHsnbYdE75hRVmnU