Killer Massages In Bangkok, Thailand
I've always been a sucker for long, deep muscle-kneeding massages. You know, the kind where you don't feel like your bones are being pulverized to dust or ye old lazy "fluff and buff" routine where you get no pressure? If my muscles aren't being worked on that level between a deep tickle and mild pain, forget about it. So when I was in Bangkok recently, I made massages a high priority.
One quick fun fact about Bangkok is that on any given street block, you can always find a massage parlor, a suit tailor, and a 7-11.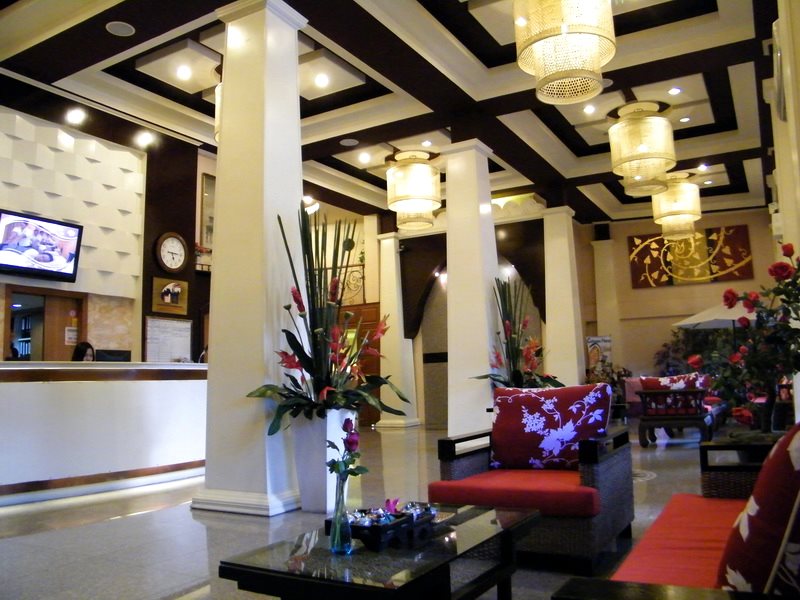 My first massage was at a place called Health Care & Spa (700 baht, about $20, for a 2 hour traditional Thai massage) in the Bang Na area. I was pleasantly surprised when a young girl named Pu, probably in her late twenties and pretty dang cute, walked up to me and handed me some slippers, then I sat in a chair and she started washing my feet. After that we went upstairs and I laid down on a thin massage mattress on the floor after changing into a pajama top and bottom type thing. I've had a lot of massages in my life. Most of them I have regretted, but this girl twisted and turned me gently, yet firmly, and it was complete heaven. She used her hands, forearms, elbow, and knees on me and I basically fell in love with her right then and there. It really was hard not to be turned on by a young girl (I'm in my late 30's by the way) who almost caressed me while delivering total bliss. 2 hours later, I was back downstairs sipping some hot Longan berry tea (very tasty) and then I handed her 200 baht (average polite tip is around 50 baht per hour), about $6 USD.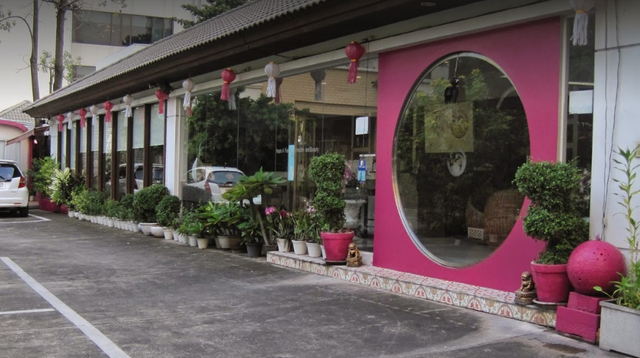 A couple of days later I walked into a place on a side street off of Soi 11 called Hapa Spa (2 hour Thai massage for 590 baht). Every massage I had in Bangkok involved putting on a pair of slippers, then having your feet washed and when the massage concluded, a cup of tea. Once again I was pleased by the attractiveness of the woman who worked on me. She could have been in her late 40's, but was in great shape. She was also quite talented and I nearly fell asleep. Her name was Wa and she seemed to get a kick out of my moans and groans. Like Health Care & Spa, this place was very nicely decorated inside and very comfy. I left feeling like a million bucks.
I went to the Central Bangna mall and on the top floor, there's this small massage parlor that had a name only in Thai. The girl at the front was in good shape, but big boned. She wasn't attractive per se, but not a total turn-off. Again I opted for the 2 hour Thai massage. There was an area with a bunch of mattresses on the ground separated by flimsy curtains. I really liked this massage. The girl was very skilled and used her forearms expertly, but it wasn't very private. I was okay with the lack of privacy as therapists and customers were respectful and quiet. The cost was roughly 800 baht and I felt it was a very good deal.
I decided to book an appointment with Pu again at Health Care & Spa because that had been my favorite massage at that point of my trip. The guy I spoke to on the phone assured me the reservation was made but upon showing up, they couldn't find my reservation. I showed them the completed call I had made on my phone and they scrambled quickly to find someone else. Unfortunately, not only was this woman in her 50's (which isn't a big deal as long as the massage is also good), but the massage was no bueno. She simply wasn't as skilled as Pu.
There are many seedy (read "happy ending" type) massage parlors on Sukhumvit Soi 23. If you're obviously a foreigner, you'll be cat called by girls in skimpy outfits and nice boobs. They'll try to lure you in and if you want something a little more than a massage, that can easily be accommodated. I didn't want a lousy massage though. Instead, I was lured by a cheap place on Soi 23 called May Massage. The window said 100 baht (about $3.20) for a one hour foot massage. Sold! But as soon as I stepped inside, I realized why they were 100 baht. All the masseuses were young men! I asked for a girl and of course the price jumped to 250 baht. I went through the usual routine putting on slippers, getting my feet washed, and was then led to a row of about 15 reclining chairs with some customers in the middle of their foot massages.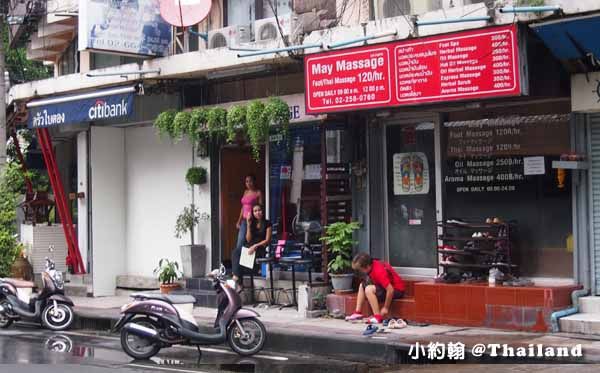 This girl was in her early 20's and really cute. Unfortunately, her skills consisted of maybe 3 moves, including one that felt like she was skinning my lower legs and ripping my leg hair out. The best move she had was a one minute kneading knuckle move to the bottom of my left foot that was sadly not repeated on my right foot. Shoes back on, tea cup emptied, I stumbled out of there after handing my therapist 50 baht. Even though the massage was horrible, I had to give her something. The therapists don't make much after the house takes its cut.

I went to JJ Mall near the Chatuchak weekend market and opted for a one hour foot massage at this little shop inside (250 baht + 50 tip). The guy who ran it was very friendly and told me the masseuse would be back in a moment. I was crestfallen when I realized the masseuse was a guy. Rather than jump out of the chair and make a run for it, I stuck around thinking maybe someone with bigger thumbs would to a better job. Nope. His style was rough and jerky, but not deep, and he moved much too quickly. I realized half of what made a good massage was a sensual and feminine touch.
Among the dozens of massages I've had in the US, 2 others were by guys and I swear, one of them was a gorilla. The guy was so hairy, it really made the experience about as unpleasant as possible. The other guy was a masseuse at a really expensive resort just steps from a tropical beach. That guy used the "fluff and buff" technique, even after I told him I wanted a rigorous deep tissue massage. One hour of lameness for about $180.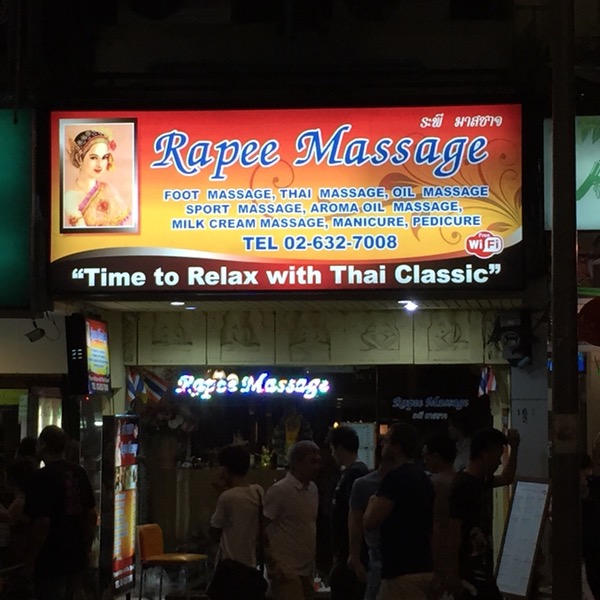 I went to a place on Sukhumvit road in Silom called Rapee Massage and had a one hour foot massage. This one was surprisingly good, even if the lady was pretty old. With the foot massages, after about 45 minutes spent on your feet, ankles, calves, and lower quads, you sit on a stool while they work on your back, arms, and neck. I'm not really into it though because as they massage, I lean forward which drastically decreases the pressure. From the outside you'd think this place was a dump, but it's really well decorated inside and totally professional. For 350 baht, it was worth it. My masseuse was thorough and had that special touch.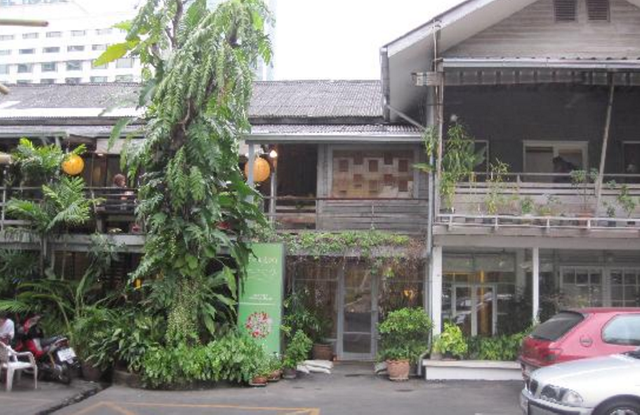 I had another one hour massage on Sala Daeng near Silom called Ruen-Nuad Massage Studio (350 baht + 100 tip). Now this place was like a jungle oasis of sorts. Very well appointed with a traditional upscale vibe, but not overly opulent. I went through the normal routine. The lady I had was in her 40's and unattractive, but could she ever work on my feet and legs! Absolute heaven and she very nearly put me to sleep. A feat that is not easy to achieve whatsoever. Her technique was slow and methodical, but skillful. The quality of this massage was top notch and surprised me because I had just walked in with no prior appointment.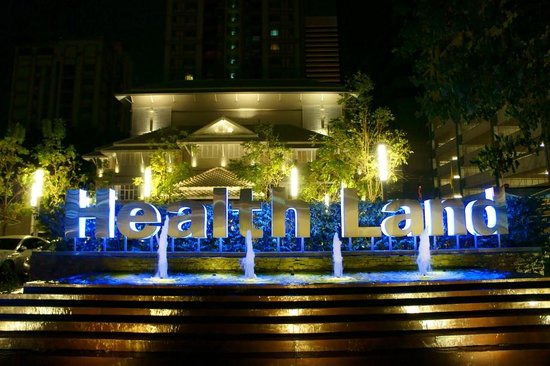 Health Land & Spa has one of the best reputations for being high-end in quality, but reasonable on the wallet. They did not disappoint. You need to make an appointment before you come to one of Health Land & Spa's many locations. I went to the Chong Nomsi location and it was absolutely enormous inside. It had an elevator with multiple floors and numerous rooms. I had never seen an operation like this before. It was a pampering experience. I opted for a 2 hour Thai massage for 550 baht plus a 100 baht tip. The girl was husky but extremely talented. I told her I wanted a rough massage, but I got more than I bargained for. She beat me to a pulp and then some. My calves were aching, but I was too proud to tell her to back off. The pressure was too much only in the upper and lower leg area, but everywhere else it was divine. My calves were intensely sore even 3 days later. I was beyond impressed by Health Care & Spa and wished I had gone there at least one more time. The ladies there are artfully trained.
I went back to Hapa. I liked the ladies there and they were very personable and chatty, which is rare in Thailand. People normally like to do their job and get on with the next customer, but Hapa had a more social atmosphere and I didn't feel like I was a customer. This time, I went for a one hour foot massage (250 baht + 100 tip). Like clockwork, Thai foot massages cover your feet all the way to about your mid-thighs after which, you sit on a small stool and the therapist massages your back, arms, neck, and head and contorts you in a few positions, possibly cracking some bones along the way. I had a different therapist this time and she didn't disappoint. Her name was Win and it was clear she had been massaging for many years. It was a real treat and she had a wonderful personality.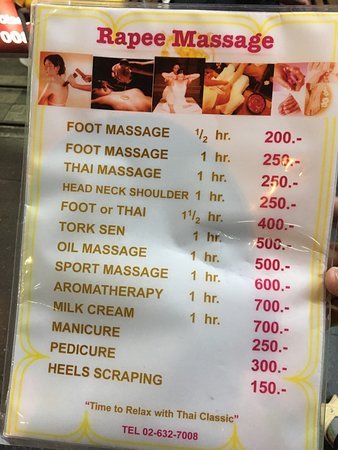 I decided to go back to Rapee in the Silom area for my last massage - a 2 hour Thai massage. I was greeted by Aui (pronounced "We") and lucked out. She was thin, young, and attractive but best of all, she was one of the most skilled masseuses I have ever experienced. She moved slowly, used the right amount of pressure, and even walked on my back! She was a real artist and used some moves that NONE of the other masseuses used. By the time she was done, I didn't even know where I was anymore. It was sort of bittersweet because I was leaving Thailand the next day and I had finally found a therapist that was good enough for many repeat visits. I think I tipped her 200 baht. The price was a steal at 350 baht plus the tip. It was a shame that it took me so long to find Aui.
Authentic Thai massages are completely different from any of the massages I've ever had in the US. There's a real feeling of intimacy with Thai massages that's difficult to explain. Massages in the US are sort of mechanical and inconsistent. I'm sure some of this has to do with the fact that Thai masseuses don't just use their hands, but other parts of their bodies when they work. The Thais take pride in their work and really DO put US massage therapists to shame. To compare apples to apples, an average 2 hour deep tissue massage in the US, including tip, would be around $200. In Thailand, that same massage would cost about $24 and I have no doubt, had I searched around more, I could have easily cut that down to $12. You'll pay higher prices for a private room and a more elaborate environment, but not necessarily for a better massage.
To recap, my favorite massage was by Aui at Rapee Massage. A close 2nd place goes to Pu at Health Care & Spa in Bangna. 3rd place tie goes to Wa at Hapa Spa, Ruen Nuad (don't have the name of the masseuse), and the place at the Central Bangna mall on the top floor. 4th place is a tie between Health Land & Spa although I think if I hadn't asked for such a hard massage, it might have been a lot better and Win at Hapa Spa. The worst was at May Massage, the stall inside JJ Mall, and one of the ladies I had at Health Care & Spa (not Pu). Overall, not bad for only having a few rotten eggs in the bunch.
The reputation of traditional Thai massages are totally legit! Regular massages were the highlight of my trip to Thailand so make sure you get one, or 10, if you make it over there.