About two years ago, I was living in a city that I loved, had an expansive group of friends, and was pretty happy with my situation. I'd just made a career change from higher education into content strategy and while I didn't relish working for a large corporation, I enjoyed learning about a burgeoning field and working with creative people. Shortly after transitioning, I was approached my a former higher ed business partner who wanted to recruit me down to his college. After several months of aggressively pursuing me, he successfully convinced me to return to my previous career and relocate to a smaller Midwest city. The following two years were pretty damn awful. After giving it the good old college try (teehee, puns), life gave me a one-two punch and I decided to pull a table flip.

I quit my job, packed up my apartment, and moved back to Detroit to start almost anew. This post will focus on what has worked well and not-so-well for me in this upending pursuit. Hopefully you'll find some parts of it useful should you ever find yourself in a similar situation.
1: Take Your Time Before You Take The Leap
Let me preface this one by thanking my wonderful friends and SO for their support and patience as I sorted out what to do about my circumstances. It wasn't easy for me to settle on the decision to leave both my career and that city, and it certainly was tough to do it without a job on the other end.
I knew in December 2016 that I had to do something else. I didn't know what and I didn't know where, but I knew the status quo wouldn't suffice. I started applying to places back in Detroit, both in education and in other industries. While I landed some interviews, nothing resulted in an actual offer. When my lease came due in July, I had to decide whether to renew for another year or move, and I wasn't going to move to stay in a job and city that I hated.
While this might have seemed rash, I'd spent close to a year contemplating what I liked and disliked about my situation. I talked it over extensively with my loved ones and progressively knew more about what I did and did not want for my life. This meant taking the time to ask some hard questions and likely annoy the hell out of my confidants, but it gave me the clarity to make the decision with confidence and in a way that wasn't reactive. I was able to save money and adjust my commitments ahead of time so that when I did take the plunge, it was with very few waves.
2: Create Your Own Schedule
When I left my job, I didn't have anything lined up. I was very fortunate that I had enough savings to float me for six months, but that hasn't meant sitting on my butt doing nothing. Don't get me wrong, there have been days when I had no idea what to do with myself and so NOTHING was exactly what I did.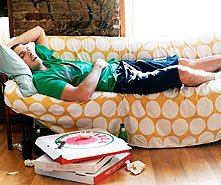 Don't do this.
Now I'm a proponent of forgiveness and believe you should allow yourself days like this, but they can't be the norm. Most of us westernites are institutionalized from kindergarten through retirement. We know where we have to be, when we have to be there, and who we'll answer to if we don't. When you move and are unemployed, there's no one to tell you these things. Some might thrive in these conditions, but the more institutionalized you are, the harder it is to operate outside of society's establishment.
To counter this, I leveraged my calendar to mimic the sense of obligation associated with employment. I scheduled set times for searching for open positions and writing up applications, volunteering, and even exercising. I went so far as to schedule time for chores, which helped give me a sense of accomplishment and a record of productivity.
It's also important to get out of the house. To save money, take your computer to the library or the campus of a local college. These places are filled with spots to hole up and work on your computer. Put on your headphones and take advantage of the thousands of free how-to videos to learn a new skill, or read up on trends in your preferred industry. This gave me greater confidence in my ability to be self sufficient in these circumstances and definitely kept me from dissolving into a blob on the couch.
If you schedule out your day, you're going to need stuff to fill it with, right? Treat your unemployment like employment by scheduling coffee and lunch dates with people you admire, work in a field of interest, or who seem just plain interesting. Set goals for the number of times you'll do this in a week or month. Reach out to different organizations about volunteering for them on a consistent basis and sign up for different activities, like MeetUps or free classes.
Being unemployed is a unique chance to try new things without the constraints of a 9-5 position. Use this to your advantage by trying new things. It's a fulfilling way to spend the day and will get you exposed to different people, one of whom is bound to hear of a position and immediately think of you.
4: Apply, But Don't Count On It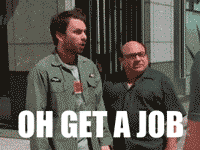 The last time I was unemployed, I was 26, had only one job since college, and was convinced I was going to starve on the streets. I submitted countless applications, but in the course of 4 months, it resulted in only 1 interview and no offers. In the end, it wasn't a job application that got me my next gig, but my network. I spent the next 3 years in an exciting position at an organization I loved. It's cliche, but I didn't find the job, the job found me.
Applications aren't fruitful for the jobs you apply for, but for the ones you don't. Instead of approaching them as your next potential position, see each of them as a chance to learn something new about the organization. What is the org's financial situation? Has it seen a lot of C-level turnover? Is the staff younger or older? Is it an international organization or localized to your community? What public information can you find about its taxes or profits? All of these can be very telling, giving you an idea as to what you'd be stepping into if you worked there and will help you improve your application.
After you submit applications, reach out to people at the organizations just to get coffee. Tell them you're a career changer and would value their perspective. Don't mention that you applied or that you're looking for a position with them. Talk to people who are in organizations and/or positions you admire and ask them for their insight. This will make a better impression on them than any cold application or random voicemail of, "Just confirming you got my application..."
5: Use This Time To Grow
This is a great opportunity for reflection on what didn't work for you in the past, what you want for your future, and what you're willing/not willing to do to have that future. Write about what brought you to this place in your life, make action plans for the next 6-12 months to keep your focus on what you want for your future, and so forth. One exercise that works well for me is to ask myself two questions:
What will Spurious be like in 5 years?
What would she want you to do right now?
Ask yourself these and other reflective questions to make the most out of what can be a stressful and uncertain time. This will help you navigate days of serious self doubt and battle against the slippery slope of diminishing self confidence.
Table flipping is a risky move and a lot of people never do it. If you work hard, are adaptable, and keep your head high, you'll land on your feet and have a better chance of loving what you do more than before. Be thoughtful in your approach and make sure you can take care of yourself, then let life handle the rest.
Cross-posted on my Medium account.