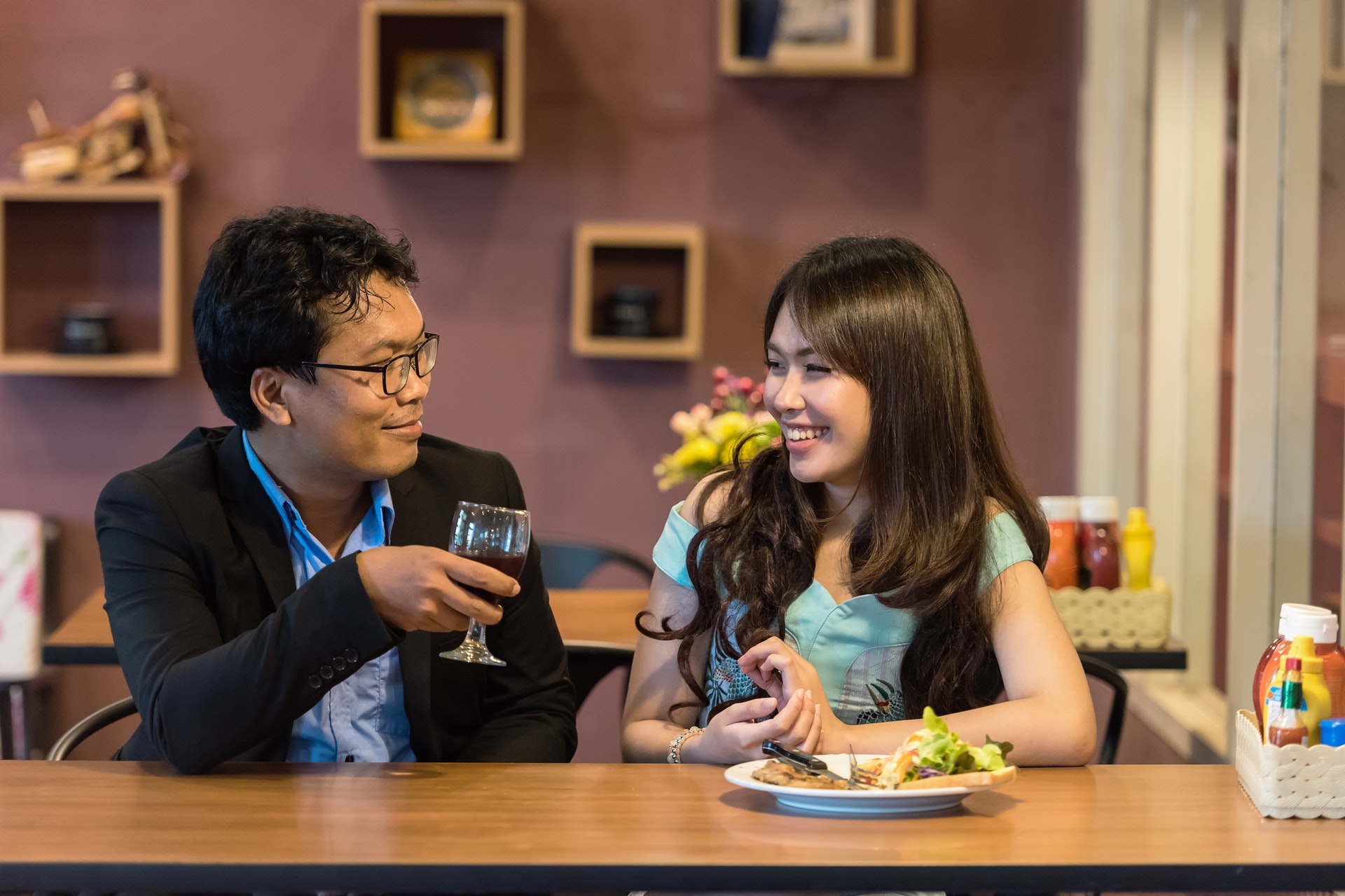 So, the big question - who pays for first dates? Should it be the guy or the girl or maybe the bill should be split? If the bill is split, should it be 50/50 or should each person pay only for the portion of food they ate? Or maybe the person who initiated the date should pay? I've even heard of complicated bill splits calculated based on earning differences!
No wonder people are nervous about going on dates! It sounds even worse than a job interview - at least you know how you are expected to behave at an interview!
There wasn't as much confusion back in the days when many women were not employed outside of the home - men picked up the tab because they earned wages and women didn't. Paying for dates was a way to show their economic prowess, a kind of reassurance that they had the economic means to care for her and their future family.
However, in an age of aspiring gender equality, it's not so clear any more what the rules are. In fact, some women today are repulsed when a man insists on paying for meals or movie tickets. The rationale - they found this gesture condescending, as if the man didn't think she was able to earn enough for herself and thus needed a man to pay for her bills.
No wonder men are confused! To make matters worse, known as the "wallet fake," some women will politely offer to pay part or all of the bill but secretly expect the man to pay. Men beware - if you accept these false gestures - you run the risk of being labeled cheap! On the other hand, there are women who really mean it when they say they want to pay and would be insulted if you insist on paying.
It seems men nowadays practically need a degree in psychology to navigate the dating game. When a girl offers to pay, does she really mean it? When she's digging around in her purse, is she just stalling for time or is she really looking for her wallet? When she says let's split the bill, is she just being polite and still expect you to pay 100% or is she suggesting a 50/50 split or does she want to split the bill based on how much each person ate?
To help answer these questions, let's look at some data.
A 2017 survey conducted by Money Magazine and SurveyMonkey found that 78% of the men and women surveyed think men should pay on the first date! So men, make sure you have your wallet ready before going on a date!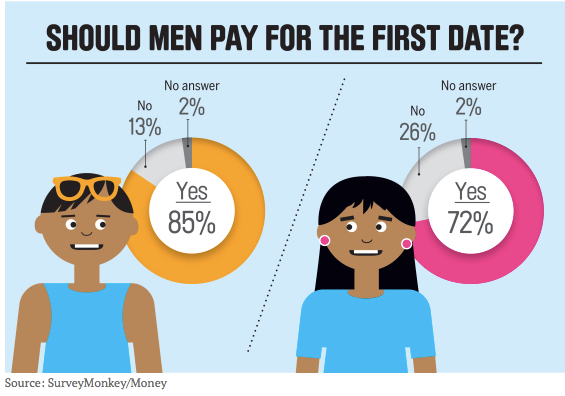 The survey also asked men and women how much they expected a first date to cost. Aah, men, make sure you have enough in your wallet - the majority of men said they expected to pay a whopping $50-99 for a first date! The good news is that the majority of women had lower expectations - they expected a first date to cost only half as much, just $25-49.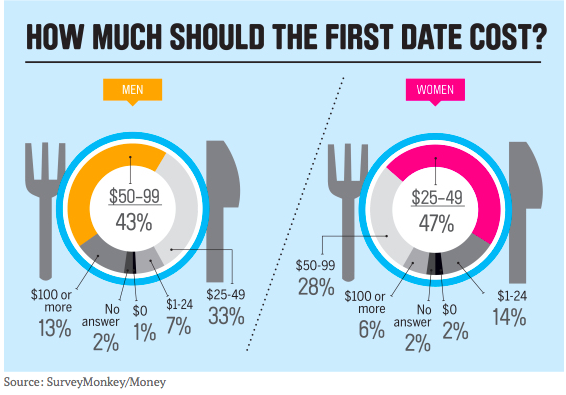 In case you can't already tell, I love using data to try to answer questions, so I was delighted to find out that people actually did surveys to try to answer the question of whether men or women were expected to pay the bill. Unfortunately, the Money Magazine survey didn't ask what people thought of splitting bills, so I turned to a 2013 survey by Rosanna Hertz (Wellesley College), David Frederick (Chapman University) and Janet Lever (California State University, Los Angeles) to try to answer that question.
According to the Hertz-Frederick-Lever survey, only 10% of dates expect to split bills 50/50 from the first date, so bill splits are definitely amongst the minority of situations. If you are doing a bill split, it's never poor etiquette to offer to split in such a way so that you pay for a larger or at least fair portion. So if you ate 80% of the food, don't split the bill 50/50 but offer to pay at least 80/20.
Regarding the sincerity of women who offer to pay the bill, the same survey found that while 57% of the women offered to pay, 39% of these women did this as a polite gesture and secretly expected the men to pay. This means that when women offer to pay, in less than half of the cases, this is a "wallet fake," and in a majority of the cases, they really want to help pay.
So there you have it - men, you are mostly still expected to pay for the first date.
In the tricky situation where the woman offers to pay and you're not sure if she really means it, come prepared with a line to let her gently off the hook. Maybe something like: "That's really nice of you to offer, but I asked you out on this date, so please let it be my treat. If you like, we can get some coffee/tea/dessert later." At this point, if the girl still insists on helping pay for the bill, let her. Or she might take you up on your offer and help pay for coffee/tea/dessert. If you end up going for coffee/tea/dessert and you still end up paying the bill, then you know you've got a "wallet fake" on your hands!
So, now we've discussed first dates. Expectations of subsequent dates are different than expectations of a first date. By then, 64% of men believe women should help foot a portion of the bills and almost half of the men said they would break off a relationship if the woman NEVER offered to pay for anything.
So girls, get your wallets ready too, and more importantly, manage your expectations! It's nice for guys to pay for first dates, but unless you have no financial means, don't always expect him to pay for everything. Even a small gesture can go a long way to help build goodwill. After all, dates are the precursor to a relationship, and you'd like that relationship to be a two-way street, without one person always giving and one person always taking, right? Just imagine if you were going out with your friends - you probably wouldn't expect your friends to pay for everything.
As always, communication is the key. Considering that money is one of the major sources of conflict in relationships, better to start open discussions about money and figure out each other's expectations early on in the relationship.
Final advice - Girls, help the guys out by saying what you mean. If you really want to help pay, then by all means, speak up. But if you expect the man to pay, please just let him pay and don't confuse him with polite offers to pay. And if you are serious about a relationship, be prepared to help pay for at least some of the expenses on dates.
This is just general advice and each couple and each situation is going to be different. But in any situation, I think clear communication and expectation management is going to be helpful.
Lastly, if you want to share your opinion about first date expectations, I found an ongoing survey at SurveyMonkey that you can participate in! https://www.surveymonkey.com/r/5MH6DVN
Resteem, upvote, or leave a comment if you liked this article!
Images:
https://www.pexels.com
https://time.com/money/4668232/valentines-day-men-pay-first-date/
Resources:
https://time.com/money/4668232/valentines-day-men-pay-first-date/
https://www.theguardian.com/commentisfree/2013/sep/09/men-still-pay-for-dates
https://ktla.com/2015/09/07/majority-of-heterosexual-couples-do-not-split-the-bill-5050-on-first-date-survey/