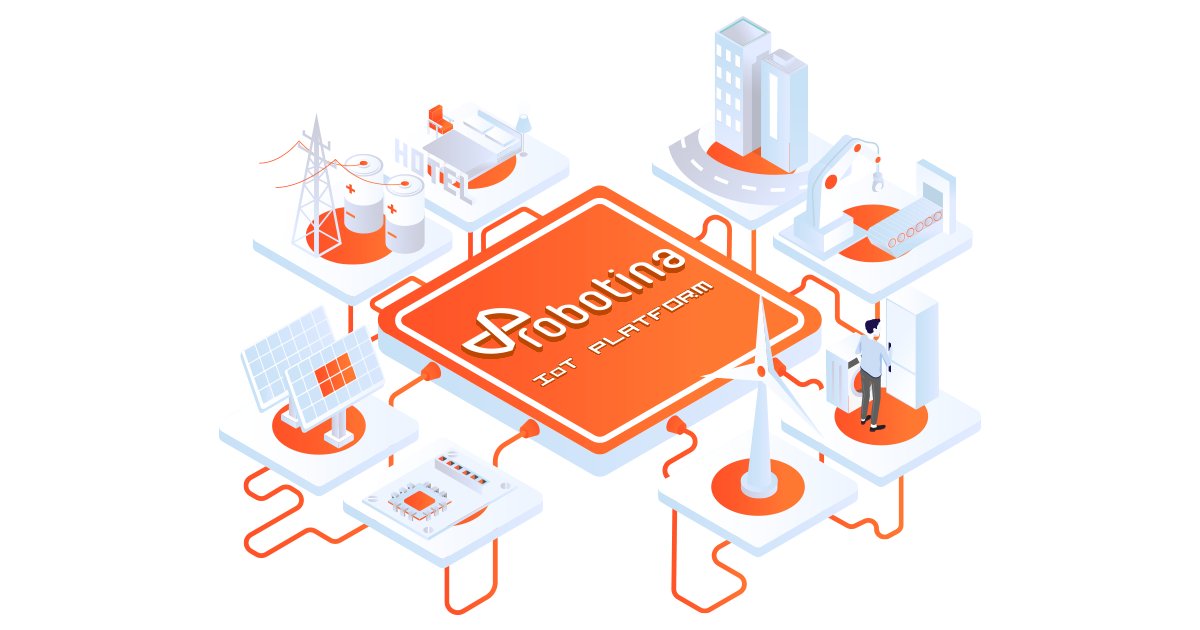 Energy usage has been a burden to the populace due to non-transparency of the energy supplying industries and high amounts of daily load usage by residential homes. Reducing your electricity loads saves some certain amount of money by allowing you to purchase a smaller system.
The Organisation for Economic Co-operation and Development (OECD) warns that; given the current trends, energy-related emissions will increase by 70 percent by 2050 which can accelerate the negative consequences of climate change.
Solution offered
Robotina as a company focus on the supply and development of innovative automation and control technologies. The company has provided qualitative services by using their Internet of Things (IoT) enabled hardware, cloud software and other high-tech solutions to combat energy menace.
Benefits of using Robotina Platform
Members of Robotina platform community will have several options to use their ROX tokens through
the power platform application:
Subscriptions - A required amount of ROX will be charged from the user application account. Servers that receive and execute subscriptions, will also generate a transaction that deducts ROX Tokens from the corresponding member's account.
Upgrading the HEMS set - The shop will allow members to order additional smart devices.
Obtaining analytics and statistical data - Different aggregated and processed statistical data in anonymous form will be obtained about electricity consumption and patterns
Guaranteed secured platform
ICO features
ROX token will be used for transactions that take place on the platform. With this token, users can buy services and products that are sold on the Robotina platform with other cryptos, tokens or money with a special discount of 3% given to ROX paying method while other payment methods will be converted to ROX.
ICO General Information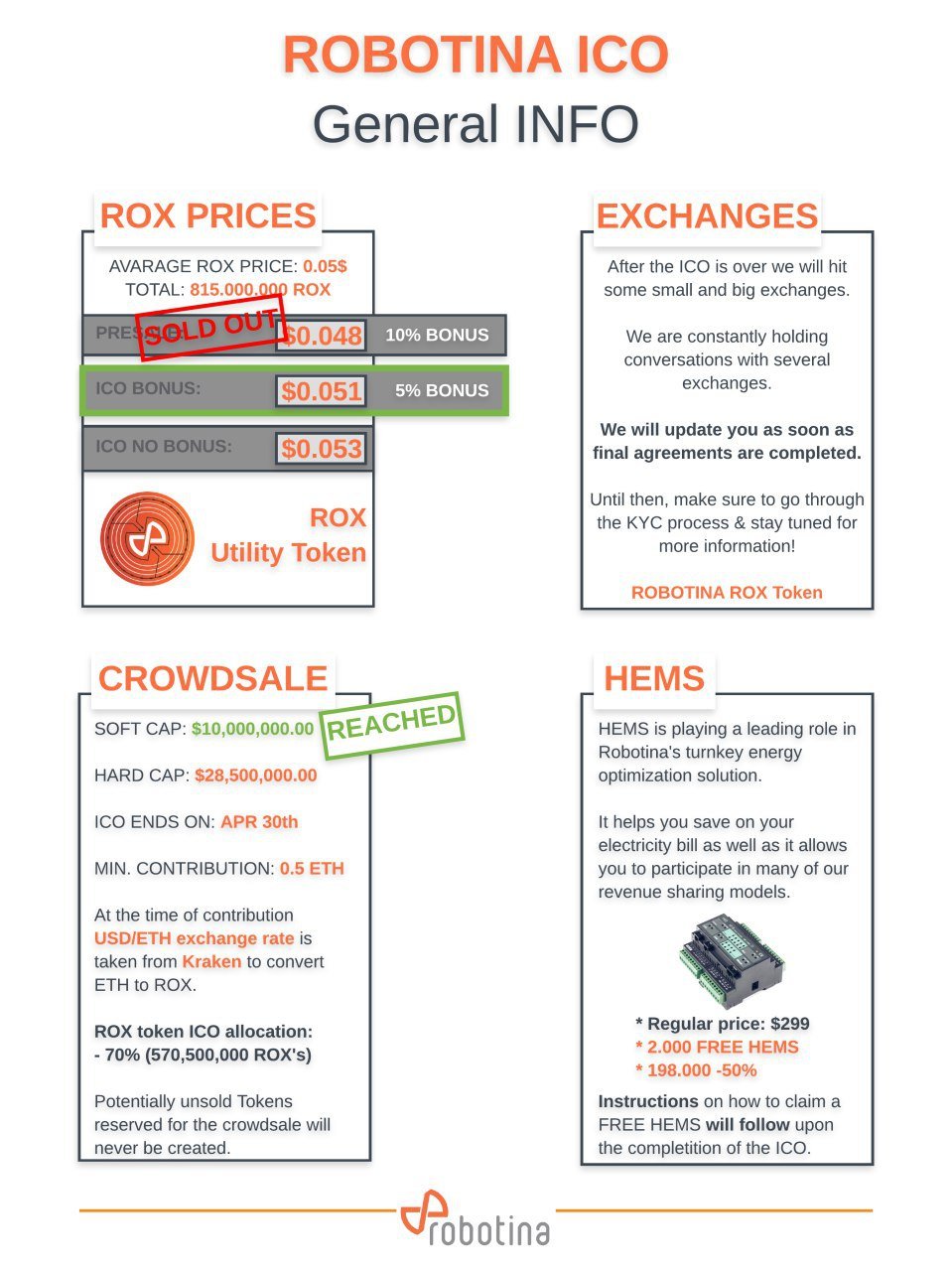 Token distribution
When issued, ROX tokens will be temporarily locked until the end of the ICO phase. After the successful ICO phase, ROX tokens will be distributed to registered Ethereum Addresses according to the following Token Distribution Plan:
• 70 % (570,500,000 ROX) among ICO supporters;
• 10 % of Team Members and Advisors;
• 7 % - Marketing and promotion;
• 5 % - Angel investors;
• 3 % - Bounty Fund;
• 3 % - Market and product development;
• 2 % - Escrow.
Tokens for Team Members, Advisors and Business Partners (10 %) will be vested for a period of 6 months - they will be unable to move or sell their ROX tokens. After this period the ROX tokens will gradually be transferred to Team Members and Advisor.
This is the present status of the crowdsale as at the time of writing this article;
Number of tokens sold: 211,107,883.90 ROX
Number of tokens left: 359,392,116.10 ROX
Soft cap: $10,000,000.00 (achieved)
Hard cap: $28,500,000.00 (In progress)
ICO Proceeds Usage by the Robotina Team;
• 27 % - Platform development
• 23% - Sales & marketing
• 16% - IT Security and compliance
• 14% - Operation cost
• 10% - Legal expense
• 5% - Hardware development
• 5% - Strategy development
Conclusion:
Robotina is a good and perfect way of combating energy-related problem before 2050 speculated time by the Organisation for Economic Co-operation and Development (OECD). Robotina has developed the appropriate technology that will solve this problem and we will all be free from excessive power usage and its environmental hazard on both human and aquatic life.
MAKE SURE YOU GET YOUR ROX TO JOIN THIS (R)EVOLUTION
Written by: simplibaba
For more information, kindly visit;
website: https://www.robotinaico.com/
Facebook: https://m.facebook.com/robotinaico/