WW II coins:
---
The coin itself
Norway 1940 (KM# 385) 1 Krona - Copper-Nicke (7.0gr) ; mintage - 3,890,000 ; My valuation - 5EUR
Obverse: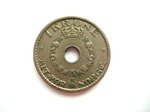 Reverse: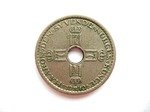 (you may click on the coins to enlarge the image)
A bit of history
Having maintained its neutrality during World War I, the country was occupied by Germany during the whole war period, up until 1945.
Although neutrality remained highest priority until the invasion, it was known that Norway, did not want to be at war with Britain. Norway managed to negotiate trade treaties both with England and Germany.
In spring, British plans for an invasion of Norway were prepared, mainly in order to reach and destroy the Swedish iron ore mines. Germany invasion of Norway was also planned for April. Prior to the invasion there was an agreement between some leaders of the Norwegian government and the German government, that Norway will support Germany if it didn't invade, but that didn't stop the invasion.
The economic consequences of the German occupation were severe. Norway lost all its major trading partners the moment it was occupied. Germany became the main trading partner, but could not make up for the lost import and export business.
Combined with a general drop in productivity, there was a scarcity of basic commodities, including food. There was a real risk of famine. Many, if not most, Norwegians started growing their own crops and keeping their own livestock. City parks were divided among inhabitants, who grew potatoes, cabbage, and other hardy vegetables.
My thoughts
This one is a tough one to judge. A lot point to agreements with Germany and the axis side. The government in place had lots of internal cracks and disagreements, which led to the long occupation period, but potentially saved many lives.
At the same time Norway did deport Jewish citizens to Germany…
There were both parties who supported the occupation and a big resistance. Troops fought on both sides. Although those fought on the ally side were officially in exile.
The coin is widely minted and yet again has value only when found in good condition. I think it is fair to judge that all coins of that age are fairly the same – have a high value, only when are in good condition.
The market is strictly regulated and people grow their own food. It's fair to assume that things were bought not only for coins and money, but that people, also traded goods directly. Prices did increase in those years and coins like this had a much higher psychological value in my opinion.
We can see the whole in the middle of the coin. Many countries tries to save on metal in that way, by making the coin lighter.
French troops in Norway – Norway, 1940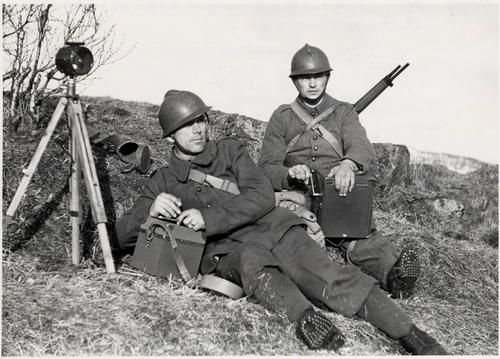 ---
All photos of coins are from my own collection
Historical source 1 ;