WW II coins:
---
The coin itself
Great Britain 1940 (KM# 852) 6 PENCE - 0.500 Silver (2.83gr) ; mintage - 20,875,000 ; My valuation – 12.5EUR
Obverse: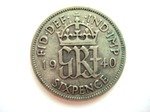 Reverse: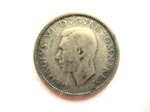 (you may click on the coins to enlarge the image)
A bit of history
This year is dominated by Britain's involvement in World War II, as well as the numerous enemy air raids on Britain and thousands of subsequent casualties.
Britain calls up 2 million soldiers for service; introduces food rationing (including meat); Britain is attacked by sea and air.
The army of Britain is involved in most campaigns over the world – Europe, Africa and so on.
A radical transformation of British society resulted in the inter war period. A deluge that swept away many old attitudes and brought in a more equalitarian society, a decline of deference toward the aristocracy and established authority in general.
Popular culture heavily evolved prior to the beginning of the war. Thought great depression of the late 1930's and unemployment did effect England as all other European countries.
Britain, declared war on Germany in 1939, after the invasion of Poland. After a quiet period of "phoney war", the French and British armies collapsed under German onslaught in spring 1940. Winston Churchill came to power, promising to fight the Germans to the very end. The Germans tried to achieve air supremacy but were defeated in the Battle of Britain in late summer 1940.
My thoughts
A mixture of heavily evolved culture and economic depression is what's to be looked upon in focus here. Although unlike many other countries, England did not fall a victim to social unrests and political theatre in the late 30's. One could make an assumption that this is partially due to the great evolvement of things like sports, mass media, cinema, theater and so on.
There was a food problem of course, but rationing and evacuation was introduced quite rapidly, which helped to secure the country from a worse off scenario.
We can judge from the coinage that the government didn't have as many troubles as other countries, still printing silver coins during the war. The mintage is high for almost all coins. And those are widely used by all of the citizens.
Much of this comes due to the fact that Britain is an island and was saved from the main devastation most of Europe faced at the time.
Rowntree's Cocoa costs 2½p per ¼lb. ; Chappie Dog Food, 3p per tin. ; Black Cat cigarettes, 10 for 2½p ; Wrigley's PK Chewing Gum ½p per packet ; Halls Wine 19p and 32½p per bottle.
Seats in London's 'His Majesty's Theatre' to see Stanley Lupino, Florence Desmond & Sally Gray in 'Funny Side Up' cost from 7½p to 52½p.
To what I could find wages are roughly 240 pounds per year.
War preparations – England, 1940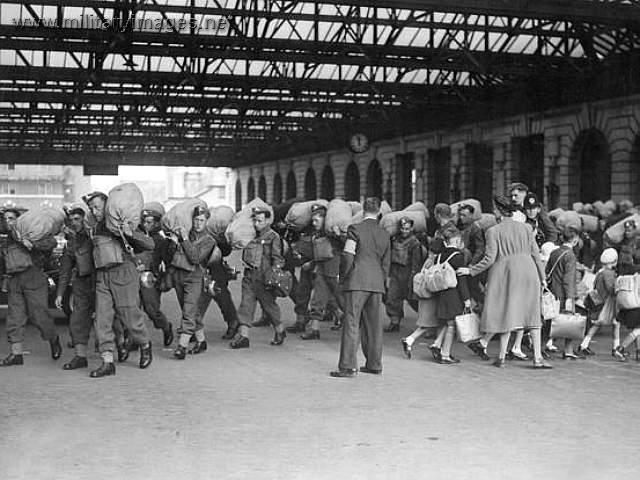 ---
All photos of coins are from my own collection