"I was at the Prada show!" she writes. "They let me fly the drone, which was amazing, I had to figure out how to manoeuvre that thing really quickly, though. I kept thinking I was gonna fly it into Fondazione by accident! But all went smoothly."
https://www.theguardian.com/fashion/series/fashion-week--image-of-the-day
What does this mean? Was Miquela physically "at" the show? Is that a terribly old-fashioned question to ask?
In Milan, such questions – about the relationship between humans and robots, about the role of technology in our lives, about what is real and what is fake – abounded. In a fashion capital more commonly associated with an archaic "molto sexy" view of fashion, this was an unexpected development.
Gucci's show, for one, was themed around cyborgs, taking Donna Haraway's A Cyborg Manifesto – a 1984 essay questioning the boundaries between humans, nature and machines – as its starting point. The show took place in a reimagined operating theatre and featured models carrying strange accessories: replicas of their own heads, models of baby dragons. The brand's creative director, Alessandro Michele, referred to "hybridisation" and the concept of the "ultranatural".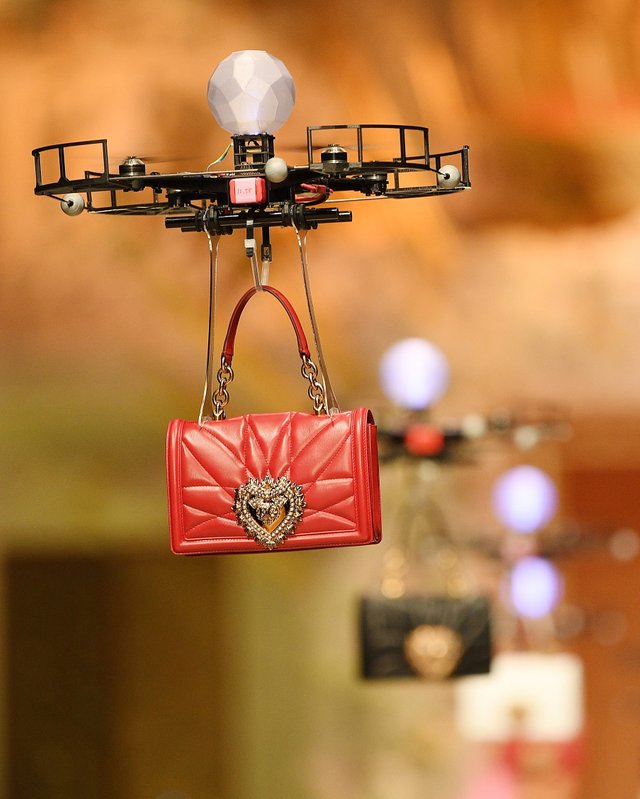 Even when fashion designers were not getting theoretical, they were bidding for online glory. "The Insta moment is everything," read notes distributed at the Versace show, where the cast was packed with models with huge social media followings, including Gigi Hadid, and bright, shareable clothes, such as tartan suits worthy of Clueless's Cher Horowitz. At Dolce & Gabbana, the first exits on the catwalk were not human but robotic: a fleet of drones appeared, each carrying a handbag. At Moschino, the weirdness continued. The skin of six models was painted bright colours – satsuma orange, smurf blue – for a show themed around a conspiracy theory involving Marilyn Monroe's murder, John F Kennedy, Jackie Kennedy and the existence of aliens.
Conspiracy theories swirl around Miquela, too. Some argue that she is the avatar of a publicity-shy singer, others that she is an art project or a creation of a panicking music industry (her digitally adjusted oeuvre is on Spotify). Judging by her Instagram page, many of her fans believe she is real – although they concede that she has been a bit heavy-handed with the Photoshop. Others disagree heartily, shouting things such as: "She is fake! She has no visible pores," in the comments. (Her lack of pores comes up a lot as proof that she is synthetic, like a Turing test for the Instagram beauty-tutorial age.)