..If I had only tried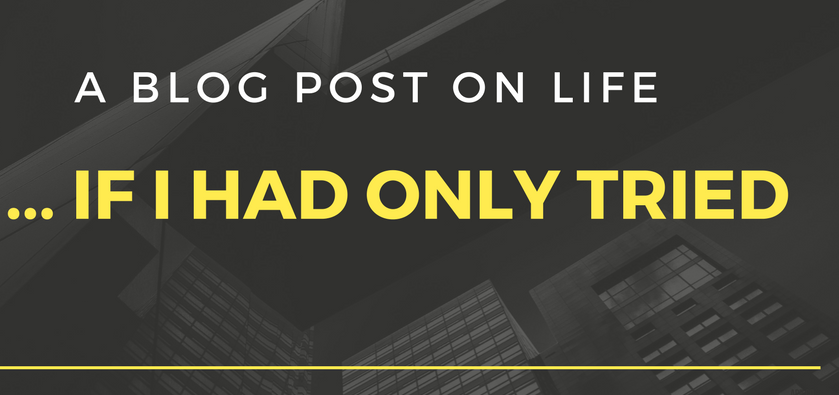 Though I exercised a good amount of artistic license when I published my first book, Kaleidoscopic Lives, three years ago, the fact of the matter is that most of the stories were inspired from real life, including the one about a German housemate I once lived with.
Axel, at that time was 53 years old and had just finished the 1st year of his undergraduate degree in mathematics - sitting with students one third his age. He was slightly eccentric but nevertheless serious about wanting to graduate and used to study diligently.
While he never revealed too much about his youth, one of the few things he told me was how he could never attend college when he wanted to and he had literally spent more than 20 years of his life just fixing and supervising the installation of window panes (some way to spend the best years of your life, huh?). However, at some point Axel decided he was going to take action.
He quit everything and went back to college.
I'm sure he was faced with enough ridicule, scepticism and whatnot. And yet he just did what he wanted to in the end. And he didn't make excuses - he didn't say he was too old to learn (think of somebody who never went to college going to study mathematics at 53), he didn't say he didn't fit in with the crowd (he sat among giggling 18 year olds who looked at him like a grandpa), he didn't let his physical limitations come in the way (he was a chronic asthmatic, and had frequent rheumatic pains) and lastly, he didn't say he didn't have money either. He bought clothes from Primark at discounts, cooked every meal himself after buying his meat and groceries from the most economic stores, and lived in an rented room for 70 pounds a week - all in order to ensure he lived as frugally as possible to fulfil that little dream of a college degree.
Once I asked him, what he planned to accomplish after getting his degree. He had his plans for that too..
"I will one day open a school for pure sciences... no sociology and all that bullshit, just pure science".
I'll never meet Axel again, I'm quite certain. He seldom used emails apart from his college one, had no social media presence and the number he used would've been discarded as soon as he left town.
So why am I posting this today? A colleague of mine who quit work after 14 years reminded me of him.
We often get drowned in the noise of our surroundings, living from day to day, doing what we often don't enjoy because we need that paycheck at the end of the month. We are often afraid to stop because there are a million reasons not to - EMIs, rent, school fees for kids and a million other expenses.
And we continue on as our days turn into weeks, weeks into months and months into years.
We move from our twenties to our thirties, and then to our forties, and afterwards to our fifties, and before you know it, the best years of our life are over.
Of course, we may have grown up kids by now and we can always say that we 'sacrificed' our life for theirs. But then that's what every generation says to the next, isn't it?
Dont' be surprised if our children live our lives all over again and say that to their children too.
What we really do is that we effectively shift our lives in our mid-twenties to autopilot and then let the years drift by. We never break out of our comfort zones, or take risks when we could and we camouflage our inaction as family responsibility or something else.
Of course, the fact that we started a family knowing all underlying responsibilities involved, doesn't matter. And we stay oblivious to the fact that there are people who successfully manage a family life and still do everything they want to (no wonder all the top 3 billionnaires in the world are family men).
Not all of will become a Bill Gates or a Warren Buffet or Jeff Bezos, but then again, we'd never know if we didn't even try.
So what are you doing as you read this? Would you be happy doing the same thing or something similar 10 years from now? If not, did you plan out when you are going to stop?
Coming back to my old pal Axel. I have no clue how he will spend the rest of his days. He might succeed and start that school, or he might fail miserably. But there's one thing I'm sure of - the time he's on his deathbed, he'll atleast have that comforting thought - that he tried.
Life may not have worked out the way we expected it to, it almost never does. But don't let that stop you from trying. Don't let your fears and insecurities stop you from trying.
After all, when your time is up, the last thought on your mind shouldn't be, "... I wonder how things would have turned out... if I had only tried"
---