The ministry of agriculture Print 8 Thousand Hectares of New rice Fields in Merauke 2018-07-31 08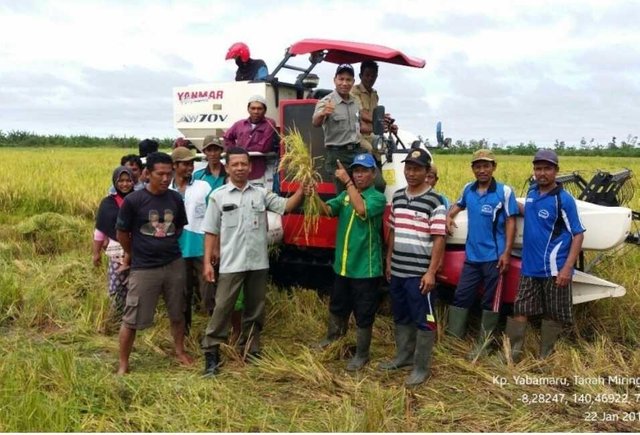 The potential land for the development of rice fields in the Regency of Merauke is quite large
MERAUKE -- the Ministry of Agriculture actively carry out the printing of new rice fields in the Regency of Merauke since established as the center of rice production in the Province of Papua. Director of Expansion and Protection of Land, the Directorate General of Agriculture Infrastructure (Ditjen PSP) Beautiful Megahwati said since 2015 up to this time, the Ministry of agriculture have scored a new wetland of in the District of Merauke close to 8 thousand Hectares. Details are on the 2015 area of 2.115 hectares, 2016 area 2 riburibu hectares, 2017 covering an area of 3 hectare, and 2018 of 800 hectares.
Researchers Center for Research and development of Agricultural Land Resources (BBSDLP) Yiyi Sulaeman said the potential land for the development of rice fields in the Regency of Merauke is quite large.
"Land suitable for the development of paddy rice of about 2.69 million hectares, respectively is quite suitable (S2) 1.24 million hectares and the rest is marginal suitable (S3) of about 1.45 million hectares," said Yiyi in a written statement received by Republika.co.id, Monday (30/7).
Yiyi explained the land is located in the area of other use (APL) around the 285,58 thousand hectares, production forest (HP) around 755,34 thousand hectares, convertible production forest (HPK) about 827,21 thousand hectares, and other forests around the 826,84 thousand hectares.
"For the first step, the APL 285,58 thousand hectares can be immediately opened while waiting for the process of licensing the use of the forest conversion to agricultural land from the Ministry of environment and forestry," said Yiyi.
The head of the Assessment institute for Agricultural Technology (AIAT) of Papua Dr Muhammad Thamrin explain the productivity of paddy average in Merauke Regency of about 4.5 t/ha. "The potential for rice production in the District of Merauke is quite high. This proved to demonstration plots BPTP the year of 2017 with the technology JARWO SUPER (varieties INPARI 32, balanced fertilization, use of agricultural machinery, and others) are able to produce more than 8 t/ha," said Thamrin.
Thamrin added land productivity of new rice fields in Merauke is still relatively low, i.e. about 4 t/ha. In addition the planting of rice is also still low, namely IP 100. "When IP rice increased to 200 with the addition of supplement irrigation in the dry season, then printing a new wetland of 7.915 hectare will increase grain production annually about 63 thousand tons of grain," said Thamrin.