If you like my posts please upvote, resteem and follow:)
Amongst all the cyber hacking and ransomware IN THE NEWS...Draw your own conclusion, but IMO this is the best team the OTC stock has to offer, bar none!
https://www.theguardian.com/technology/2017/may/14/cyber-attacks-highlight-growing-vulnerability-of-us-all
http://www.npr.org/sections/thetwo-way/2017/05/14/528355526/repercussions-continue-from-global-ransomware-attack
SUB penny stock BVTK is meeting with trump adminstration (RUDY GULIANI) and looks to be the best pick for GOVT CONTRACTS for CYBERSECURITY.....this SUB PENNY IS ABOUT TO FLY TO THE MOON.
Donald Trump Taps Cybersecurity Expert Rudy Giuliani to Help Secure Our Nation's Cybers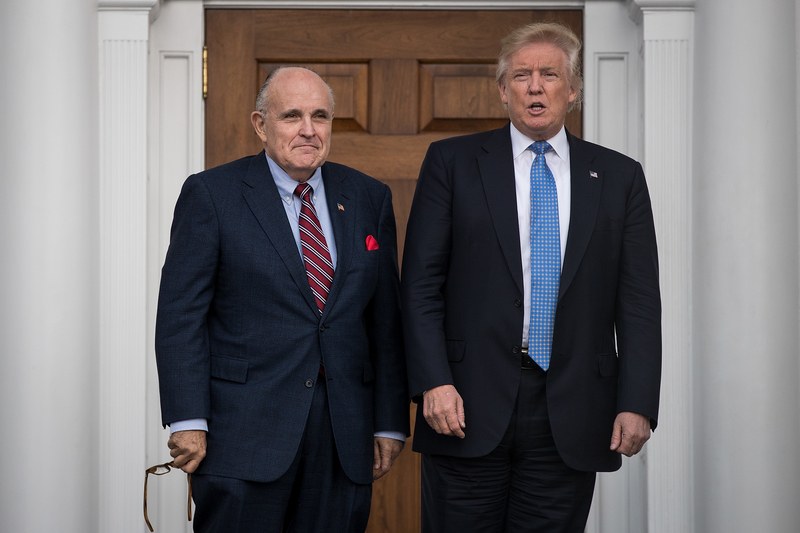 http://www.gq.com/story/rudy-giuliani-cyber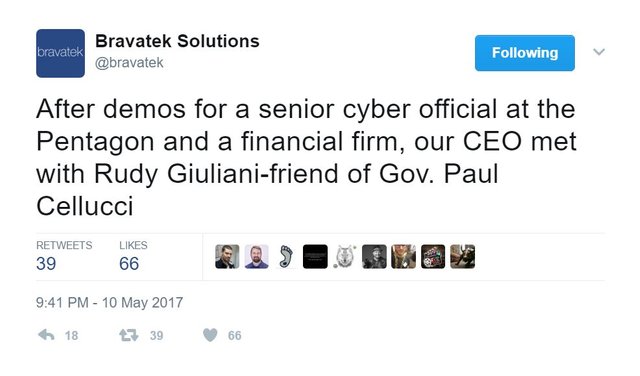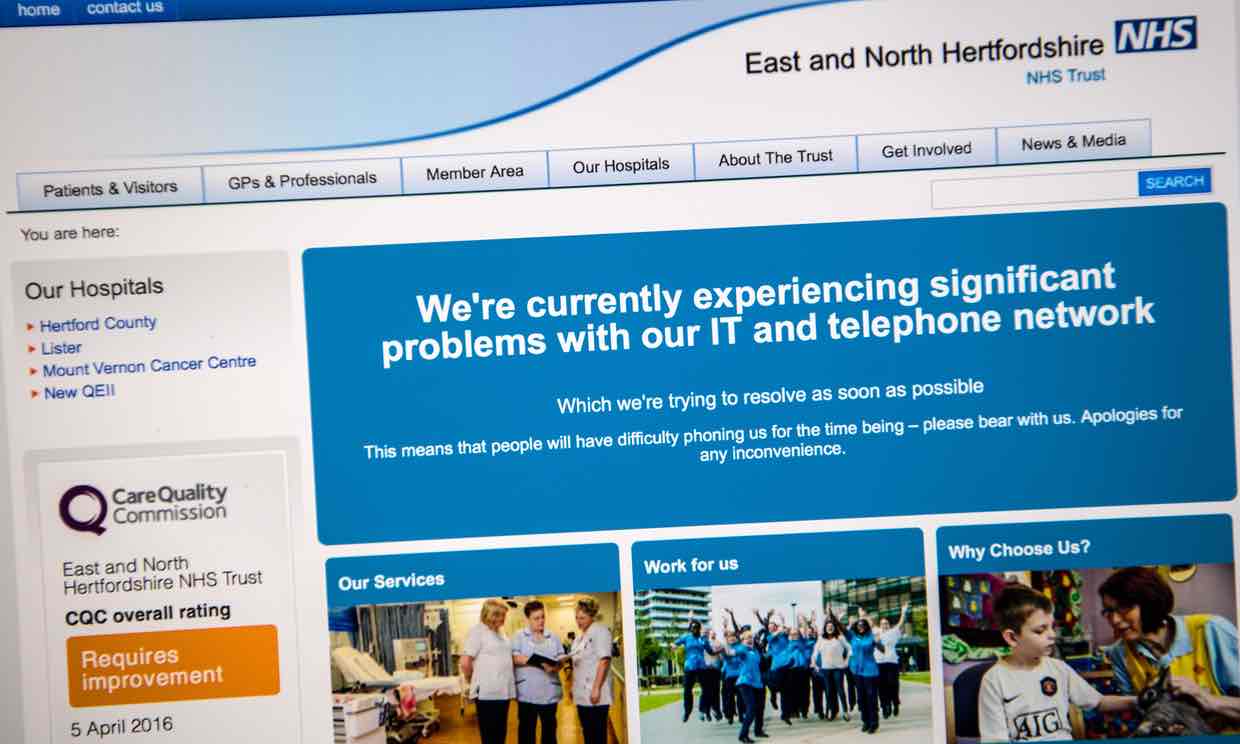 https://www.theguardian.com/technology/2017/may/14/cyber-attacks-highlight-growing-vulnerability-of-us-all
"Tom Cellucci worked for 5 US Presidents. Most recently for President Obama in the Dep't of Homeland Security.
Anyone calling him a scammer is out of their minds!"
"One thing BVTK definitely needs is know how when it comes to private organizations providing services or partnerships to government organizations. I sure am glad our CEO wrote the book on it, literally... "
https://www.amazon.com/Thomas-CelluccisA-Innovative-Public-Private-Partnerships/dp/B005W8MVGQ/ref=sr_1_sc_2?ie=UTF8&qid=1494788876&sr=8-2-spell&keywords=thomas+celucci
Must read for BVTK shareholders on just how huge BVTK is:
Quote:
A few takeaways from my phone call with the CEO
Cellucci has higher clearance in the US government than even the providers of the SEWP contract
Business is all about connections, and cellucci has connections to very large agencies and corporations
Bravatek has submitted several 8ks and are waiting for the lawyers and service providers to approve and file them, as they are very rigourous in making sure everything is perfect
They have sold Ecrypt one, and have not only governments interested in Ecrypt one but also corporations
They are already producing revenue, and have 8 IDIQ contracts being leveraged
Viking telecom services is already producing revenue, and has the opportunity to generate substantial revenue. Towers are run by governments agencies like the NSA, CIA, ect and they lack the work to maintain and operate these towers. My opinion is that we see government contracts for the telecom services as well for that reason.
Ecrypt one was developed by a leading Microsoft engineer (Ian treleaven) and is so different and advanced that it would even make microsofts head spin.
-Company is in talks with many equity investors, and people/firms who would like to acquire Ecrypt One or even Bravatek as a whole
The firms that Bravatek has partnered with through the alliance marketing program are companies with products that can incorporate Bravateks products into their own and vice versa
Cellucci has turned around Bravatek, and now it is time to head in the direction opposite of which we turned around from, which means we are going north. I personally believe this is going to be a very successful company and I hope we don't get bought out lol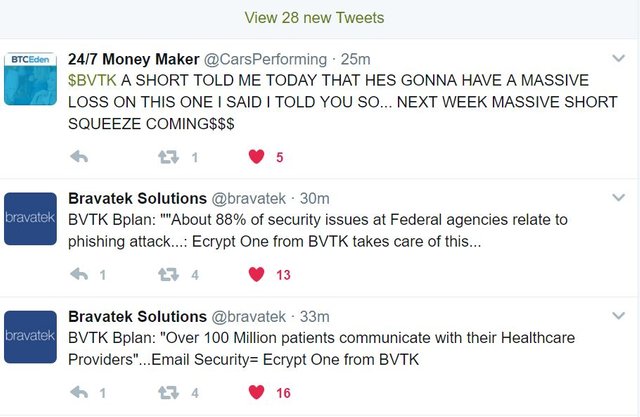 thelawless Sunday, 05/14/17 01:54:15 PM
Re: None
Post #
40433
of 40442 Go
I don't think many people quite understand the severe threat that Friday's attacks posed. Chuck Brooks, posted an article that stated many security analyst think another large scale attack will happen tomorrow. In my opinion, Friday's attacks were only a feeler. There's a reason 180 countries were affected, but the world's largest power sees the least impact? That was a test sent out by the cyber security terrorist to 1. see what was possible and 2. see what America's response would be.
Unfortunately, our response was an EO that stated how out-of-date our systems are. The EO stated the government program heads had 90 days to create their proposals and submit for review. They would have to be absolute morons to wait that long, and I imagine many of them were already aware of the proposal and had begun creating them well in advance. For this stock to skyrocket to $1 in 1-2 months is not impossible if they get large equity backer to purchase outstanding, and set aside large portion for share repurchases from the many that will sell as this climbs.
"Normally, I would say that large of a gain is impossible as well, but given everything that is falling into place and the people who are in charge of this company it seems like this really might be a once in a lifetime stock purchase."
And for those that keep saying Cellucci is a scammer...ask yourself this...why would a person with his credentials put everything he has worked for to scam a couple hundred people out of a casual Friday night outs worth of money? The man could be making millions as a CEO anywhere else...keep that in mind


Draw your own conclusion, but IMO this is the best team the OTC stock has to offer, bar none!
THE BVTK POWERHOUSE TEAM!!!
We are Bravatek.
We place people at the heart of our solutions creating a culture where smart, simple solutions work harder so people can work smarter.
Thomas A. Cellucci PhD, MBA, BVTK CEO, (THE STUD - MASTERMIND)
Dr. Cellucci is an accomplished serial entrepreneur, seasoned senior executive and Board member possessing extensive corporate and Venture Capital experience across a number of worldwide industries.
Prior to his appointment to Bravatek's senior management team in June 2014, Dr. Thomas Cellucci served as the US Federal Government's first ever Chief Commercialization Officer at the US Department of Homeland Security (DHS) and the White House, working directly for President George W. Bush and President Barack Obama. There he expanded the role of public-private partnerships within government and increased opportunities for cooperative research and development activities in support across government. As Chief Commercialization Officer, Dr. Cellucci was responsible for initiatives that identified, evaluated and commercialized technology for the specific goal of rapidly developing and deploying products and services that meet the specific operational requirements of DHS's operating components, first responders and critical infrastructure/key resources owners and operators.
Debbie King, BVTK CFO & DIRECTOR (MS. SHOW ME THE MONEY!)
Ms. King possesses expansive understanding of financial, legal and business tax applications. Ms. King has served clients with over 25 years of entrepreneurial leadership experience as a business and financial advisor to a number of firms over her career.
She currently serves as the Business Manager to a privately held firm in Dallas, TX and brought a unique set of skills to her position including financial, operations, and business management. Ms. King has assisted firms in business start up, acquisition, expansion, and reorganization. Her diverse skill set and educational background allows a broad perspective regarding financial and operational business management.
Ms. King's background as an Accountant has served numerous of firms in various industries in optimizing profit outputs and streamlining business practices. She is a strong minded and focused individual that utilizes her education and experience to assist in analyzing, identifying and implementing operational changes to increase efficiency and profits. Ms. King possesses expansive understanding of financial, legal and business tax applications.
Ian Treleaven, BVTK VP of Software (THE INNOVATOR)
Ian has a vast depth of technical knowledge and innovative thinking. Ian has over 20 years of professional software development experience creating Enterprise-class software for some of the world's largest companies, including Microsoft, Crystal Decisions, Business Objects and SAP.
Most recently a Senior Product Owner in SAP's Business Intelligence Portfolio, Ian was responsible for product performance and reliability (P&R), driving P&R improvements with multi-release strategies, sizing for traditional and SAP HANA-based BI solutions as well as developing product deployment methodologies scalable to SAP's largest customer (e.g.: 250,000 users). Previously to that role, Ian was a Senior Software Developer for the Business Intelligence product suite at the company.
Before its acquisition by Business Objects, and consequently SAP, Ian held similar roles at Crystal Decisions and Seagate Software. There he was responsible for the design, development, then the delivery of the company's enterprise-class software, such as Crystal Reports.
His earlier career includes various software development positions, most notably Engineer and Technical Lead at Microsoft. There Ian was focused on email server software development and was part of the team leading to the development of Microsoft Exchange.
Chuck Brooks, BVTK Director (MR. MARKETING & BUSINESS DEVELOPMENT)
Mr. Brooks has extensive service in Senior Executive Management, Government Relations, Research & Development, and Marketing / Business Development.He currently serves in a dual role as Vice President of Government Relations & Marketing for Sutherland Global Services. Headquartered in Rochester, N.Y., Sutherland is one of the world's largest independent business process outsourcing companies employing over 30,000+ professionals across 40+ operation centers and business operations.
Chuck has extensive service in Senior Executive Management, Government Relations, Research & Development, and Marketing/Business Development and worked in those capacities for three large public corporations. He also received Presidential Appointments from two Presidents, George W. Bush and Ronald Reagan, to serve in executive roles in the federal government.
Chuck served at the Department of Homeland Security as the first Director of Legislative Affairs for the Science & Technology Directorate. Earlier in his career he served as Special Assistant to the Director of Voice of America. He also spent six years on Capitol Hill as a Senior Advisor to the late Senator Arlen Specter where he covered foreign affairs, business, and technology issues. In academia, Chuck was an Adjunct Faculty Member at Johns Hopkins University where he taught graduate level students about homeland security and Congress.
Hans Holmer, BVTK Director (MR. GOVERMENT INTEL)
Hans is a retired CIA officer with extensive experience in strategic cyber issues. His experience in nation-state intelligence collection and corporate defense goes back nearly 20 years and his engagement with the interface of humans and technology goes back to 1973. He spent over half of his career overseas and served on every continent except South America. While abroad he served in many different capacities and participated in several historical events of our time. Among other awards, Hans received the CIA Intelligence Star "in recognition of his especially valorous performance of duty."
Within the cyber realm, Hans became an expert in conventional computer networks, telephony, Industrial Control Systems, and defensive strategies. He developed the Cyber Security Hierarchy, analogous to the Maslow hierarchy of human needs, which outlines a hierarchy of needs that must be satisfied to achieve cyber security. It postulates that effective cyber security requires adequate resources, integration with the corporate business processes, esteem for cyber security requirements and the agility to respond to threats in order to have adequate impact.
Draw your own conclusion, but IMO this is the best team the OTC stock has to offer, bar none!
UPDATE....BREAKING NEWS......http://stocknewsunion.com/bravatek-solutions-inc-otcmktsbvtk-executes-agreement-with-prominent-reseller-in-us-government-and-military-space-for-both-ecrypt-one-and-telecom-services/4101/