As I recall, family portraits were usually inspired by the church directory, which was like a yearbook for all the folks in the church. Mom would get home from a long day of work around four and dad would get home from a long day of work at five. We'd all put on our "Sunday Clothes." Back in the day, Sunday clothes consisted of a dress for women and girls and a button-up shirt and tie for men and boys.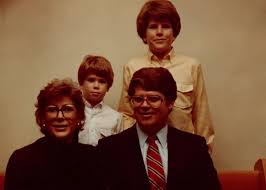 I made the never-ending attempt to comb my hair. My hair has always had its own personality, sponsored by a couple of cowlicks front and center.
We'd show up at Olan Mills around 6:30. There were bright lights, fancy backdrops, and a photographer with a chirpy personality. There were other dressed up families waiting in the lobby. When the photos came back, they always looked pretty good. Unless you looked closely into the parent's eyes. Then you saw the worry, pain and exhaustion of the world in their eyes.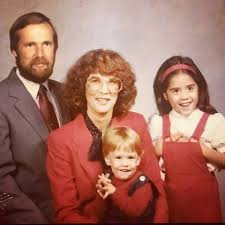 Somehow, we made it through those times. The kids grew up and some of them have their own family portraits. But now they take them with a phone or by hiring a photographer to take the picture outside at the beach with everyone looking tan and happy. Sometimes the family pets are even in the picture.