So, now we have experienced the two great walls of China. The first being the Firwall, and the second being an actuall wall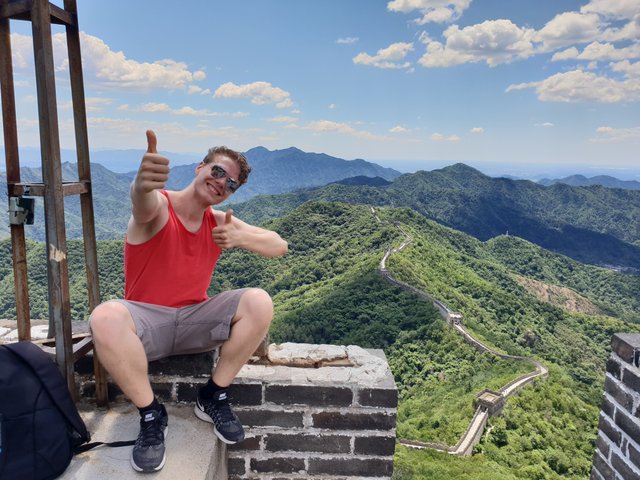 The day started at 6am local time, I have a hard time eating the first thing I do so I went up to upload pictures and finish the blog. At 7 the bar opened and we got our Swiz breakfast. Some toast, yoghurt with müsli and fruit, eggs, butter and jam. We packed some peaches, cookies and water in our bags for the trip.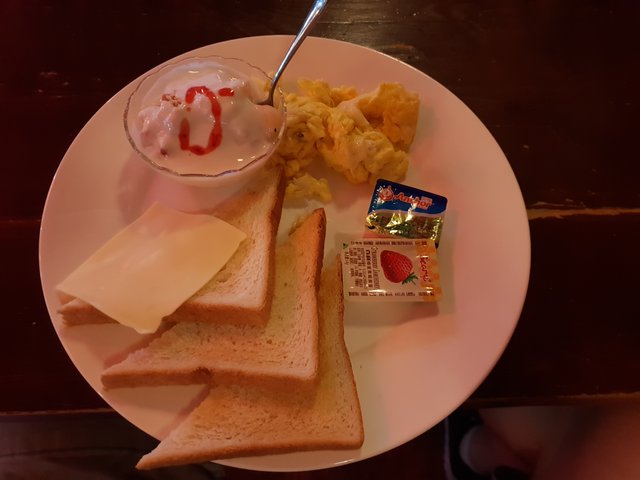 We walked about 10,500 steps on the wall, a lot of them going up steep stairs.
We were both pretty exchausted in our legs on the way down. Our tour guide said: You get the best view from tower #23, but there is a sign at tower #20 stating that we are not allowed to walk further. Tour guide told us in the bus, to ignore it and keep going, if we want and are able to. It was a harder climb, but almost no people, so worth it if you are strong enough. Good thing the day only reached 37 degrees celcius and had a clear sky, we did not really have to shiver from cold.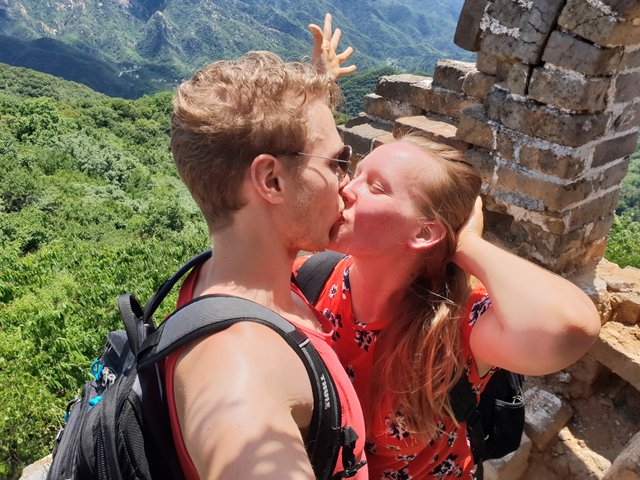 The wall was constructed 2000 years ago, but rebuilt about 24 times, each time they made it stronger. The last time was about 700 years ago at the Ming dynasty. After that there was no point in making it bigger and stronger since mongolia, which is north of Beijing, now was a part of China and they did not need to keep them out. In the 80's the government renovated parts of the wall as they were on the Ming dynasty, so that tourists can visit and experience the wall. At MuTianYu, which is the location we went, they renovated 20 towers, each tower is about 200m apart.
You are able to continue, but it is at your own risk, and as you can see on the picture below, the nature has eaten the wall.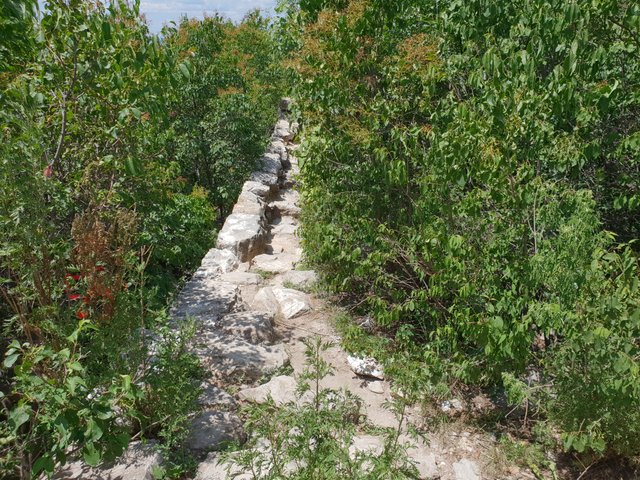 It was worth going past tower #20, simply to experience the history of the wall and see the natures effect on it. On our way down, the legs were shaking and knees started to hurt. The climb was harder for Kim than me, for obvious reasons. However, we managed to get a "preggo-picture" past tower #21. She's now halfway into week 24, so pretty far gone.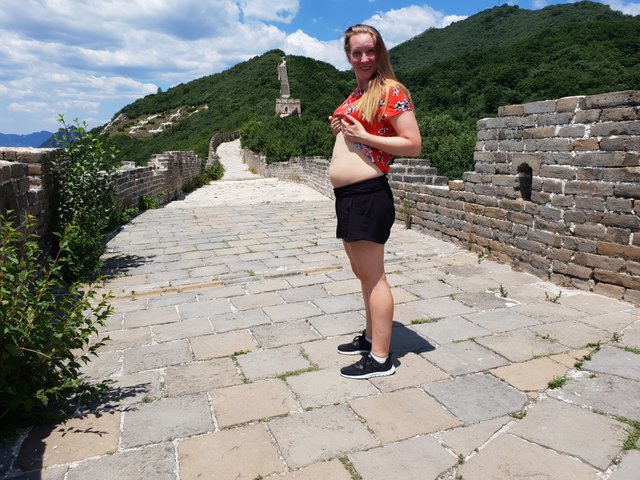 We went up with a cable cart from the village to the wall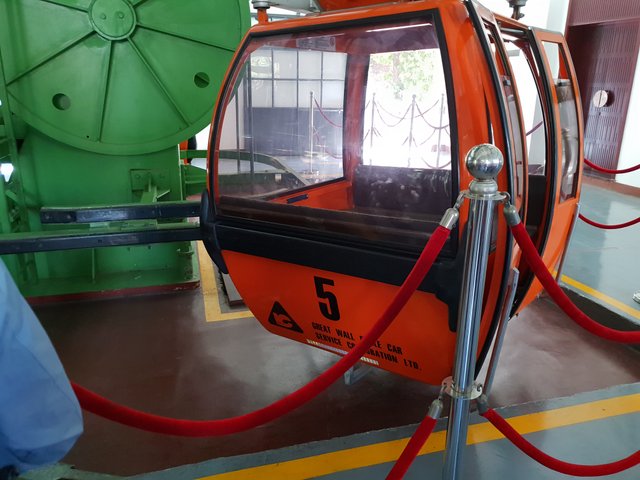 We were not sure if we actually wanted to use a cable car, felt like we should walk it, to experience it. But at the same time, Kim being pregnant, we did not know how much she would be able to walk. The climb being hard on my legs, I can only imagine how it felt for her. But she can sometimes be a determined woman and just keep going.
We have a lot of video photage from the wall, so that will be fun going through once we get back to Sweden. Guess I have many hours of work to do editing videos after this trip, but it will be worth it.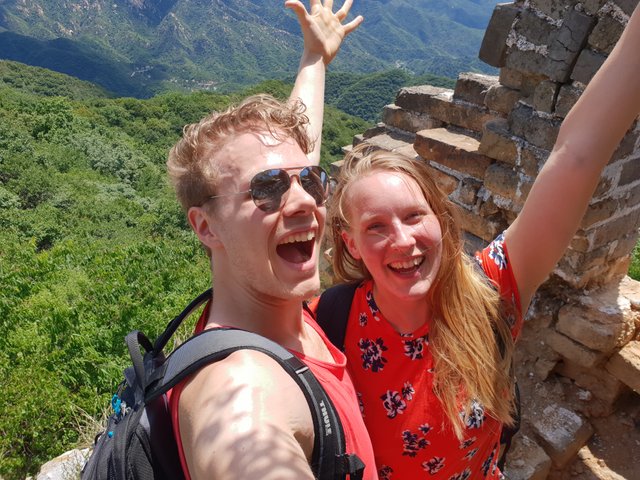 During our climb, Kim was searching or Mulan
Mulan is a movie that we both loved growing up, and I am pretty sure Kim found Mulan lurking in the trees.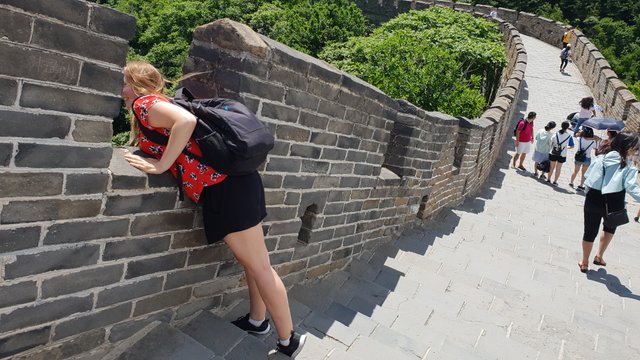 Not only did she most likely find Mulan, but she found a dragon, a beast, and I manage to get a photo of it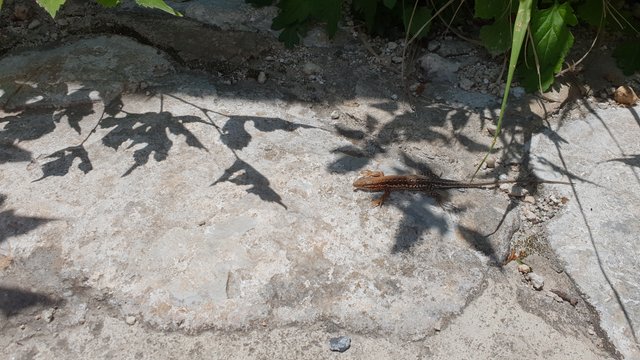 The whole experience was great, so here comes a few pictures we took
The Great wall of China really is something that has to be experienced, it feels so much cooler than I personally imagine. The same comment comes from most people I ask about it. Kim agrees with me on that!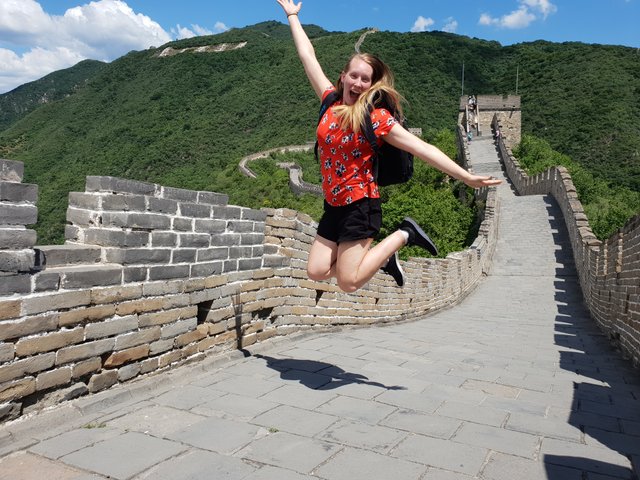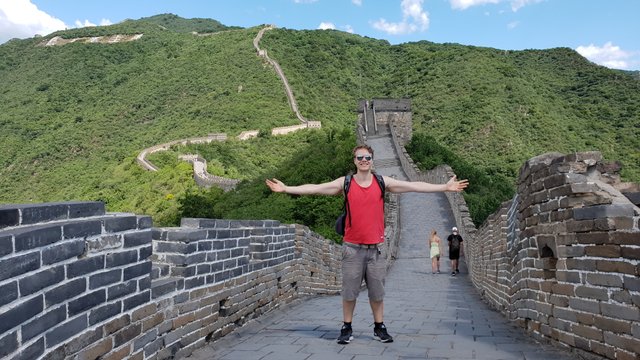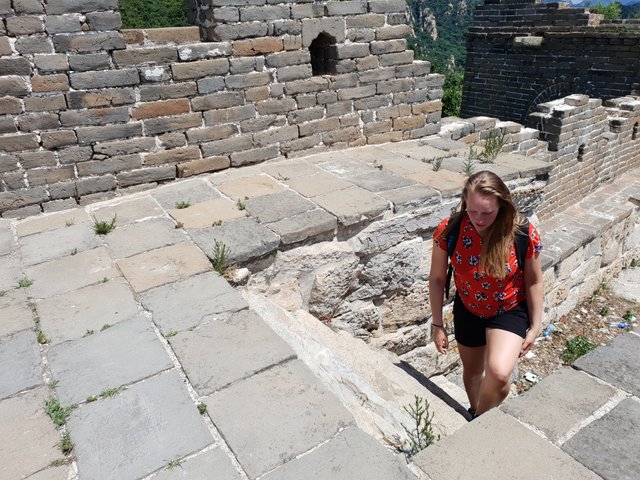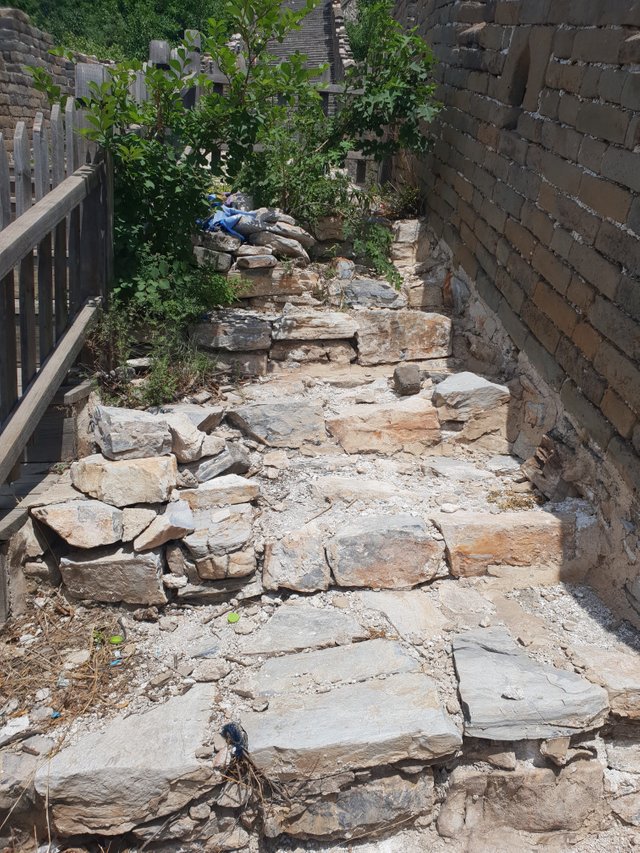 This is a saved part of the old wall, that has not been restored for tourism. That is on the part of the wall that we are allowed to walk
After climbing down from the wall we got to enjoy a nice Chinese lunch at Mr Yang's place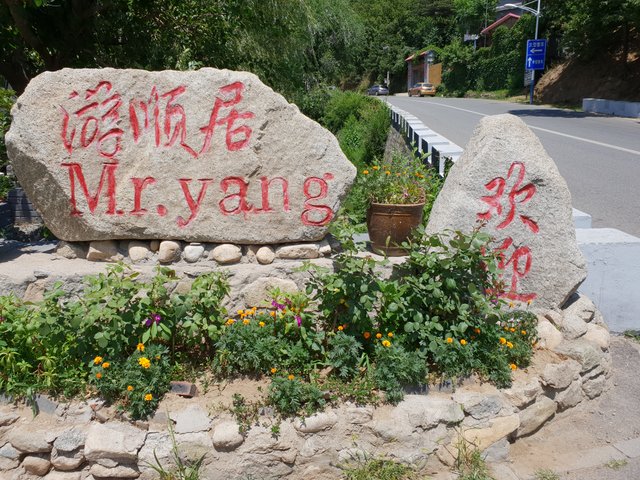 This was a great example of how tasty the Chinese food can be, every dish was nice and we got to share it with the other folks from our group. What might be the best part of the lunch is that I got to talk about cryptocurrencies with a guy from Australia.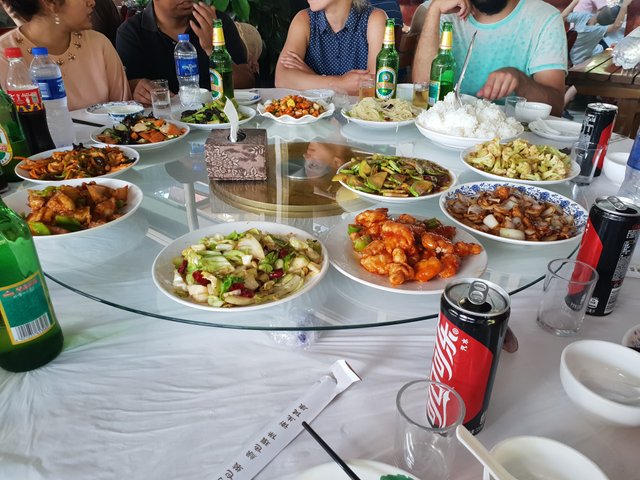 On the "other part" of the wall, when Kim got to tired, I had to rescue her.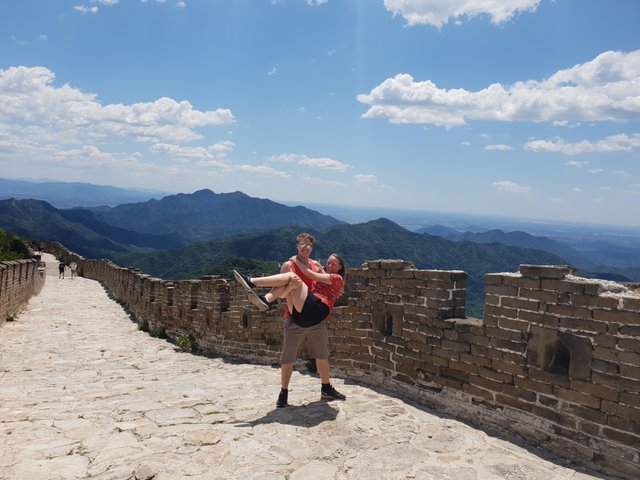 Later we went out to find new shorts for kim, which we failed doing
However, we walked a bit, looked at a few different places, being sunburned and tired it felt like a cold and air conditioned shopping mall was just about how much of an activity we could do. But we did not managed to find any shorts for kim, but what I did find was this: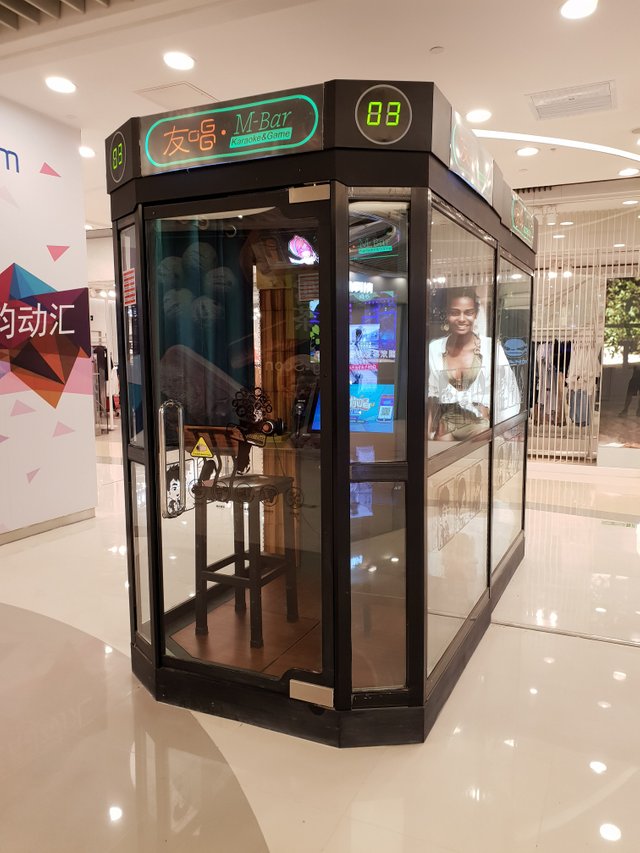 Emergency kareoke booth for two people
I mean, have you not experienced the sudden urge to do kareoke when walking around in a mall? Mby not, but none the less, I love some of the things I find here.
---
Time to experience what today has to offer
Coach Bjork
https://coachbjork.com/
Online Personal Trainer