Beijings biggest market, the temple of heaven and the last day in Beijing for now
The day started with some alone time for me, yay!
Kim felt like it was a good idea to sleep, like forever. I went up around 7, had a shower, and went to the bar for my regular cup of Americano coffee while writing a blogpost. I learned that it is better to create posts in the morning than evening because the internet is faster and more stable. I guess that is because most people are weird like Kim and enjoys sleeping in the morning.
However, after 2 hours of bloggin, working and checking social media I felt like it was time to wake up Kim.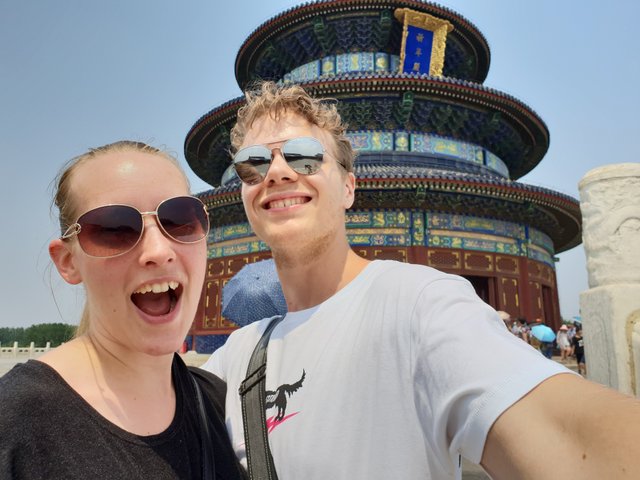 First mission of the day, hunt for breakfast and then find the flee market
We set a fun challange the last few days, to keep our spendings at no more than 550 Yuan per day. So far we have done that by ease, keeping around 200 yuan each day. That pot is going to special activities, like tomorrow when we go to Shanghai. By tomorow I mean today, because I write this on the train going in 328km/h towards Shanghai. Guess I am a fast writer. However, not many words are written for every meter we pass. The trip to Shanghai is about 1200km and will take us about 4h30min.
However, back to the story.
We found breakfast at our local seven11 (wierd that they always seem to have packaged food in a store). After sitting down in the street to enjoy our breakfast we went to the flee market.
Flee market, or Panjiayuan as it is called in chinese
This is the biggest market in Beijing for antiques, second hand and handmade items. It's very big, and you can find a lot of cool stuff for cheap prices. Us being the strong shoppers as we are, we bought nothing. We love to go to big places that sell stuff, but we seldom buy anything. However, we found a few cool stuffs that we might go back and buy next week in Beijing.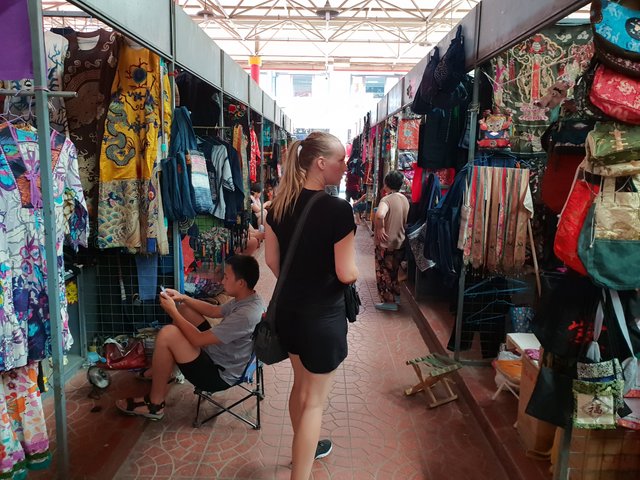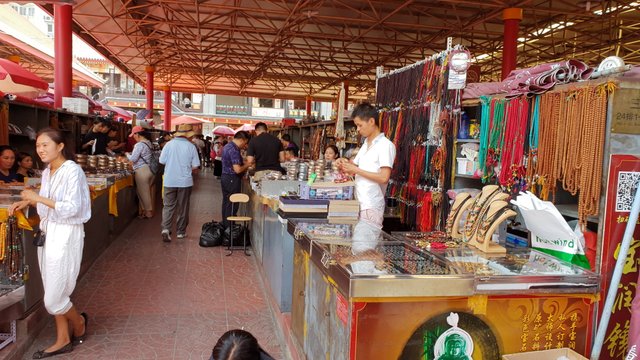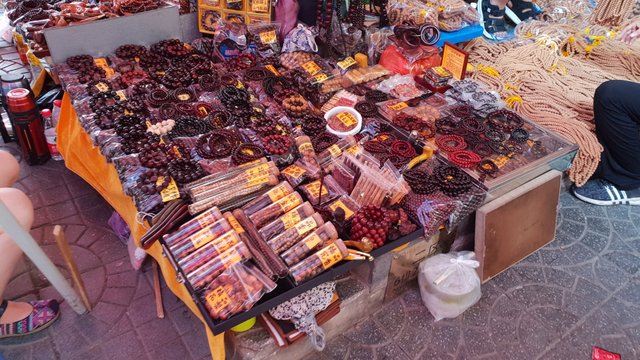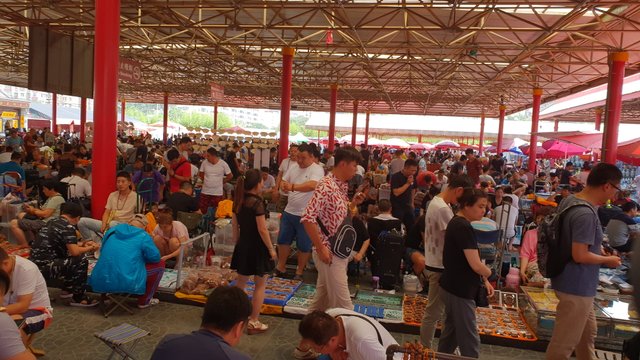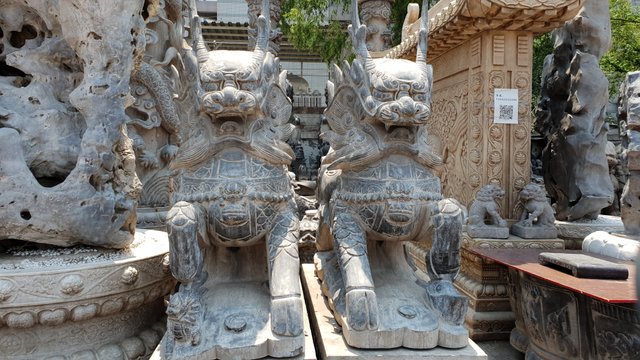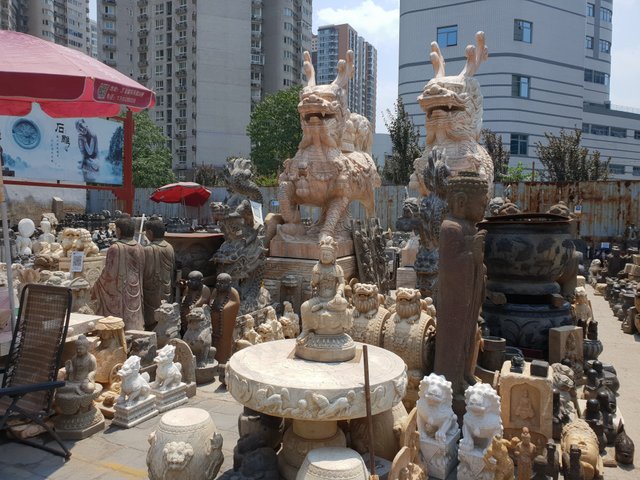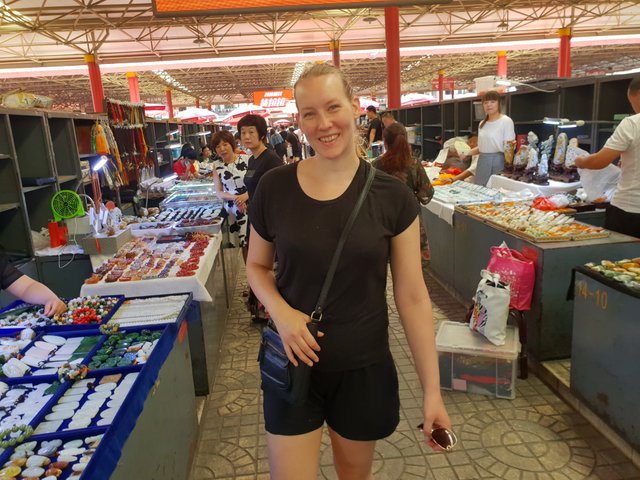 The flee market is open every day, but in the weekends it is bigger, because people all over the beijing area comes and show their stuff (their crafted stuff). We were there for an hour or so, and because of the heat we couldn't take it any more. Our brains started to batch together everything instead of seeing one item at a time. It all float together in a mishmash of colors and shapes. In that hour, we went through mby 20% of the market…
Since it was hot and we wanted to do something else, we went to a park…
Not just any park, but the Temple of heaven (TianTan). That is one of the main attractions of Beijing. It's pretty much a huge park with old Chinese temples. There was almost no place to hide from the sun, and we managed to get there around noon… which is the hottest time of the day… Really thought through trip.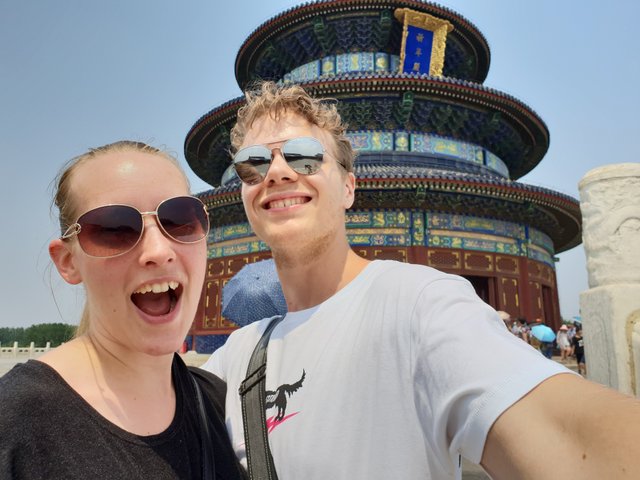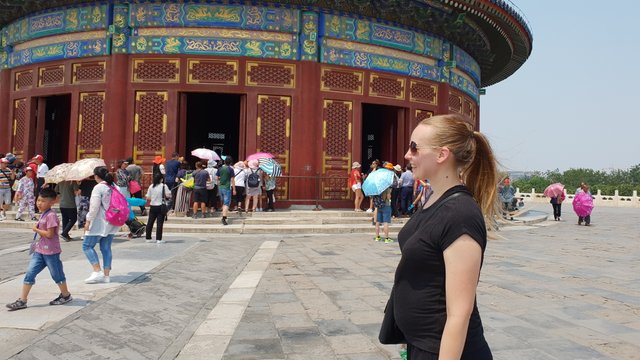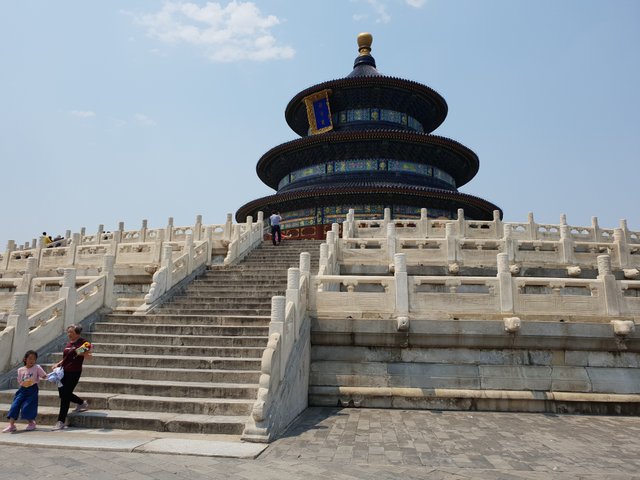 Atleast we found a shady spot under the trees where I could die alone…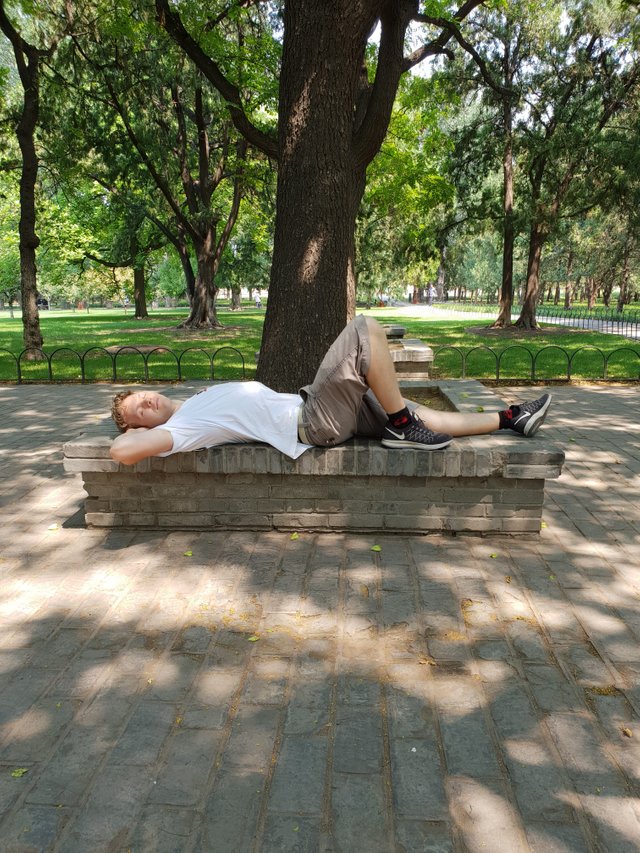 After some recovery we decided not to go through the entire place, but rather to leave and get somewhere cold, we were exhausted from the heat and walking (already around 15,000 steps that day).
On our way out we found an outdoor gym, which usually is crowded with activities, but I guess the locals understand that going there in this heat and direct sunshine is a bad idea… So we found about 10 people there. I thought it was a good idea to do some pull-ups, dips and muscle up… It felt great doin it, but after it took forever to recover. My pulse was high and my breathing was hard for a while after. Guess I never learn… :D Kim managed to hang in the bar, and lift herself up about 1cm. Great full range of motion pull-up. She blame the parasite in her belly, but I just think she is weak… and perhaps tired from the heat...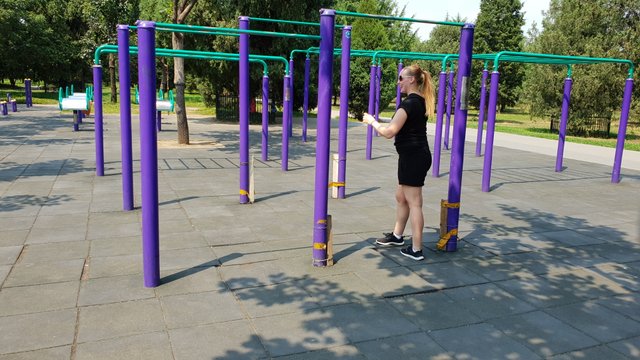 The locals were more impressive than us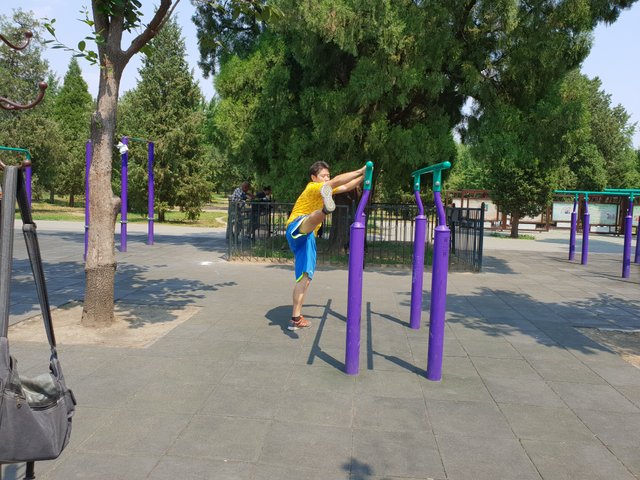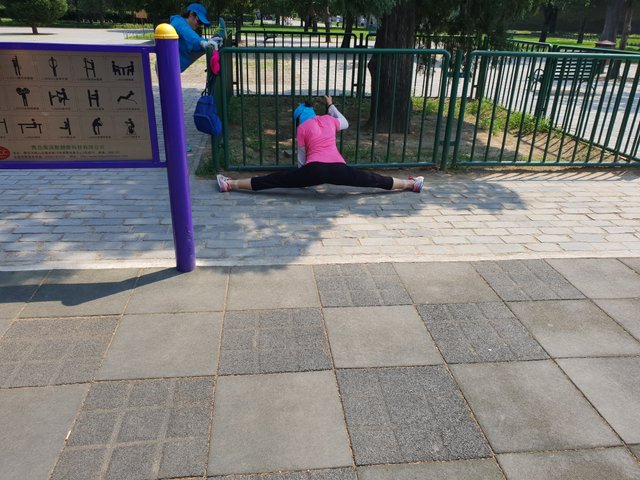 We reached a place of coldness and found ourself a feast.
I think we sat there for 1.5 hour or so, just to recover ourself. We enjoyed some lemon ice tea and ate anything that looked interesting or tasty, at some occasions both interesting and tasty. This is one of the items I found, that's a sweet hot dog.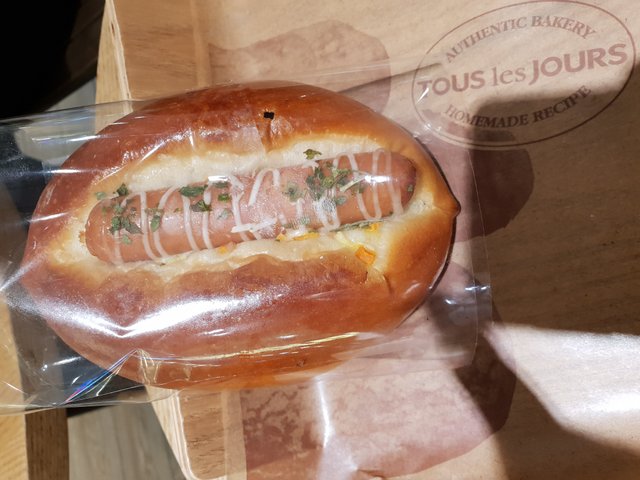 Also found something they called: Donut filled with tuna and egg... had to try it.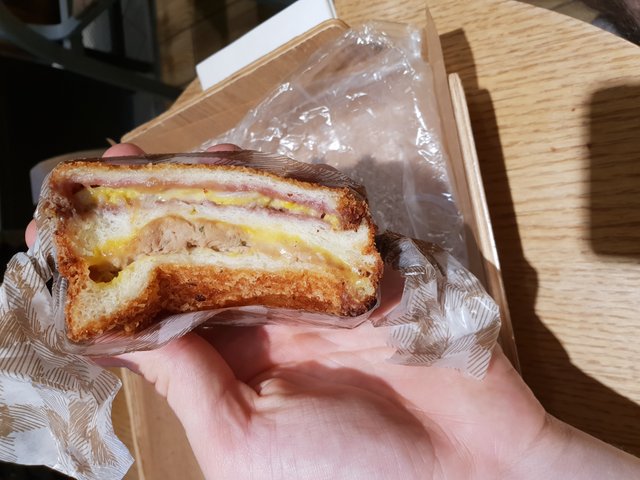 However, after that feast and ice tea, we were still exhausted
So we headed home, to take cold showers and for me to take an afternoon nap. We planned to go out to a Italian restaurant for dinner, but I was feeling pretty slow. So we ended up spending a while in the bed, playing games on our phones. Which was a great idea once we learned that it started to rain… and not just a bit… it was pouring down, and kept doing that for a long time.
So instead we went to the hostel bar, ordered a pizza and drank some beer (for some reason, I was the only one drinking beer…). We surfed the web and then we went back to the room and listend to the Audiobook that we are reading on the trip. The creature from Jekyll island, it's a great book so far and I really recommend everyone to read it. It's about the banking system and the federal reserve. Might sound boring for you, but trust me, it's knowledge you need and the book is well written so it's interesting to follow. Even Kim enjoys the book and she doesn't have the same interest as I do.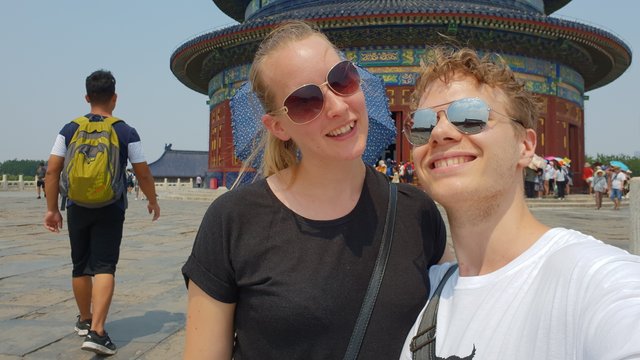 ---
Don't trust the banking industry, they are not there to help you.
I accept crypto for my online coaching
Coach Bjork
https://coachbjork.com/
Online personal trainer