This Farmer Motivator, Teungku Jamaica the Aceh Party Spokesman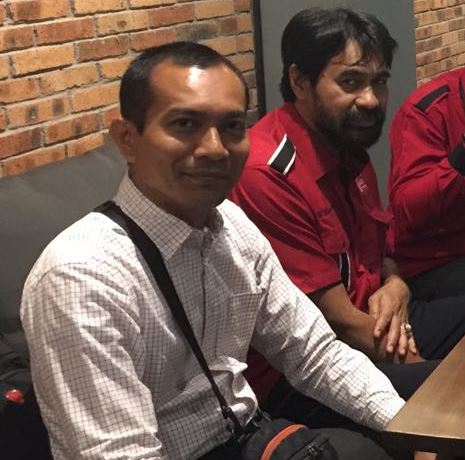 Syardani M. Syarif, familiarly called Teungku Jamaica (left of white shirt), Aceh Party (PA) Spokesman, along with Mualem, Chairman of KPA (Aceh Transitional Committee) and PA (Partai Aceh). Source
Syardani M. Syarif, familiarly called Teungku Jamaica, was appointed by the Chairman of KPA (Aceh Transitional Committee) and PA (Partai Aceh), Muzakir Manaf who is familiarly called Mualem as the party spokesperson.
Then how the story of the appointment of a man who nicknamed "Computer" as the Spokesperson Party of Aceh?
"Alhamdulillah ... Sunday, February 18, 2018 noon, at Ulee Kareng's house, Mualem asked me to become the Aceh Party (PA) Spokesperson First, I asked Mualem," Teungku Jamaica said, repeating the conversation between himself and Mualem as he was interviewed portalsatu.com, in Banda Aceh, Sunday, March 4, 2018.
Syardani revealed that initially he only asked about the progress of the formation team meeting on the preparation of the Aceh Party structure. In the talks, Mualem told Syardani that the party structure had not yet been formed. Not yet. We have not compiled yet. Are you the one who served as a spokesman ?, "Mualem said as quoted Jamaica.
Getting this question, Teungku Jamaica then fully handed over the decision to Mualem.
"Once, three times I was asked to become a PA spokesman, I do not want to, because I give the opportunity to others, but now I want, because we have given the opportunity to others, then Wednesday, February 28, 2018, Mualem called me, and he ordered me to speak as a spokesperson for the Aceh Party (PA) OK OK, Bang, I replied, "Jamaica said, quoting his conversation with Mualem.
Last year, Teungku Jamaica, succeeded in fostering oyster farmers, in Alue Naga, banda Aceh. it also creates a corn cropping tool and has earned its patent rights.
---
Thank You for Visiting My Blog

---