A Crowning Achievement
After avoiding the dentist for several years (yeah, I know it's bad to do so!), I went a few weeks ago and discovered I needed a crown to fix a slightly cracked tooth. So, yesterday was the day of my coronation and I was as nervous as a kid sitting outside the principal's office!
I arrived at the appointment 15 minutes early, as I usually do for any appointment ( See my post on punctuality!) and checked in. As I sat in the warm embrace of an over sized waiting room chair, I could not stop myself from building and building the anxiety of what was to come. I knew that this was just going to be a temporary crown until the permanent was is manufactured to exact size and measurements of my existing tooth. Which made me even more anxious because that means I would have to come back in about three weeks for more work on it! Now I have been faced with dangerous situations my whole career. I will walk through the fiery gates if it means helping someone and I have stood up to the biggest bullies you can imagine, but the thought of sitting in that dentist's chair has be almost sick with worry!
At the exact moment I was at sheer panic level and ready to bolt into the cold air and sweet,sweet freedom, a silky sweet voice called my name and I knew it was to late to run. I took slow, determined steps towards the assistant like a man forced to the gallows. I began to regret my indulgence in sticky candies, sugary drinks, and the joyous hard foods that may have contributed to this evil cracked tooth. I wanted absolution, but none was to be found!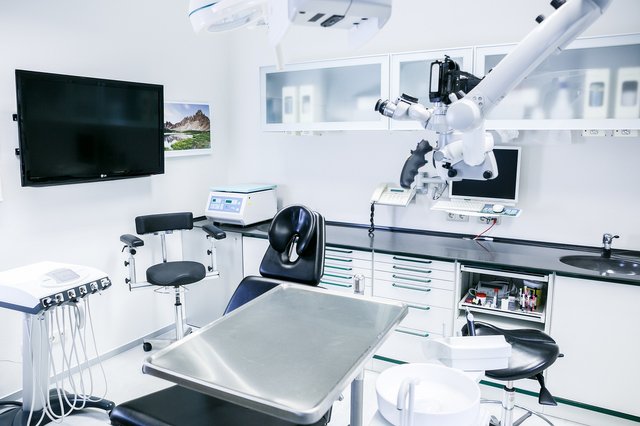 Source Pixabay
I settled my huge frame precariously balanced in the too-small-for-big-boys chair and awaited the fate that was assigned to me. Apparently I did not research what a crown was because in my mind, it was just a quick cap over the top of my tooth and then I'm out and enjoying lunch....WRONG! There began a flurry of activity and things being forced into my mouth and then pushed against my teeth to form a mold and water being squirted, and minty grit felt upon my lips and I kept begging "Are you sure this is for a crown......are you sure this is all just for a crown!!!! And then the Doctor emerged from the shadows, a fluorescent halo framing his head and that dubious perfect smile he had, no doubt, crafted from his unholy skills!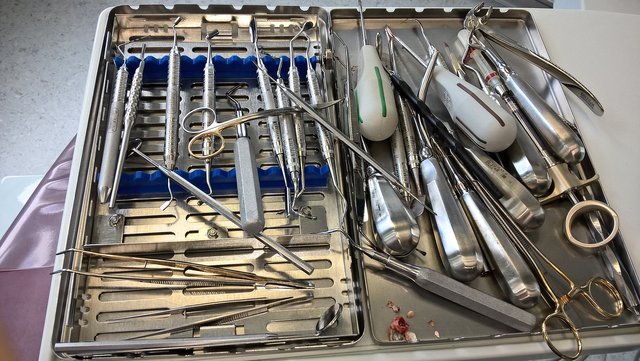 Source Pixabay
In his practiced soothing, hypnotic timbre he crooned, "Mr. Nelson we're going to take perfect care of you. Just relax and I will make this as comfortable as possible. Would you like some gas?" WAIT, what? Did he just say, "gas". Did I hear right? Oh glory of glories this angel of dentistry was going to have mercy upon my wretched, heathen soul and allow me to have gas! MY heart leapt and I could barely get my answer through the beaming smile of relief upon my face...." Yes, I think I would love some gas, if you don't mind, thank you, kind sir!" I peered heavenward as the headgear of the gods was lowered over my fat, little nose and the slow, steady stream of bliss descended upon me. I breathed deeply and with a fulfilling knowledge that I would soon be fairly oblivious to what atrocities were being committed in my sadistically agape mouth.
The lightness received me into her billowy embrace and I could feel my claws release the death grip they had upon the chair and my shoulder sink back to their normal position, as opposed to being painfully lodged around my neck and ears. The massive needles being thrust into my mouth were mere pinches to dismissed as easily as a mosquito bite. The sickening sound of tooth being drilled away and the dust thrown towards the heavens as some twisted sacrifice to the tooth gods was as fairy dust upon the midsummer's eve. The lovely Doctor and his assistants chatted with me and I smiled and nodded my approval of their barbaric tortures to my grill. I even, in my usual sarcastic personality, had the Dentist stop so I could educate him on how the ancient Egyptians practiced dentistry and that the evidence was found within the pyramids. It never ceases to amaze me how strongly I feel the urge to give dissertations on useless facts to people.
The pushings and pullings of the arduous work being done with in the confines of my mouth began to feel as an ebbing and flowing of the tides and I felt myself trying to drift off, but I wanted to remain somewhat awake, just in case I needed to stop them and give advice about some aspect of the ordeal. Before long, it was finished. Oxygen was applied to chase off the gas elves still dancing within my head and I began to come back to the cold reality of Earth. After feeling the extent of numbness in my mouth, cheeks, jaw, and lips, I can only imagine what nonsensical ramblings came out as I attempted to explain the mysteries of the universe to the staff during the procedure. Oh well, their loss at a chance for enlightenment..lol.
I was still slightly groggy when papers were passed to me and I was ushered towards the check out area. I stood there as numerous buttons were pushed and calculations made. Let me just say there is nothing as absolutely sobering and more effective at completely eradicating a buzz from nitrous gas as the final total of a dental procedure layed out in terms of dollars and cents!!!! I was instantly sober and depressed in an instantaneous moment!!!
All joking aside, it was not as bad as I thought it would be and the staff at my dentist officer were phenomenal. I have already set up my six month cleaning and check up and will continue to do so from here on out. How do you feel about the dentist? What are some of your best and worst stories? Let me know in the comments!
---
Posted from my blog with SteemPress : http://papacrusher.vornix.blog/2018/12/06/a-crowning-achievement/
---
---
All photos and videos are my own creation unless otherwise noted.


---
All That Is Gold Does Not Glitter,
Not All Those Who Wander Are Lost
-Tolkien