Gratitude is the Key to the Gate of Blessings
Humans occasionally lose sight of the fact that existing in this planet and taking advantage of its many blessings is a blessing. People who are grateful are fewer, while people who complain are multiplying quickly. Beginning with our immediate surroundings, the social norms that shape society, evolving circumstances, interpersonal interactions, and the ideas that form in our minds before coming to life as words on our lips depict a gloomy world and a gloomy mirror.
When we give it some more thought, we see that the "Creator" is ultimately responsible for all we have. Every breath we take, every ounce of water we consume, every hue we see, the soil that provides for our needs, and every friend we can turn to in times of loneliness are all blessings.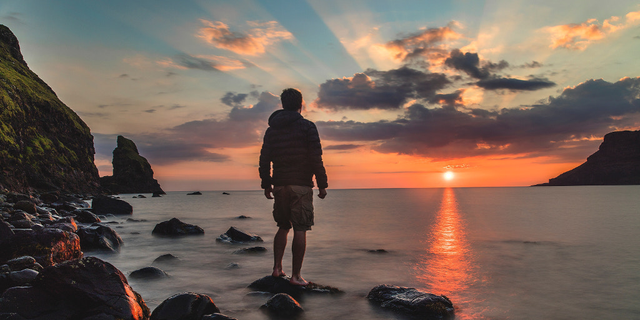 They are blessings that we often take for granted because they kind of permeate our lives, we are unaware of them when they are absent, or perhaps because we are accustomed to them. And because we are constantly seeking more, we don't think about it or express gratitude for it.
When one truly understands that these blessings are gifts from God, they do not desire to be drowning in debt. tries to be profitable. Paying entails showing love to all living beings, lending a hand to those in need, approaching them with a smile on your face, and speaking to them in a gentle manner.
Feeling the joy of living is an expression and reflection of gratitude, just as working toward the happiness, progress, and unification of humanity is intended to pay off the debt.
Knowing the worth of the giver and the one who bestows benefits, and showing it to people around him with joy and tranquilly in his life, is what it means to be grateful. Realizing that "Almighty" is the true owner of all blessings is the goal. Numerous blessings are bestowed onto the planet, the sky, the oceans, and even the depths of the earth. Additionally, humans have been endowed with greater talents like logic and thought.
If a man cannot find something to complain about in his family, children, neighbours, past or future, job, or wages, he has developed the habit of grumbling about himself. However, the complaint can be seen as a lack of cause or blindness.
The more negative the complaint, the more upbeat it is to express gratitude. The only thing that can heal complaining, pessimistic people, their ravenous spirits, and the negative image they cast is the goodness, goodness, pleasure, and love of those who are grateful. Because the degree of complaints and thankfulness keeps rising to the point of disease, I insistently employ the term "cure" in this sentence.
---