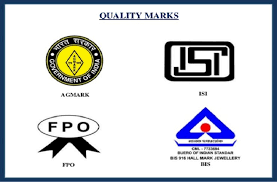 Image source - firkee.in
Products have to pass through quality tests to prevent any harm to us. After proving good on its standards, a product gets permission to sell. This confirms that you should get good quality and security with the product you are buying. 14 october is celebrated as world standard day. In our country, there are so many agencies which tests products as per set standards. This process is called as certification and in this quality, performance and features are measured. Whenever you buy goods, definitely check marks given below to check quality of products. In this way, you will never be deceited.
ISI Mark - You must have heard that while purchasing products, do check for ISI mark. It actually depicts quality of industrial products. In India, in order to sell a product, it needs to be ISI certified. Whenever you buy electrical items like heater, wire, lpg cylinder do check for ISI mark.
Hallmark - It is imortant to check this mark, so as to check purity of gold. Every jewellery has a triangular mark which depicts government is taking guarantee of purity of this jewellery. In such, you should always buy branded or hallmarked jewellery instead of local one. Hallmark not only provides guarantee of quality but also does not cause any harm in returning.
FPO Mark - It shows quality of processed food items. It shows product has been made in clean, clear and hygienic environment. You should check it while buying jam, squash etc.
Agmark - It shows quality of agricultural products. This sign is used in products of agriculture and eatables. It shows quality of food items like cereals, oil etc.
Posted using Partiko Android