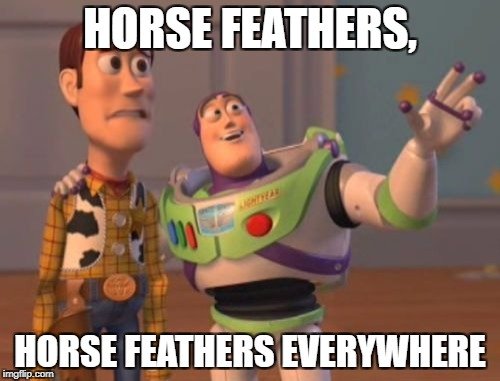 Have you ever gotten something in your mind and started seeing it everywhere? Probably, because this is a version of synchronicity, or perhaps confirmation bias.
Well, what I'm seeing is horse feathers, which means "Nonsense". I don't like to swear, so I was talking to my sister-in-law about Scott Adams's B******* Filter and she suggested calling it the Horse Feathers Filter. I ran with it. Now, I'm seeing Horse Feathers everywhere!
EXAMPLES
1. The Unbearable Asymmetry of B*******, a beautiful expository written on one of the main problems with the Academic Scientific Process
2. The band Horse Feathers, whose album I just found on my phone. I apparently downloaded it several years ago and just rediscovered it.
I'm sure I'll keep seeing Horse Feathers everywhere, and I'll keep you posted!