I came across a news story this morning about an ambulance blocking a driveway.
Nothing unusual about that.
However in the UK, there has apparently been a spate of people leaving rude notes to ambulance drivers parking in places that happen to inconvenience others. It goes without saying how egoistical you'd have to be to leave such a note on an ambulance!
However today's story was what I like to call a 'rebound' piece.
This paramedic was greeted with an understanding message and a £10 note to buy a cup of coffee.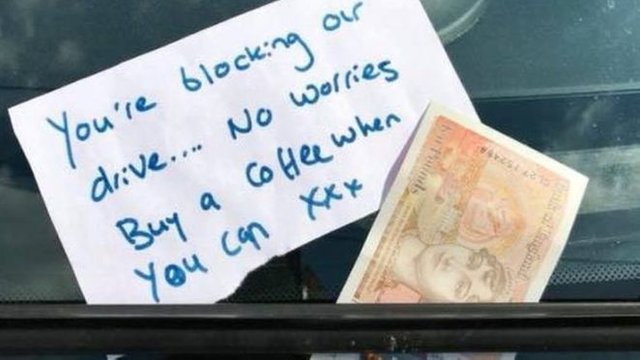 While the story was 'nice', it would have pasted me by as 'much a do about nothing' had the anonymous tipper not left a ten pound note to buy a coffee.
It's petty but couldn't shake the feeling that £10 for a coffee seems very expensive. However for a team of two or three paramedics, you probably wouldn't get much change out of a tenner for a round of coffee.
I'm going to reveal my age a bit here however 'I remember the days when' the tipper would have had an option to leave £1 note under the windscreen. 'Back then' that £1 would have probably been more enough to get the coffees and a pack of donuts to boot.
Inflation is an insidious beast.
The rise in the cost of things is often accompanied with changes in denominations (e.g. coins for notes) and advances in technology (touchless, mobile payments) that result blur our sense of change in value.
I wonder if in 50 years, it will be the norm to leave a £50 note on the windscreen of a ambulance for coffee!
This inflationary tale is a far contrast from cryptocurrency.
Eight years ago 10,000 Bitcoin would buy you two pizzas.
Today, one-ten of a Bitcoin could by two dozen pizzas.
Maybe in 50 years time every ambulance will have a QR code on the windscreen that a passer-by can use to tip any amount in cryptocurrency of their choice, using the memo field to leave a nice virtual note.
Maybe in 50 years time, we'll baulk not just at the notion that people would leave rude notes for paramedics but also at the idea that people would leave 'paper money' notes on ambulance as well!
Sources:
https://www.bbc.co.uk/news/uk-england-kent-45418196
https://www.bbc.co.uk/news/uk-england-birmingham-41953644
http://uk.businessinsider.com/bitcoin-pizza-10000-100-million-2017-11