Electrostatics
To carry out our experiment we need plastic tape used for packaging and a piece of wool.
We cut some pieces of tape about 20 cm long and tied them together forming a bouquet. Then we rub the tapes with the wool cloth making sure that the tapes do not come loose. We see that the tapes move away from each other. And if the bouquet is brought closer to the wall, the tapes remain stuck together.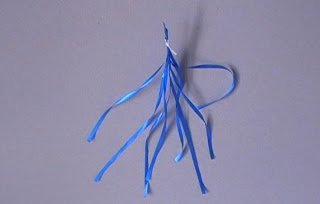 Explanation:
Plastic tapes can be charged with electricity by rubbing. By acquiring the same electrical charge the tapes repel and move away from each other. Finally, the tapes remain stuck to the wall by the attractive electric forces.
Electrostatics is the branch of physics that studies the mutual effects that occur between bodies as a consequence of their electric charge, that is, the study of electric charges at rest, knowing that point charges are charged bodies whose dimensions are negligible in front of other dimensions of the problem. The electric charge is the property of the matter responsible for electrostatic phenomena, whose effects appear in the form of attractions and repulsions between the bodies that possess it.
Static electricity is a phenomenon that is due to an accumulation of electrical charges in an object. This accumulation can result in an electric shock when said object comes in contact with another.
Before the year 1832, which was when Michael Faraday published the results of his experiments on the identity of electricity, physicists thought that static electricity was something different from electricity obtained by other methods.