Success | I CAN from I CAN'T | Be inspired!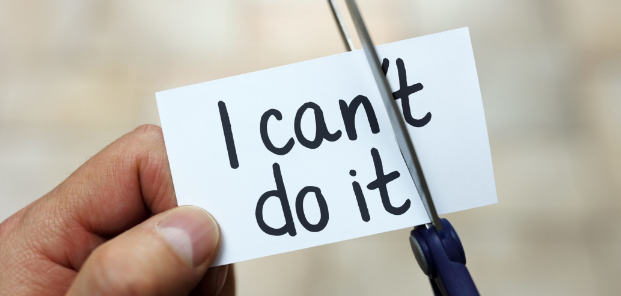 I CAN from I CAN'T
What drives you up to this far? Luckiest and greatest those people who search for their dreams and purpose in this life!
When I was on kindergarten, I always wanted to become a doctor; I love seeing people in white capes. When I was on elementary, my father wanted me to become a police. When I was on high school, I'm inspired to become a teacher. Things went like a blink of an eye, and right now; I'm on my way of becoming a mechanical engineer.
I never thought that one day I'll be marching in the stage claiming the degree of mechanical engineering, never in my life before the thought of becoming an engineer. I know life has never been easy and will never be, but I am seeing a brighter future if I am an engineer throughout my life.
Success, as defined.
How do you define success? Google quoted it as the accomplishment of an aim or purpose. But what Bro. Emil Andrew dela Rosa said about that one really marked me. He said that...

The road to success is not straight. There is a curve called Failure, a loop called Confusion, speed bumps called Friends, red lights called Enemies, caution lights called Family. You will have flats called Jobs. But, if you have a spare called Determination, an engine called Perseverance, insurance called Faith, you will make it to a place called Success.
I've been in a lot of difficulties; and I guess all of us, and life has thought me well. I have so many goals listed in my head right now, both short terms and long terms; and in every single day, I am always thinking about it. I foresee great things, I got my positivity from my father; he is a dreamer too like me. These goals have been itching me that I must have to scratch it and do something, and I am starting ahead to make it all possible.
The Failures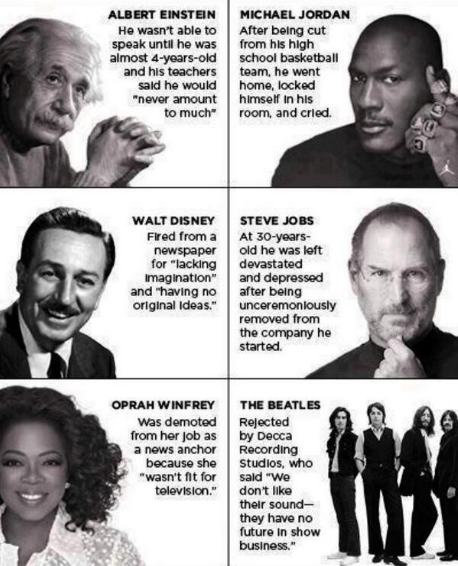 The master has failed more times than the beginner has tried.
The only formula to success is to get rid of failures. Without failure, their can be no success. We are all familiar with the people above but never knew the back story behind their stage of success.
Failure is life's greatest teacher.
The game of life has never been easy; and I am telling you, you will encounter a numerous and tons of failures in this life. But these failures will surely test the strength you have inside to hold on your dreams and is preparing you to your ever wanted place of success.
The Confusions
There are times that I ask myself to how much I really wanted that dream. Sometimes in the road of success, there is a loop called confusions. Never ever let this loop blind you. There are moments that you are about to give up, but remind yourself why you are doing this at the first place. Confusions can may get stronger than your belief, especially when you only see a one percent hope; but never ever give up. If you got caught in that loop, one day your greatest regret will come. Will you allow this in your life? No.
The Friends
You are not alone. No man is an island. We need friends to reach our dreams, and they are called "speed bumps" in the road of success; they are the speed controller. Our friends are the ones that will nourish, guide and prepare us along the way. Most of the time, they are more influential than our family. That's why, these dreams can never be real without friends.
The Enemies
Most of the time the people, sometimes ourselves. Let's get real, the road of success is a game you'll have to win and there are people that will encounter you. If you are weak, you'll get stumbled; you must be strong. Everybody is unique, has its own personality and perspective. The enemy of success is sometimes yourself. Do you know yourself? Do your know your limits and capabilities? How about your strengths and weaknesses? I mean, you'll have to make sure that you found yourself first to not interrupt along the way of the road of success.
The Family
This is your foundation. You are what you are today because of your family. They will nurture and guide you to the road. Both of my parents are working abroad, they want to give us a life that they have not experienced. My family is my foundation, that's why these dreams in my chest never fade. The foundation must be strong to withstand any circumstances, how strong is your foundation/family? Reaching your goals in life is not easy as what you think. You need to have a strong bond that will support and push you to your limit in every single day.
The Jobs
There are always a delay along the way of your success. You may forget that dream because of working a new job, never knowing that your goals are day by day fading. But don't worry, these jobs are also beneficiary. It is preparing you to your dream. If your dream is far enough, it is very okay to find and try new things and serve this as your stepping stone, just don't forget your long wait ambitions.
The Determination
How determined you are to reach it? How strong is your will to do it? How eager you are? Ask yourself. Successful people are determined. Success depends upon your determination. This determination is the fulled-fuel to your engine to walk the journey of success. I wanted my dreams as like as craving fried chickens and fries. I mean, I've been thinking of this dream for almost of my entire life; that's why I am determined to make all of this possible.
The Perseverance
How persistent you are? How often you think of it in a day, week or month? or even in a year? And then, what are the things you are doing each day, just a baby steps, to fulfill your goals? Last April, my OJT supervisor told me to list all of my dreams in a single notebook, and check or crashed it out once you have reached it. And when the time you almost forgot, open the notebook and read all of it. You will surely be amazed once these dreams came true and all of it are marked down with a check. This will surely help your persistency.
The Faith
This is perhaps the most important ingredient of success. I'll make this short, faith is everything. Have faith in yourself, your dreams, and to your God you believe in.
............
...
Believe that you can. 'Till next time!
Mike @mikekenlytungal
Thank you @steempower. If you guys are interested in bitshares or want to know about it, support and follow him for more.