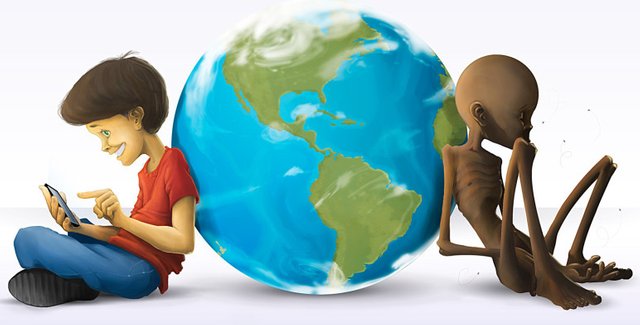 Source
One of my sources of income is arranging, composing and recording on demand. I have had the wonderful opportunity to work with people around the world, UK, USA, Korea and Kazakhstan are some of the places where my clients live.
Faced with such diversity, I have achieved a heterogeneous number of musical challenges, each with its own distinct technical demands and often antagonistic styles. This has forced me to study a lot, to listen to a lot of music and to analyse each of the folkloric expressions of these countries. It has been a completely enriching experience.
However, not only diversity is achieved in music, it can also be appreciated in the different budgets that each one manages. For a client in the UK an extra $5 doesn't mean much, but for someone in India, it can be twice their available budget.
We live in a highly unbalanced world, with countless resources but... poorly distributed.
In my country, life is becoming more and more expensive, even if we measure it in dollars, that has to do with the imbalances of supply and demand and the income of money from family remittances from abroad (but that will be the reason for some other publication, I do not want to deviate from the subject). Before, let's say half a year ago, a single person with no liabilities to cover would have to generate approximately $30 to $40 a month to cover their most basic expenses, food, shelter and transportation. That same $40 would represent a dinner for one person at a mid-range restaurant in New York City.
We talked about the money that a person needs to eat a good steak with some extravagant named salad is the same money that a man in Venezuela needs to be able to feed himself for a whole month. We live in a crazy world, and being able to work for people around him has made me confirm how unbalanced we are.
This sketch of dreams may be more realistic than utopian. I don't dream of a perfectly balanced world where we all have what it takes to live and poverty doesn't exist. If I believe that if time passes and technologies allow greater productivity with less time and investment of resources, we will see a change in the concept of "poverty". I only dream of living in a place where I feel calm, safe and where my son can go out to the street to play without me having the fear and concern for his physical integrity. That's why I work with people from all over the world, accepting good and bad budgets, learning and growing. I have faith that all this work will bear fruit and this article remains as proof of it for me of the future. I hope soon to be reading these lines again in a couple of years, and to smile at how far I have come.
Blessings to all my readers, those who live the same struggle as me. For them, my strongest embrace and words of encouragement. Together we are stronger.

Recent Post
---
---
Become my Patreon and help me to achieve my dreams!:




---
Visit My Page! I'm proud of it
---
My Social Medias

---
Posted from my blog with SteemPress : http://miguelvargas.org/literatura/sketches-of-written-dreams-relative-wealth/
---