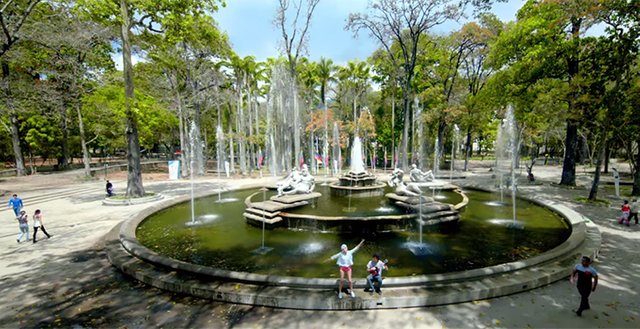 Source

A couple of days ago I was having a coffee at the National Art Gallery in Caracas. When I finished, I had to go to the Central University of Venezuela to meet some people. The National Art Gallery is close to the Bellas Artes subway station, and the University is about three stations away, but making a terrible change of train. I didn't feel like getting nudges and shoves, so I said to myself, "Well, I'm going to walk."
On the way I came across a fork, or I was going along the boulevard of Quebrada Honda (my usual route) or I was entering the leafy Los Caobos Park. I doubted that when I crossed the park there was an open door that would allow me to continue my way to the university, but I decided to go through the park anyway; I thought that if I had to return, the walk between nature and silence would have rewarded the lost time.
I hadn't been to Los Caobos Park for a long time, and the surprise I got was quite pleasant. Not only could I enjoy an atmosphere of peace, shade and silence, but on my way I came across the El Venezolano fountain, a beautiful work of art that worked perfectly, expelling jets of water over 3 meters high.
The sound of the water captivated me and I entered a contemplative state for a moment. Reflecting on why I was amazed and glad to see the fountain, I realized that the main reason for my pleasure was to see that the fountain worked. It wasn't the beautiful life-size sculptures of bodies, it wasn't the background of trees protecting from the inclement sun, it wasn't... it was simply that the fountain worked. Then, a few steps later, I thought, "It was the fountain that surprised me, but it could have been anything else that worked. I'm conditioned that nothing is good in this country, and seeing something working, I'm glad.
I immediately felt a sense of frustration and helplessness at living in a country where its citizens are happy to see a serving fountain, a staple product on the shelf of the nearest grocery store, or any simplicity that for anyone else is completely normal. However, I stopped in time and said to myself: "This made me feel good, it doesn't have to become another complaint. Today I discovered a beautiful place within the city, but how many more won't there be?
Our negative, tired and defeated attitude serves as a dark veil that prevents us from seeing the beautiful within the chaos. It really exists! There is a hidden Caracas, one waiting to be rediscovered by its inhabitants to be redeemed, respected and cared for by all. We live in dark times, where every detail that nourishes you, no matter how small, is a great treasure that must be valued and used to move forward in the midst of the storm.
For my part, I am going to keep my eyes wide open, rediscover those spaces that I go through every day, fill them with a different meaning that fills me with motivation to continue with my objectives. What if we all did the same thing? Maybe there would be less hard and long faces, maybe spaces would be taken care of more.

Recent Post
---
---
Become my Patreon and help me to achieve my dreams!:




---
Visit My Page! I'm proud of it
---
My Social Medias

---
Posted from my blog with SteemPress : http://miguelvargas.org/literatura/sketches-of-written-dreams-re-discovering-the-city/
---