---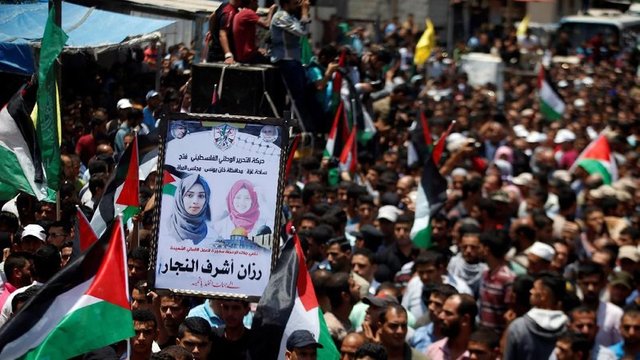 Razan al-Najjar, 21, was shot dead by Israeli soldiers as he fled to the border fence to help the wounded in Gaza, June 1, 2018.
The death of the female volunteer triggered grief, not only in Palestine, but also around the world. Here are seven things you need to know.
1. Who is Razan Najjar?
Razan is a nurse who works voluntarily for the Palestinian Medical Relief Society (PMRS). He works in an area just a few hundred yards from his family home.
---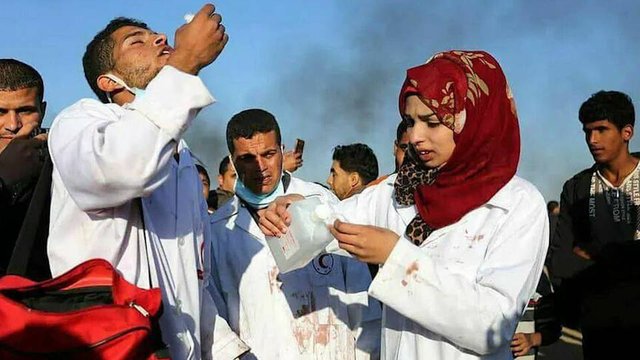 Previously, some media interviewed this 21-year-old woman. One of them is about why he wants to come into the field of conflict?
"I would be very embarrassed if I am not there to (help) the Palestinians It is my duty and obligation to be here and to help those who are injured," Razan said in an interview with Al Jazeera in April 2018.
2. What does Israel say?
The Israeli military claimed that its troops along the border had been attacked with gunfire and grenades on Friday.
Israel has not commented specifically about Razan's death, but has previously only fired on people who tried to cross the fence during the protests and blamed Hamas as the party that organized the violence.
"The Israeli Defense Force (IDF) is trying to reduce the casualties in the Gaza fence security area, but the Hamas terror organization is deliberately and methodically putting civilians in jeopardy," the statement said.
---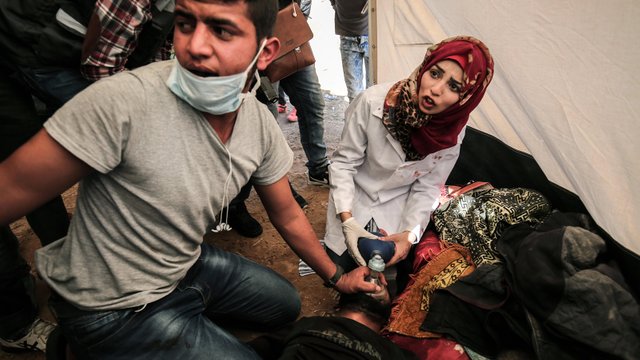 7 Fakta Razan al Najjar Perawat Palestina - Yang Perlu Anda Ketahui
---
1. Siapa Razan Najjar?
Razan adalah seorang perawat yang bekerja secara sukarela untuk Palestinian Medical Relief Society (PMRS). Dia bekerja di area yang hanya beberapa ratus meter dari rumah keluarganya.
2. Detik-detik saat Razan ditembak
Razan ditembak saat sedang lari menuju pagar perbatasan di dekat Khan Younis, Gaza, 1 Juni 2018. Dia sedang berusaha menolong korban yang terluka.
3. Pemakaman
Razan dimakamkan pada Sabtu, 2 Juni 2018. Jenazah Razan dibawa melewati jalanan Gaza dengan dibungkus bendera Palestina.
4. Apa kata Israel ?
Militer Israel menyatakan bahwa tentaranya di sepanjang perbatasan telah diserang dengan tembakan dan granat pada hari Jumat.
5. Reaksi lembaga dunia
Palestinian Medical Relief Society (PMRS), organisasi tempat Razan menjadi relawan, mengutuk penembakan itu.
6. Kekerasan di Gaza
Razan menjadi korban tewas ke-119 dalam demonstrasi yang dimulai pada 30 Maret, dan telah berubah jadi kekerasan berdarah di perbatasan Gaza-Israel.
Sejak 30 Maret, warga Palestina berdemo untuk meminta hak pengungsi Palestina untuk pulang ke tanah leluhurnya, yang sekarang ada di dalam kekuasaan Israel. Konflik mencapai puncaknya pada 14 Mei lalu ketika setidaknya 61 warga Palestina terbunuh.
7. Reaksi warganet dari seluruh dunia
Hanya dalam beberapa jam sejak kematiannya, warga Palestina mengungkapkan dukanya di Twitter. Duka itu pun menyebar ke seluruh dunia.
---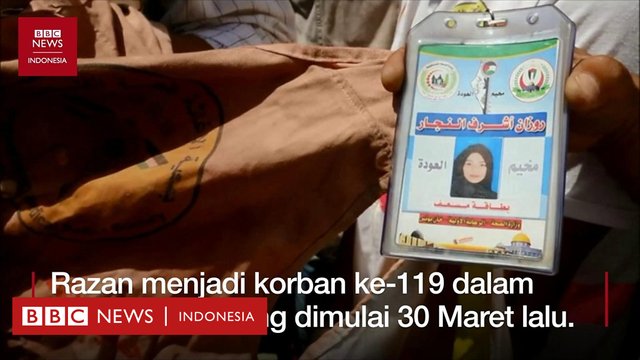 ---
THANK'S FOR VISIT BLOG
---