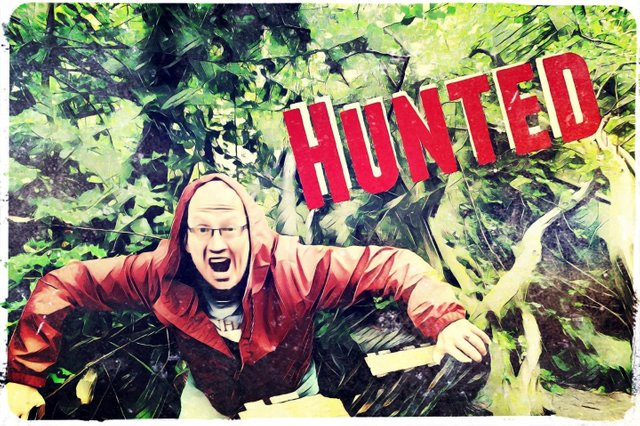 Branches whipped against my face and my breathing came in short gasps as I powered through the trees.
I could hear the baying of the mob behind me, I was so close to escape and yet I could feel the strength ebb from my weary limbs as I leapt over yet another twisted mass of fallen branches.
The forest was thick here.
I heard an excited yelping off to my left.
I didn't know if I would make it.
I reached deep within and put everything I had into a final burst of speed.
Trees and green whipped by in a blur until finally the cries of the baying mob were muted and low behind me. I could hear their shouts puzzled now, no longer victorious with the thought of capturing their prey.
I spotted a fallen tree with a ditch partly hidden by a glossy leaved bush.
That would do. I could stop here.
I slid down and into the gap under the tree, pulling branches and debris from the forest floor to cover the entrance. The blood was roaring in my veins and my breathing little better. I swallowed great gulps of air and listened.
I couldn't hear them now.
All was still.
Some of the tension lifted from my shoulders.
Had I truly escaped? I don't think that anyone ever had.
A twig cracked nearby and I froze. I was fairly hidden in my under-tree den but was it enough?
Some leaves rustled and I tensed. Ready to fight, tooth and nail.
Nothing. Then a scurrying sound. Some small woodland animal darted past.
Everything was going to be ok.
This time I truly relaxed. The sun dappled through the green and the call of birds echoed back and forth. I think I had made it.
My phone's ringer sounded. It's strident tone shattering the peaceful silence.
Hello?
I whispered into it.
Daddy-Bear, where the fuck are you?
It was the Good Lady. She sounded pissed.
I'm under a tree, hiding.
I said, my tone hushed but urgent.
Jesus. Get back here. You are not meant to take this so fucking seriously?! It's only a fucking game for the kids?! So hurry up and get back, it's den building next.
She hung up.
Grumpily I dragged myself out of the hole.
Pfft, she was just annoyed that I won.
I mumbled to myself as I dusted the mud off my knees.
Grumpily, I headed off back to the Off-Grid Kidz basecamp to build a den with the rest of the losers.