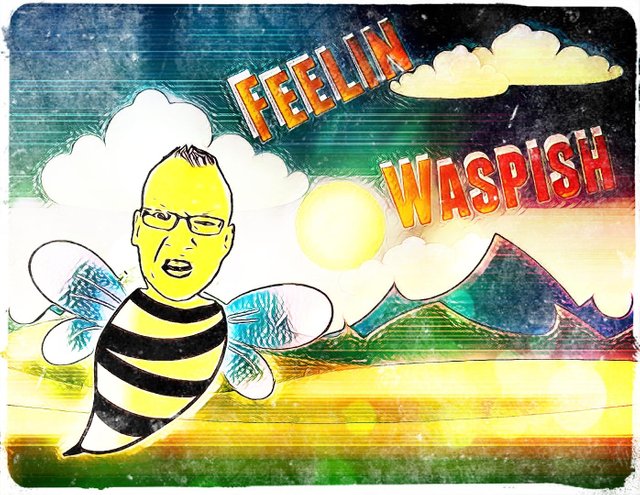 Excuse me, there is a wasp in my coffee.
I said to the damp, beige-looking young chap at the till of the park cafe.
He leaned over and fingered a lank lock of hair behind his ear so he could peer into my cup. The wasp, demonstrating its immortality stopped swimming for a moment and glared up at him. No doubt imagining giving him a right good diddling with its stinger when it escaped.

Ha, so there is!
Beige-Boy exclaimed.
I gave him a stare flatter than any flat-white he could serve up.
What? You want me to fish it out for you?
Beige-Boy said solicitously.
I beg your fucking pardon?
I barked.
Beige-Boy jerked back as if stung by my response. His surprise quickly turning to hurt as if I had the barbed penis of a cat and had withdrawn it from his grumbling nelly too quickly.

The wasp, man. You want me to fish it out of your coffee for you?
He offered again, a tad more sulkily this time.
No, I don't want you to fish it out for me. I want a fresh one. Please?
Beige-Boy looked startled.
You want a fresh one?
He looked down at my almost full cup and at the wasp frantically swimming from side to side within. The idea of me not wanting to drink the brown bathwater of an angry sting'y bastard taking a moment to register.
Yes. Please. If that isn't too much trouble.
I said.

Beige-Boy face creased as if his arse was very deliberately and slowly chewing some toffee. Then he nodded ponderously.
Ok. I will do it this once as a gesture of goodwill.
He intoned in a bizarrely robotic fashion. He reached out for my cup then paused as he saw the look I was giving him.
What?
He asked.
A gesture of goodwill? Are you fucking high?
No? No! Definitely not.
He looked furtive as if I was his mother asking why he needed so much hand cream.
I passed him my cup.
The wasp chose at that moment to finally give in and sink.
I inclined my head at its passing. It was a poignant moment
Such is the way of the world.