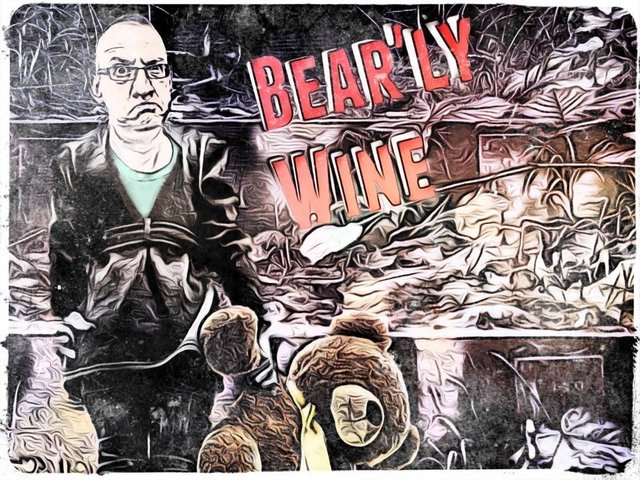 Hola amigo, yo soy jamon para ti!
I yodelled happily to the Bear-Man as I strutted into his splendid little beer shop.
What the fook did you say? Izzat Spanish?
He looked up, his face oddly surprised as if I had asked him to trim my bonsai.
Spanish? Si, es molto benne!
I chuckled in response.
Admittedly, it had been some years since I had been a Spanish man but they say you never forget.

The Bear-Man stood up and held his hands out to the sides apologetically.
You're early, you don't normally come till a Friday?
Whilst he spoke he sidled his massive girth in front of a box he had been ferreting about in.
He looked slightly embarrassed as if The Elders of Mammon had been round to ask for their shoes back but he had worn them outside already.
I shrugged manfully.
Ach, I was bored and didn't have any lunch plans, so decided to come today instead.
I made that face that people make when they run over a dog in their car but pretend that it was only a pigeon.

The Bear-Man shuffled his feet and avoided my gaze.
I don't really 'ave any new beers in. Not till tomorrah, at least.
I rumpled my brow and looked to his feet.
What's in the box?
The box?
The Bear-Man looked confused then smiled and waved a hand about airily as if attempting in-flight masturbation of a seagull.
Oh, this? It's nothing. Nothing really. Nothing at all.
His face reddened slightly.
There was something going on here. Something foul. I could smell it.
Nothing, eh? Show me.
I barked.
The Bear-Man opened his mouth as if to speak then clamped it shut and silently reached down to flip the box open.
I hunched down and took out a can.

What the hell is this!?
I stood and waved the can at him in disbelief.
Barley wine!?! Barley wine!??! That's not beer. What in the bloody hell is going on!?
I squawked indignantly.
He had betrayed me. This was a beer shop. This was THE Beer Shop. Now he was selling wine!?
Wine!?
Outrageous.
It... It... It is beer.
Stuttered the Bear-Man.
Is it fuck. It's nonsense that's what it is. There is no chance you will catch me drinking barley wine and pretending it's beer!
I stamped my foot to emphasise my point as if I were a six year-old girl again.
That one there is 13.5%. Bloody strong. It's definitely beer you know?
The Bear-Man looked at the can in awe.
He thrust it at me.
Try it?
I narrowed my eyes in disgust. What!? He thought a man like me would try this odd wine and pretend it was a beer?
Had he no idea who he was dealing with!?
Go on, you don't have to pay. It's a sampler box.
I took a big deep breath in, ready to retort my reply.... Then I stopped.
Oh, free you say? Alright then.
I gave him a stern look just in case he thought he was buying a shot of the night pony and accepted the mysterious wine that was a beer.
This shall be interesting!