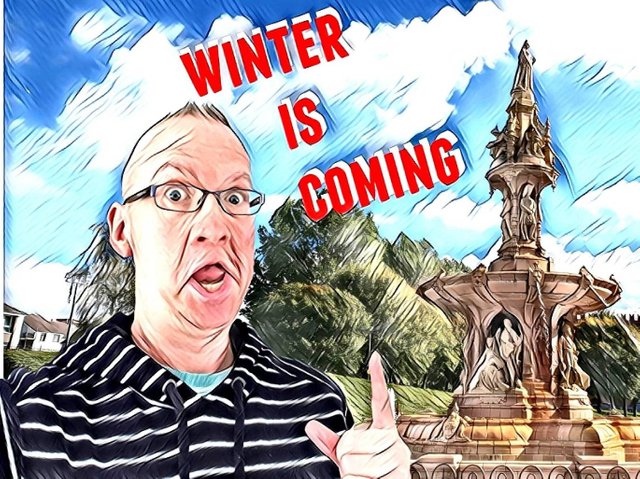 Winter is coming.
Intoned my mate Daz, as if he were wearing a cloak made of crow feathers whilst leaning on his sword in the bitter North.
Aye, Winter is a bit shit.
I agreed merrily, tucking into the fluffy cake which accompanied my coffee.
Does it not get to you though? The fucking darkness. The clocks going back. Dark when you leave for work. Dark when you come home from work. Just darkness all the time... And the cold. The fucking bitter cold.
It's a bit of a pain in the arse, aye.
I agreed. Waving my spoon at him as if I was shaking my penis at an angry rooster.

He did not seem happy at my apparent indifference to the soul-crushing emptiness of a Scottish winter.
If only we could run away.
He said quietly.
I snorted like a baby pig eating a lettuce.
Run away. Where to?
Spain.
He announced. He looked off into the distance, his eyes taking on a mad shine.
I mean, we could do it. Couldn't we? Think of the sun, the beaches... It would be awesome.

I took him up on his fevered imaginings.
It would be. Chilling all day long. Wandering about without a care in the world. Flip-flops instead of shoes. Aye, flip-flops, sounds magic.
He crouched forward with an almost snarl.
Aye mate. It would be magic. Not a care in the world. Fuck work. Fuck winter. Fuck...
He waved his hot chocolate around at the park.
Fuck all of this.
He hissed.
I sensed a madness in the air and crooked an eye around for danger before realising that I was sitting having a coffee with the source.

Let's just do it then, fuck all of this shit. Fuck it. You have all that weird crypto money don't you? I've got savings. Fuck it, let's go to Ibiza! Let's live like Kings without a care in the world!
He exclaimed loudly causing a nearby pensioner lady to jerk in her seat as if her husband had presented her with an erection.
I paused mid-spooning a bit of cake in my mouth.
Well, you know me mate. I like to be as nuts as the rest of them but there is one small problem with that plan?

What? What! There are no problems that can't be overcome mate. None, fortune favours the bold!
He shifted in his seat as if a pile was forming at the entrance of his dark snarler.
His youngest, strapped to his chest like the little boom was strapped to mine, let out an angry squall.
Aw bollocks.
He muttered, attempting to calm his little one back to sleep.
Yep, that's the small problem I was talking about. You were forgetting about the children. Oh and the fact you have another on the way.
I chirped.
He looked crushed as if it hadn't been a flight of fancy and he had almost booked the tickets.
Aye. The children. Well. One day mate... One day.
I patted him on the arm in sympathy.
Aye mate. One day...