Summer at Lego Land Waterpark Dubai!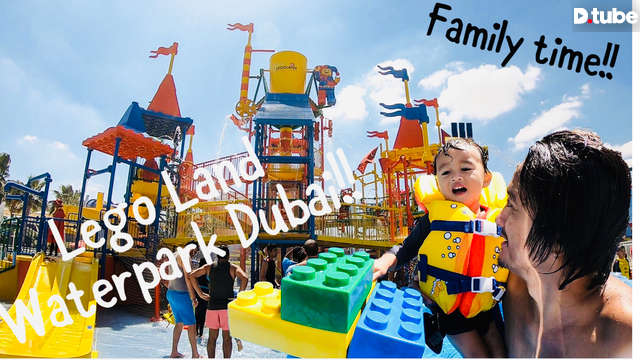 ---
Good day D.Tube Users!!
Summer has arrived here in the Middle East and what better way to beat the heat than to go to the Water Parks! We went to the Lego Land Water Park located in Dubai and part of the Dubai Parks and Resorts area. The park was an Hour long ride from Abu Dhabi City and it is along the main Highway of Abu Dhabi going to Dubai.
The Lego Land Waterpark has 13 attractions that is all family friendly and all colorful. We managed only to go to only 3 which is the "Build-A-Raft River", "Joker Soaker", and the "DUPLO Splash Safari" attractions as Lego Land have a strict policy for children with height less than 95cm.
Although we did not get to the other attractions, we really enjoyed our day there. The "Build-A-Raft River" has a river like pool with curves and straight paths that goes around the whole waterpark and the lifesavers have a built in Lego brick pad that allows the user to build his own Lego Raft. In the video, floating Lego's are all over the place! The "Joker Soaker" have slides from big to small that kids and adults like myself enjoyed. it is built like a fortress with water slides all around it, and thankfully the ques were not crowded so time is not wasted!
Lego Land has a lot more to offer, this was only the water park area. All sorts of Lego statues, houses are all around the theme park. Overall the Lego Land theme park have 60 rides and attractions that kids and kids at heart will truly love. Maybe next time I will post the other areas of Lego Land when we visit again.
Filmed by Me and my Wife on a GoPro Hero6. I edited the clips on my Apple iMovie and the song comes with the app titled "Playful".
Thanks for watching and have a #Happy #Summer!!
Cheers,
@mark
P.S. After 22 post of purely skateboarding I finally managed to upload a non skateboarding content. I just can't see myself writing other stuff like this before, but now, I think I'll try to be more diverse with my steemit blogs and hopefully people would like my content. Thanks!
---
▶️ DTube