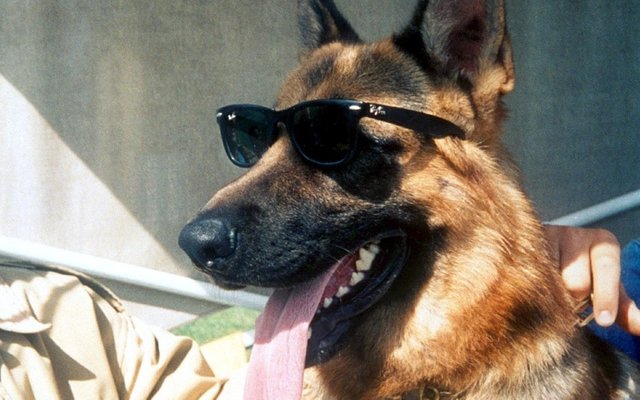 In 1992, the German Countess Carlotta Liebenstein bequeathed her enormous fortune to her favorite dog, the sheep dog named Gunther III. After a while the dog also went to a different world, and his inheritance passed to the son of the millionaire dog Gunter IV. A few years ago, the British edition of "San" published a list of the world's richest animals, inherited from their generous owners. And the German shepherd named Gunther IV was at the top of this kind of hit parade. The dog's condition was estimated at a very impressive amount - $ 100 million.
Such news made a lot of noise, and some newspapers published skeptical articles that this is just a rally and the millionaire dog is just an advertising "duck". But already in 1999, the "oligarch" Guenter IV began to deal with real estate. The media reported that the dog, of course, through proxies, intends to acquire the mansion of the famous actor and bodybuilder Sylvester Stallone in Miami Beach for a tidy sum of $ 25,000,000.
For unknown reasons, the deal broke down, but without housing, Gunter and his retinue did not stay. For seven and a half million, the villa of the singer Madonna was acquired. In gorgeous apartments Gunter settled with his "managing capital" - two young men and three girls. But on this investment of means of a well-founded sheepdog did not end. Günther and his companions visited the auction in Italy, where a rare mushroom truffle was purchased for $ 3 million. By the way, the white truffle is Gunter IV's favorite treat, and specially cooked cooks prepare for him. Gunter lives, indeed, on a broad foot, or, more correctly, will say, on a broad paw. Over time, the villa in Miam added mansions in Germany, Italy and the Bahamas. Moves the dog on a chic BMW with a personal driver, the dog has even his own website. It is interesting that the guardians of the dog not only did not squander the state, but thanks to competent investments, they multiply it. The capital of Günter IV for several years increased more than three times and is 370 million dollars.
However, until now, many claim that this is an advertising lure. It is said that the story of the inheritance is fiction, and as the guardians of Gunther IV were the beginning pop musicians, who are trying to attract attention in this way. But, in any case, the money that is invested in Gunther is real, and he himself still lives in luxury apartments and enjoys all the blessings of the dog-oligarch.
Source: http://i-fakt.ru
Thank you friends for visiting my message and if you were interested, please visit my blog where you can find a lot of interesting things for yourself. See you, your @magnata