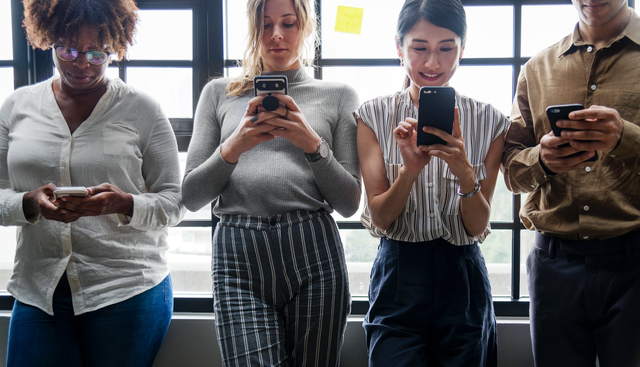 Image courtesy  pexels
Suppressing our digital consumption can be a daunting task. But if we want to "ship" instead of "sit", we need to evaluate our consumption. Unconsciously, we don't notice how it has been influencing our decision making and daily life. That is why, as we profoundly depend on our phone, it is challenging to let it go.
It is an interesting subject to talk about due our attachment to this little magic box. As result, there has been numerous studies conducted on cell phone and its relation to our usage. For instance, one study concludes that 44% of adults say they have been passengers of drivers who used the cell phone in a way that put themselves or others in danger. Not only that, the research also reports that pedestrians who text while walking, will physically bumped into another person or another object.
I love my phone and perhaps you do as well. It is a great tool that helps me connect with my family, friends, take pictures, listen music, browse on the web, and so many other possibilities. I never pictured myself away from it until last year when I started exploring the alternative lifestyle. 
So, I started reading and watching people's perspective on addiction, whether it's about social media or cell phone. Shortly, after looking at my goals and past accomplishment, I decided I want to revamp my relationship also I will be using it less.However, sometimes I still use it excessively. Especially, when I fall into a pit of interesting new subject, or vintage clothing ideas or political news.
Until a week ago, after installing an application called usage time, I realized my consumption was beyond normal for the past several weeks. The application reports that in average my screen time is around 7-11 hours a day. 
Can you imagine how much of my time wasted on my phone? I could have mastered portuguese, coded a simple website, finish my proposal writing or even my book reports with those time.
If you want to be more productive, to submit your assignment on time, to ship your product faster, there are several things I do that helps me minimize my cell phone consumption, which perhaps might work for you :
Track down your screen time through application like "Usage Time" or similar apps. Evaluate which application take the most of your time

Set your phone on an airplane mode or busy mode during your working hours

Monotask, don't eat while scrolling twitter or instagram page

Hide or uninstall application that becomes the biggest distraction for you

Decide how much time you want to leave it off or on

If you have problem with sleeping, turning off your phone 30-20 minutes before sleeping can be a good idea

One of the important thing we tend to forget is, people can wait. If it is not such an urgent matter, tell them to contact you after work with an  exception as in, the matter of life and death

Do not use your phone while walking, driving, or riding. If you critically need to rely on a navigator, use the voice option instead of checking it every few seconds.

I know those might not be easy for us to do. But if we minimize our consumption today, we might start noticing several things in our surrounding. For instance, prior to minimizing my consumption, I never enjoy my walk to campus. I am always closing my ears with my earphone and occasionally checking texts from friends. But since I decided to keep my phone away, I notice bird singing, I see butterflies, and I can breathe a fresh air. Not only, during the class, I am more focused on my learning.
I was someone who would live reports about things I learn and opinion I disagree with via my social media. However these days, I tried to keep it later, make organized notes and research on the subject. Since then, my learning has been ten times more productive.So if you're a student, a freelancer or anyone who has phone addiction, the world will still be there if you turn your notification back on. 
If you continue that addiction, the only thing you will miss on life is yours.
* This work also appeared on 200wordsaday.