Ford's life is from the turn of the 19th and 20th centuries. Cars are a luxury good and only a few were produced daily. Ford's father wanted him to become a farmer. However, since he was a child he liked to fold, repair and invent something. Therefore, the first of his projects was to automate work in the countryside.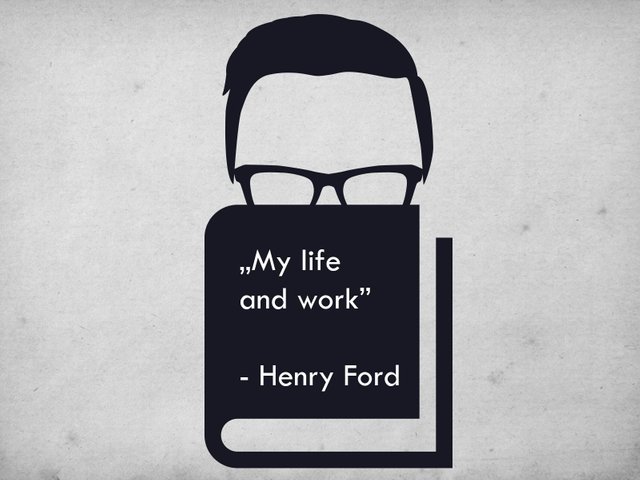 Biography of one of the greatest innovators of the 20th century. The man who did not create the car and improved the way it was made.
He was a man who claimed that every thing, every process can be improved by changing even a small part of it. He had many life situations that helped him increase production, reduce costs, increase pay due to minor changes proposed by his subordinates.
#Quotes
"The suggestions come from everywhere. The Polish workmen seem to be the cleverest of all of the foreigners in making them. One, who could not speak English, indicated that if the tool in his machine were set at a different angle it might wear longer. As it was it lasted only four or five cuts. He was right, and a lot of money was saved in grinding. Another Pole, running a drill press, rigged up a little fixture to save handling the part after drilling. That was adopted generally and a considerable saving resulted. The men often try out little attachments of their own because, concentrating on one thing, they can, if they have a mind that way, usually devise some improvement."
He believed that the greatest motivation in life is failure. He began to relate his successes after his 40 birthdays. He never gave up. He was educated until the end of his days. He claimed that ...:
#Quotes
"Greatest thing in life is experience. Even mistakes have value."
He had many unfavorable people on his way to success. You can define all of them with his words ...:
#Quotes
"The best fertilizer is weeds"
A very interesting book, written technically correctly. A big plus for the transparent form and consistency.
Inspiring, informative and containing a surprisingly good deal of thoughts and forecasts regarding our reality as a book written in 1922.
I recommend explaining to everyone starting a business!