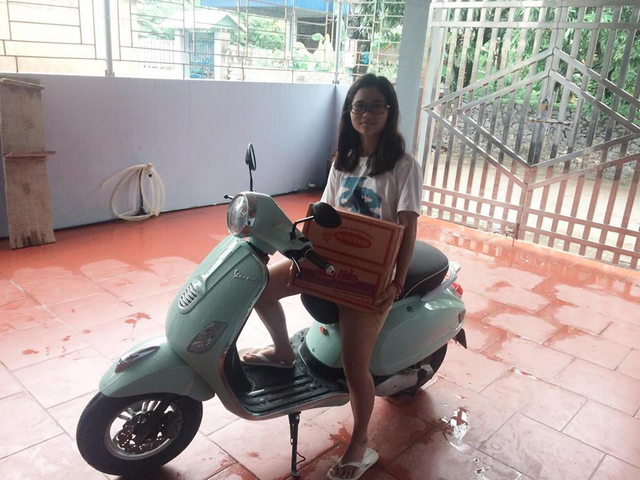 May lunar month, the month of the tropical rain in the south. My childhood is the month of May, because this month is the summer holidays, the month of Doan Nguon, and also the month with the best fruits. What is the nature of the data? Step into the rainy season to see enough delicious dishes. At the beginning of my house is a small spontaneous market, some of her sister sell all kinds of things. Which is rambutan, durian, mangosteen, ... all delicious fruit. Then add lychees from the north. Eat for cravings only.
Remember to eat durian at small. At that time, living in a country where the poor are afraid. Poor to the durian of the hometown grows well, but not dare to buy much. To save money to cook rice. Mom went to work on the aromatic durian nose nose. Grandfather to finish lunch for each section. Only mother quietly back to the cabinet. See what little mother talk with and go to work. Mother went to tell a sentence to make our children we all envious, "Poor mother, when they eat durian sour throat and then her mother eat. Then came to work in the afternoon, my little sister was about four years old at that time, running out to hug her mother said childishly: "Mom, mother's throat masturbation yet?" Mother laughed, went to take the durian for it. My family's poor time also goes smoothly ...
A few days ago my father went to work in a large bag, which is about two kilograms of mushrooms. Long mushroom, white white look normal. He says it's a mushroom. Asked three new know the termite mushroom is specialties, the people of South Vietnam to treat guests. This fungus can not be planted but completely natural so it is both precious and expensive. My father said, the fungus only two months in May and July lunar month. This mushroom grows after the first rains, where the termite up. My grandfather said ghost like ghost, who "weak shadow" never saw it. When the mushroom grows next year, there will be mushrooms. When picking mushrooms absolutely need to gently pull up each mushroom, if using a knife or mushroom picking tools, next season there is no mushroom to eat. The termites are delicious, sweet and chewy like chicken. Soup soup, fried moths, cooked porridge, or even rolled roasted shrimps are delicious too. In the early twenties, I was fortunate enough to know this delicious dish. The mushrooms are so rare and so delicious. Thought that, such rare things are difficult to be affected by the human.
This rainy season is also the season of fat frogs. I remember when I was young, Uncle Chin next door to this point to carry a flashlight dark night to frogs. Rainy frog called the sky. Mr. Nine started to use tools to make frogs. Often, when the sky is dark, the frogs begin to sing their delicacies. Note Nine lightly under the levee, listen to frogs to locate. At this time the flashlight mounted on the cap on the head of Mr. Chin will work effectively. Frogs are so strange, when they see the light they are sitting motionless and pointing their eyes to the place where the light emits. Then, he pointed out exactly and stabbed a definitive release of a homemade tree toward the poor frog. That's a lifetime for me! According to Nine, outside the night frogs, people also go along the creek, using the tree to pierce a few caves hang the frogs where frogs avoid sun. Old frog many, spoiled that catch. Now people are crowded, the demand for food is also much, frogs are sparse, only frogs fed, meat is not as good. Grilled frog with salt, chili or lemongrass chili, then eat three cups of rice not saturated. My grandmother used to make frogs cooked leaves, a kind of leaves, a bit sour. Frogs cooked sour soup leaves, add some red chili pepper, together with the cup of chilli sauce fish sauce is all the peppers.
In this southern region, there are countless seasonal delicacies. Only this rainy season, but enough food to meet the fun in life. Who go out of the land, and do not remember? Birds of water immense country, so people also created enough delicious food. Plus the South people honest or good or do, like to eat delicious, so have to sit for a whole month not to mention delicious dishes. Indeed, I do not dare to boast much, just proud to be Vietnamese, to enjoy the right food in the right season. And hear that Vietnamese food is also recognized by the world. Vietnamese food is sour, bitter, sour, bitter taste, the most taste in the world, but most of it good for health. There are not many people know, so also less popular as Chinese, Japanese, Thai dishes.
My father said Vietnamese food is very good. Vietnamese cuisine influenced by a little Chinese, a little Khmer, a bit French. Not to mention the North, Central and Southern cuisines. Then, Hue royal cuisine was also a valuable treasure, and then again the food of the South is also enriched. Professor Tran Van Khe said, Vietnamese people are serious about eating, so they say "learn to eat, learn to speak, learn package, learn open", that is to eat is the first need to learn. Then tell the Vietnamese or use the word "eat" to match other verbs, such as "eating school", "eating", "eating", "dress", "accommodation" ... What also " eat "all. That is not to say that the Vietnamese food, but to say that culinary art is very important to the Vietnamese, and often the Vietnamese eat very picky.
Our country lives amidst abundant food resources. The rich food is also rich. Thought to have to preserve both the resources and the treasure for the next life without regret. Think again, the wars that occur are humanly jealous, and greedy that out. Do not let a little bit of delicious food brought to the exotic enjoy, just like to cut the buffalo meat invite tiger. There is a man told me, we have witnessed territorial war, energy war, the next will be food war. There is no win because the heart is consistent, the brain is not clear enough. In the lunar calendar, recite the story through the delicious dishes.