How to manage life??
Our Life is running here and there with a lot of chaos take a break and thunk about out of 10 thoughts 6 of them don't even matter to us. Most of the times we ruin our schedule because we don't know what need most of our time.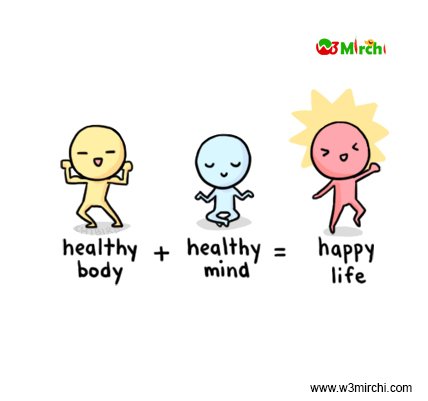 We are just working like machines and that's the thing which makes us lag behind.To be successful  in life we should start to think about them according to their Value. 
Managing Time, Energy should be our no. 1 priority because you will not get anything if you will out your efforts in the wrong direction.
Don't lose Joy in these stressful moments think for a moment's does it worth it. 
Take Care of these five things to get ahead in life :-
1. Health 
Whether You are  a student or a office going person Never ever comprise with your health because a healthy mind is Equal to healthy life. 
You can't study without a healthy body. You will have headache and lot more physical problems which will eventually lead to stress. 
It is our first rule – care about yourself.
Don't only focus on diet or muscle Building, or weight loss they are just a name of health. 
Maintain a healthy diet even if you can't workout due to busy schedule. 
>Remember you are not a flesh you are a human and a healthy person also needs a  Good mental and emotional life.
Having a restless soul with a good physique can't make you healthy.
2. Relationships 
Our mental health and personal well being strongly depend on our personal relationships.
In our Low times we if have support from our loved ones, our best friends. We can easily overcome through any hard phase and try again with full enthusiasm. 
But When we don't have support we break and lose the courage. We can love ourself and do anything but having a person who faces everything with you changes the whole scenario. 
There's a nice TED Talk session i saw a sometime ago. 
In which psychiatrist Robert Waldinger talks about the longest study conducted to find out what makes us happy and productive?? 
Guess...
What should be the answer ??? Relationships, yes relationships can be the reason for long term happiness. 
But be conscious about people whom do. you love because having right person is more Important. 
3. Survival 
We need to have financial stability to build our life. Almost everything we do is somewhat dependent on money.  
So, to live our life in our own way we don't need to be extremely rich but we should have enough assets saved for our down time. 
Like If you want to pursue your passion or do extra things like trips or any other dream or thing you enjoy. First you need to fulfill your life basic needs .Only then you can enjoy anything with full mind.
We work or build houses with concrete to make your lives better there is no limit for it. 
Just fulfill your basic needs be prepared for your life cons and voila!!!!  You are ready to enjoy you life.
Simple Formula for happiness 
Live every moment to its fullest - @lovepreet2511