Confessions and Fantasies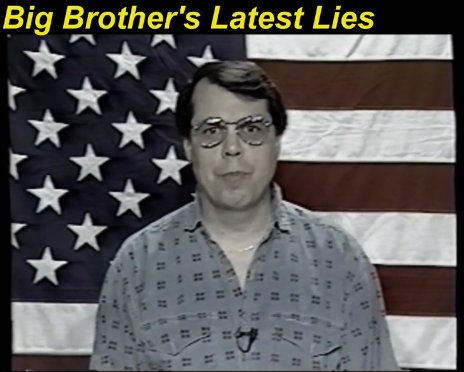 Lorenzo hosting one of his TV shows circa 1995
Jane "Rindy" Davis and I produced around 100 programs at Jones Intercable in Tampa. Our first show was called "Freedom Now!" and was about the Prisoner of War issue. That show ran for two seasons and featured a lot of people and information that should have had an effect on the POW issue, but it didn't, nor did anything else for that matter.
Other programs that we did included "Reality Check" and "Anarcho Cyber Sludge." But my favorite one was "Big Brother's Latest Lies" (BBLL). It was a call-in show that ran for an hour every week. Jane would do her best to screen the callers, but since we didn't have a three second delay, there were several occasions where some kids would get through and shout some swear words on live TV before I could cut them off. On a few of those occasions, Jane was able to get the caller's phone number and then during the middle of the night she would prank call them back.
One time, a few days after Sinéad O'Connor appeared on Saturday Night Live and had torn up the Pope's picture, I recounted the story on BBLL and held up a picture of the Pope just as Sinéad had done. However, I told my audience that instead of simply tearing it up that as soon as the program was over that I was going to put it in the urinal in the men's room at the studio, where we could all piss on the Pope. Well, once we were off the air and had cleared the studio, when I went to the station's lobby, there was the priest who was the pastor of the largest Catholic church in town, and he had a younger priest with him. These poor men were red in the face with anger and demanded that I give them the photo of the pope and that the station bar me from future programs. We compromised on the picture with me taking it home rather than putting it in the men's room.
The station didn't bar us over that incident, but about a month later we were kicked off the air and out of the studio because of another program that we were producing. Our show came on the air at midnight on Fridays and was called "Confessions and Fantasies." Jane got the idea from her sister who at the time was living in Sicily with her Italian pilot husband. Her sister told her that there was a priest who listened to confessions over television each Saturday, and that some of them were quite risqué.
So we put together a set with a large-backed wicker chair, draped it with black gauze, and lit the set so you could see the outline of Jane sitting in the chair, but you couldn't make out her features. She went by the name Madam Jade. The show was a huge success, and some of the people who called in had really classy fantasies. But one night Jane let things get a little out of hand and the station manager claimed that our show was pornographic. Rather than fight it we just took a six month suspension instead.
NOTE: This is one of the stories from my new book
The Chronicles of Lorenzo - Volume 1
You may download a free copy of it at
https://lorenzohagerty.com/freebooks/
I have placed this book directly into the Public Domain.