College Drinking Days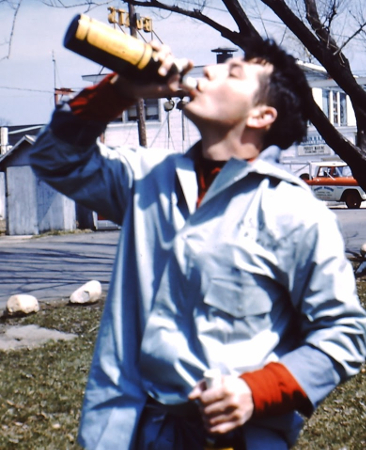 Kub's is what we called Kubiak's Bar in South Bend. During our junior year at Notre Dame we discovered that Kub didn't check I.D.s. During our senior year we held a party there for Dan Brosnan's 21st birthday. It was held in the dingy little back room off the left end of the bar. Dan had a bit much to drink and had fallen asleep with his head on his hands on the table when Kub came in with some more pitchers of beer. Kub asked what we were celebrating, and when we told him it was Dan's 21st birthday Kub freaked out, because he'd been serving Dan for almost a year by then.
Draft beer was twenty-five cents for a big glass. If you were down to your last ten or fifteen cents Kub would give you a partial glass.
This was where I saw pop-top beer cans for the first time. Kub proudly showed us his sample six pack, which he had on display on the back bar. He didn't actually pop a top because at the time these were the only six pop-top cans that he had. When he went into the walk-in cooler to get something we popped all six of them just to see how they worked.
There were a lot of characters that frequented Kub's, and we were about the only six students who came in. It was kind of rundown and seedy, but we felt comfortable there. One guy that we all liked was an old plumber everyone called Earl the Swede. (I used that name in The Genesis Generation for a Burning Man scene.) One night some local punks came in and started giving us "college guys" a hard time. I was sitting at the bar, and Earl was next to me on my right side. Suddenly, this beefy, drunken punk pushes between us, grabs my arm, and is about to hit me in the face with his other hand when, before I could even figure out what was happening, Earl the Swede had this punk up in the air, over his head like a weight lifter lifting some barbells, and he carried the punk to the door where a friend of Earl's had opened it, and he threw the punk out on the street. We never had any trouble with the locals after that.
I had many long conversations with Earl over the two years that we hung out there. He had a very thick accent that probably couldn't have been understood even if he'd been sober, but Earl was always quite drunk. He mumbled on to me for hours, each of us buying our own twenty-five cent beers, and I always acted like I understood him and agreed with him, but I never clearly understood what he was talking about. Earl was one of the most unforgettable people that I've ever met, sort of a Bukowski figure for me. I really loved that guy.
NOTE: This is one of the stories from my new book
The Chronicles of Lorenzo - Volume 1
You may download a free copy of it at
https://lorenzohagerty.com/freebooks/
I have placed this book directly into the Public Domain.