All that chicken shit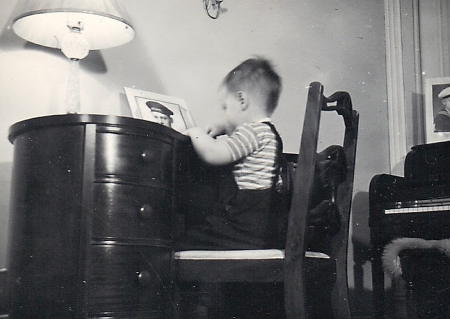 Little Larry "writing a letter" to his dad
Early in 1946, my dad returned from his World War Two Navy duty in the South Pacific. At the time of his return I had almost no direct memory of him, but I do remember my mother having me draw pictures that she would send to him. In fact, I still have almost all of their correspondence from those days, including myt drawings that I sent to him.
I actually do have a very clear memory of his return, however. My mother, Anne, Grandpa Fox, and I were having lunch in the kitchen when we heard the front door open. We had been expecting my dad to arrive all morning, and so when we heard the front door open I was the first one there. My first reaction when I saw him was shock. I screamed! Until then, the only image that I had of him was from photos, and he didn't look at all like he had when he left. After spending so much time out in the sun on Manus Island he wasn't just tan, he was almost black. But it didn't take long for me to become like a shadow to him. No matter where he went I was there.
During the war, my dad had a fantasy of becoming a farmer, but after that didn't work out, he decided to raise chickens in the big barn/garage behind our house. I don't remember how many chickens he had at any one time, but there were a LOT of them. His coops were stacked as high as his head, and there were several rows of them. Of course, I was always there with him each time he went out to change the newspaper in the bottom of the cages and then spread the chicken shit on our lawn for manure. Years later, when I had the job of cutting the grass, I would curse those damn chickens, because our lawn looked like one of the then-popular chenille bedspreads that had ridges running from top to bottom. You could actually see the path that dad took as he walked up and down the lawn pouring the chicken droppings out of the newspaper he had removed from the bottom of the cages.
During the summer of 1946 my dad painted his mother's house, and later he painted Grandpa Fox's house, where our little family lived as well. I can still remember him high up on a shaky ladder painting the top story of our Villa Street house. I was so proud of him.
That summer was also when our three relatives who were Catholic nuns got to come home for a family visit. This was a really big deal, because at the time they were only allowed three home visits during their entire lives! So these nuns were staying at our house, and all of the Fox relatives came to town to visit with them. At some point, my dad took everyone out to the barn to see his chickens. And I, trying to show off how much I knew about raising chickens because I had accompanied my dad on his daily rounds, decided to show everyone how much I also knew about the chicken business. So, mimicking what I must have seen many times before, I bent down and looked under one of the coops and said, "Jesus Christ, look at all the chicken shit."
My grandpa loved it, but my mother was horrified. And that was the day that my dad quit the swearing habit he had picked up in the Navy.
NOTE: This is one of the stories from my new book
The Chronicles of Lorenzo - Volume 1
You may download a free copy of it at
https://lorenzohagerty.com/freebooks/
I have placed this book directly into the Public Domain.