Snow Days
It is currently snowing outside right now, in March. I know a lot of fellow Steemians may not be surprised by this, but going from living in the South to living in the North part of the United States has been a major eye-opener. From the culture changes to the weather changes it has been a time of adaption for me and my family. 
The reason for this move is for my husband's work. It's only temporary, as we only have about two and a half more years here... but dang, that seems like a long time. Lots of long winters and unsweetened tea ahead! Back in South Carolina my family is enjoying huge glasses of ice cold sweet tea with giant lemon slices and weather in the low 70's. I'd be lying if I said I wasn't envious. 
The other night while dinner was cooking, my husband and I took our daughter on a little stroll down to the mailbox and back. It was in the low 50's and clear skies that day! So of course, being the southerner I am, thought it was the start of spring. Boy, was I wrong. We've had two Nor'easters hit us in the past week. I honestly didn't even know what a Nor'easter was until last week! 
While on our little stroll I captured this picture of the sunset. It was so beautiful how the oranges and deep blues mixed into the light blues. I got so caught up in the warm weather and the sunset, that I almost burned dinner! Luckily, I went back inside at just the right time.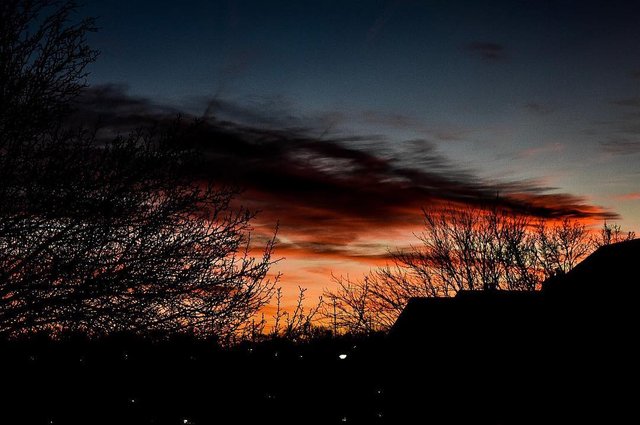 Here's to hoping that spring is right around the corner and that this snow will stop falling! I never realized how much of a warm weather girl I am until now. The cold and snow just makes me want to stay home, not leaving until it's warm again. I have so many fun things planned for the warmer months. It's absolutely something to look forward to!